You know what's good for a cold? Chicken soup. You know what's really good for a cold? Pho. Some of you may know what Pho (pronounced "Fuh") is, and for those that don't go google that shit. I had been fighting a cold from hell and was in desperate need of some relief. I had heard about Green Papaya from folks on Twitter so I decided to get my flu riddened behind over there. This place is located in a shopping plaza tucked away in Miami Lakes suburbia and has been around for the better part of 10 years (if not more). This is the kind of place some people may refer to as "schlocky," but it's these kinds of mom and pop owned eateries that make this city's cuisine so diverse.
On my first visit I went straight for their Pho. I got their Special Beef Noodle Soup (Pho Bo Dac Biet). This soup hit the spot, the beef was sliced thin and tender, the rice noodles were perfectly cooked and the broth really tasted great. The cilantro and sliced red onions in the soup gave it a tiny bit of spice that went well, especially for my horrible cold. Along with this giant bowl of soup comes a small plate with sliced up limes and bean sprouts to add to the pho. I threw in some lime juice and a couple shots of sriracha and I was in Pho heaven.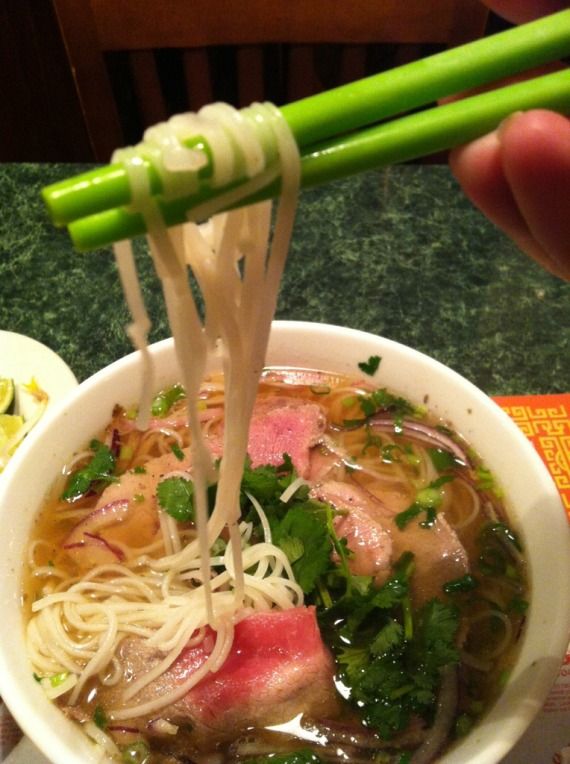 I've ordered the Papaya Salad, which comes topped sliced pork loin and shrimp. It's slightly tangy, savory and delicious. This doesn't use the type of papaya people from the Carribean are accustomed to and instead uses green papaya. Green papaya is slightly more tart and not as sweet. The ingredients are all fresh and made to order. It's topped with raw red onions, cilantro, peanuts and what seamed like fried onions. With the exception of the shrimp (because I'm allergic), I pretty much inhaled this refreshing little salad.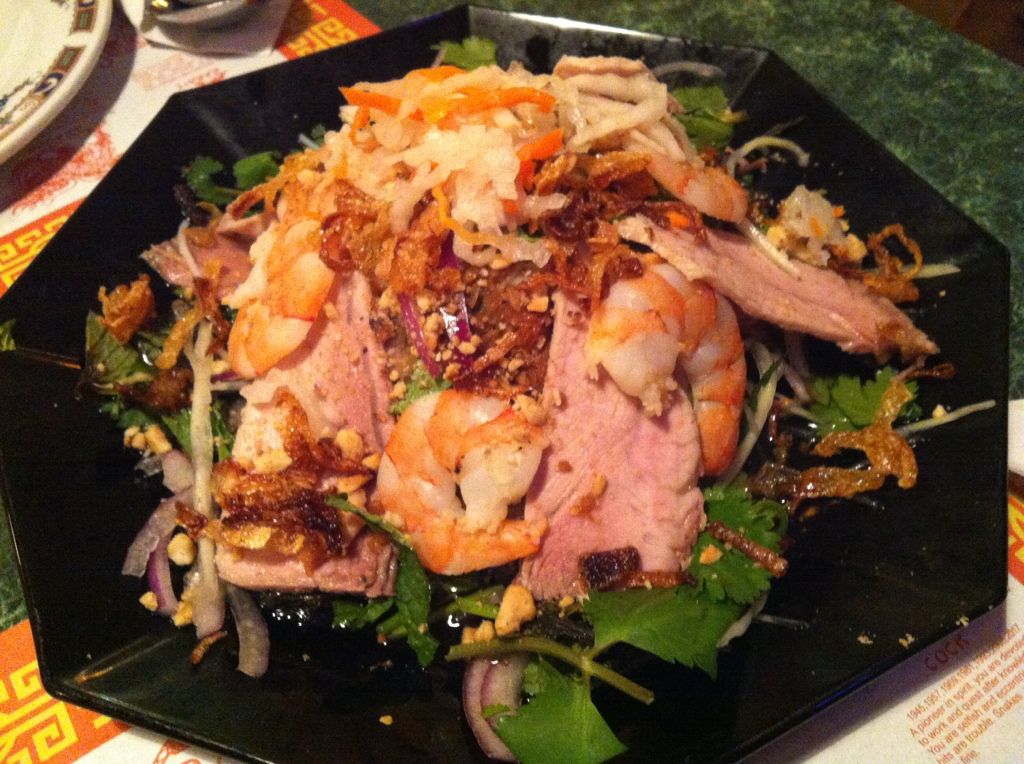 On another visit I decided to try their Hau Giang BBQ Pork Chop (Com Xuon Nuong Hau Giang). This bbq pork chop came with a small side salad, white rice and soup. Everything tasted great, the bbq sauce they used had a little bit of a kick, but was actually a mild flavor. Very different from that bold, in your face bbq sauce us Americans are accustomed to. The pork chop itself was cooked perfectly and was all sorts of juicy. This plate alone was ridiculously filling and a great value.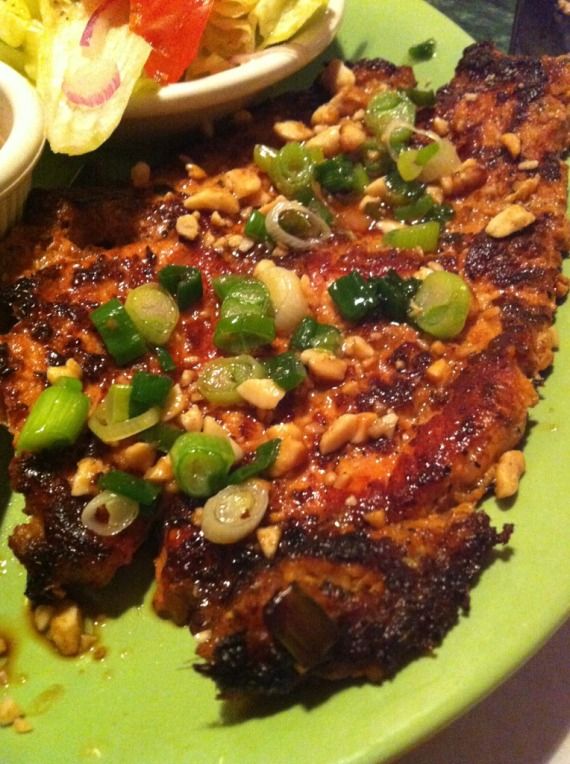 I've also tried their Lemon Grass Chicken over vermicelli rice noodles and it was delicious. Although, I don't have any pictures for this dish, you'll have to just take my word for it. Again this dish offers a huge portion and great flavor. 

Last, but not least, this place also has bubble tea (also known as boba tea) smoothies. I tried their Green Tea smoothie and fell in love. So any bubble tea fans out there, there is good bubble tea in Miami Lakes, believe it or not!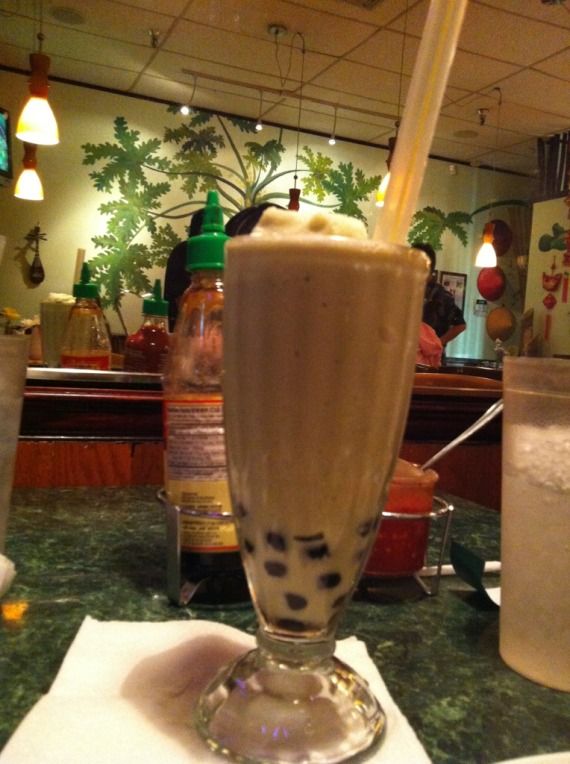 As much as I really enjoy this place, there is one gripe I have. There is an elderly Asian waitress that is AWFUL and almost every time I've been to this place she's been my waitress. What makes her awful, you ask? Well for starters, it's a 50/50 chance I will get what I've actually ordered when she's been my waitress. When she does bring you the wrong dish, she will talk you into keeping the dish she brought you. My mom raised me not to talk back to the elderly, so when this lady insists that I keep what she brought me because, "It's good, you should try it, it's good for you." I begrudgingly acquiesce. In addition and this may be a total coincidence that has nothing to do with the server, every time I've had the waitress in question my meal ends up taking up to 2 and a half hours
#AINTNOBODYGOTTIMEFODAT.
So my last couple visits, I've actually opted for take-out instead of dining in. So as delicious and authentic as the food is, beware of the elderly
Ms. Swan
lookalike.

____________________________
Restaurant Details:
Green Papaya
(305) 826-5216
16893 NW 67th Ave
Hialeah, FL 33015
http://www.greenpapayasouthflorida.webs.com/