I have no qualms in admitting I am addicted to caffeine, coffee to be exact. Espresso, machiatto, latte, Cuban coffee, IV infusion... you name it and I dig it. So when I spent a weekend in DC I was absofuckinlutely delighted to find new coffee shops popping up all over all the hipster and gentrified trendy areas. Seriously, an artisan coffee shop on every other block. It was like caffeinated paradise.
I landed in DC with only 2 hours of sleep under my belt, so I was in desperate need of coffee to keep me awake. My first stop was Filter near Dupont Circle. It's a small coffee shop located on a relatively residential street with a handful of tables. The cafe is small, poorly lit and everyone inside seemed to know each other. Filter offers brew from Ceremony Coffee Roasters, a local coffee roaster in Annapolis, MD. I opted for a 16 oz. latte and it was bold, crispy and downright wonderful. It was the perfect punch I needed to wake me the fuck up and get me ready for the long day ahead.
Latte from Filter
_______________________________
Restaurant Details:
Filter
(202) 234-5837
1726 20th Street NW
Washington, DC 20009
http://www.filtercoffeehouse.com/

After a huge breakfast, I meandered down 14th street and found Peregrine Espresso. It might be a cultural misbelief, but I grew up with the idea that a cafecito after a meal helps facilitate digestion. This could very well be Cuban bullshit, but it's a custom I can't shake as an adult. So when I saw this coffee shop, my Cuban senses started to tingle and I had to have a cortado. This place is tiny and has about 5-6 seats available, so this is a definite to-go place. This was probably the strongest, darkest roast coffee I had all weekend.
Cortado from Peregrine Espresso
_______________________________
Restaurant Details:
Peregrine Espresso
(202) 515-5127
1718 14th Street NW
Washington, DC 20009
http://peregrineespresso.com/

After a mediocre dinner I was caught in a rainstorm and I bolted into the first store I saw. Coincidentally, I ran into The Wydown a relatively new coffee shop with spacious seating and coffee art adorned walls. The staff was by-far the friendliest staff I had encountered in all of DC. They were willing to explain their coffee options, make suggestions and were beyond patient. My macchiato was robust, bold and just what I needed while the storm blew over.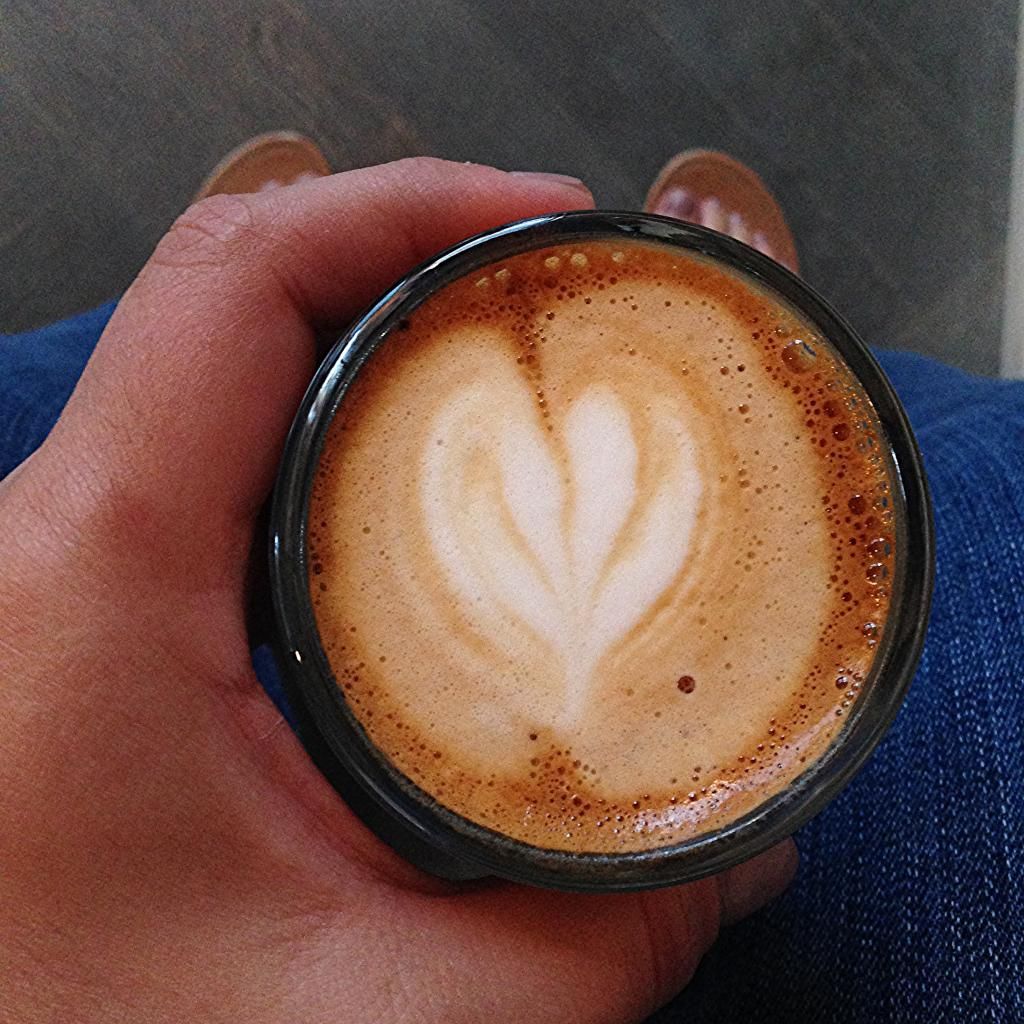 Macchiato from The Wydown
______________________________
Restaurant Details:
The Wydown
(202) 507-8411
1924 14th St NW
Washington, DC 20009
http://thewydown.com/

I make a pit stop at Baked & Wired every time I go to DC. It's the best of both worlds: Pastry and coffee. After doing a cupcake crawl in May of all of the cupcakes in Georgetown, my friends and I came to the conclusion that Baked & Wired has the best cupcakes, hands down. Now throw in some great coffee and you've got heaven. This place has definitely grown in popularity in the last few years since my first visit, so be sure to get there early before the lines start making their way out the door.
Latte and carrot cake cupcake from Baked & Wired
_______________________________
Restaurant Details:
Baked & Wired
(202) 333-2500
1052 Thomas Jefferson St NW
Washington, DC 20007
After having an epic bowl of ramen, I was really dragging ass. I wanted a nap and I wanted it bad. I stumbled upon Tryst in the Adams Morgan neighborhood, the closest thing I've found to Central Perk in real life. This place is part restaurant, part coffee shop and part lounge. Couches and comfy chairs are all over the restaurant as well as tables and plenty of outdoor seating. It was a sunny Sunday afternoon and this place was packed. People having brunch, people at the bar, and college students on their laptops; it was a great mixture of people. I ordered a latte and the flavor was mild with some tiny hints of citrus. The best part was the latte was served with animal crackers. Yep animal crackers. Little, tiny, adorable animal crackers. Once I was done regressing and playing with my crackers, I ripped their heads off and ate them. Although this latte was better than anything a chain coffee shop could ever offer, it is the most mellow flavored coffee of the bunch mentioned in this post. However, the cafe's vibe, decor and laid back feel makes up for what the coffee lacks in bold flavor. Definitely a great place to check out and feel like a local.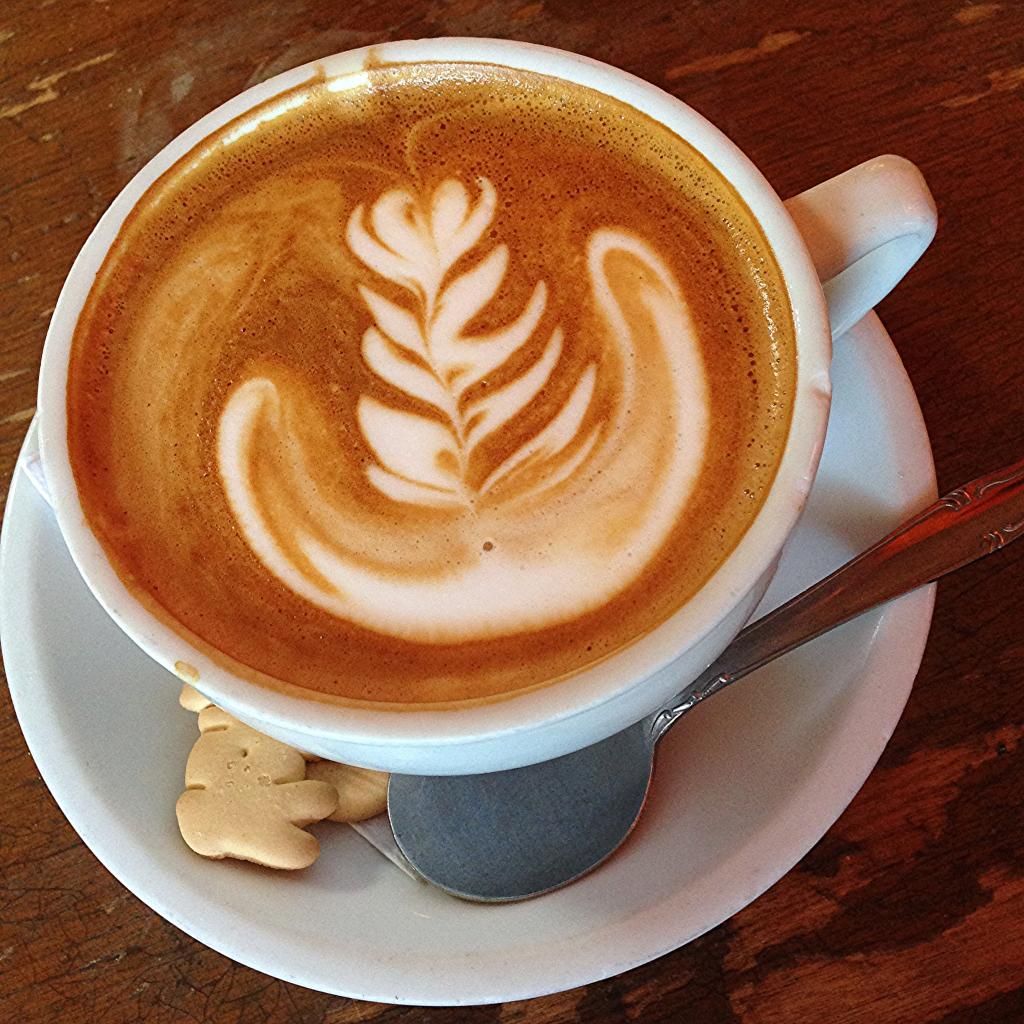 Latte from Tryst
_______________________________
Restaurant Details:
Tryst
(202) 232-5500
2459 18th St NW
Washington, DC 20009
http://www.trystdc.com/

Now I should warn you, I went to all of these places just once within a 48 hour period. So I am sure I missed some great coffee shops. What did I miss? Leave me a comment and let me know. I'll be back to DC sooner or later and I'll be sure to check some suggestions out!