I was out to dinner with friends the other night when someone mentioned this tiny, hole in the wall sub shop in Coral Gables. According to my friend, it was supposedly amazing. I took a mental note of it and added the info to my little mental address book. A couple days after that, I was in Coral Gables and I was hungry (as I usually am) so I decided to do some Foursquare stalking. I figured out exactly what sub shop my friend was talking about and it was Gusto Fino Italian Deli.

Since my discovery, I 've hit up this restaurant about 4 or 5 times. It's open from 11am to 6pm and it is pretty fucking amazing. Seriously though, the subs are better than Publix. If you know me, that says a lot. This place is literally a hole-in-the-wall. It's right on Le Jeune Rd and if you're going anywhere over 15 mph, you'll miss it. The restaurant is tiny and it'll fit about 15-20 people, so most of their traffic usually comes from takeout deliveries.
On my first visit, I got a take-out order of their Mario's Ultimate sub. Not only was it huge, it was delicious #ThatsWhatSheSaid. The sub comes with parma prosciutto, fresh mozzarella, pesto sauce, tomatoes, arugula, olive oil and balsamic vinegar. The ingredients were really fresh and everything was just delicious. The best part is, these folks aren't skimpy on the ingredients. There's a ton of prosciutto and fresh mozzarella stuffed into this thing. The giant slab of cheese right in the middle was the perfect sponge for the pesto, tomato, balsamic and olive oil. This thing could've easily fed two people.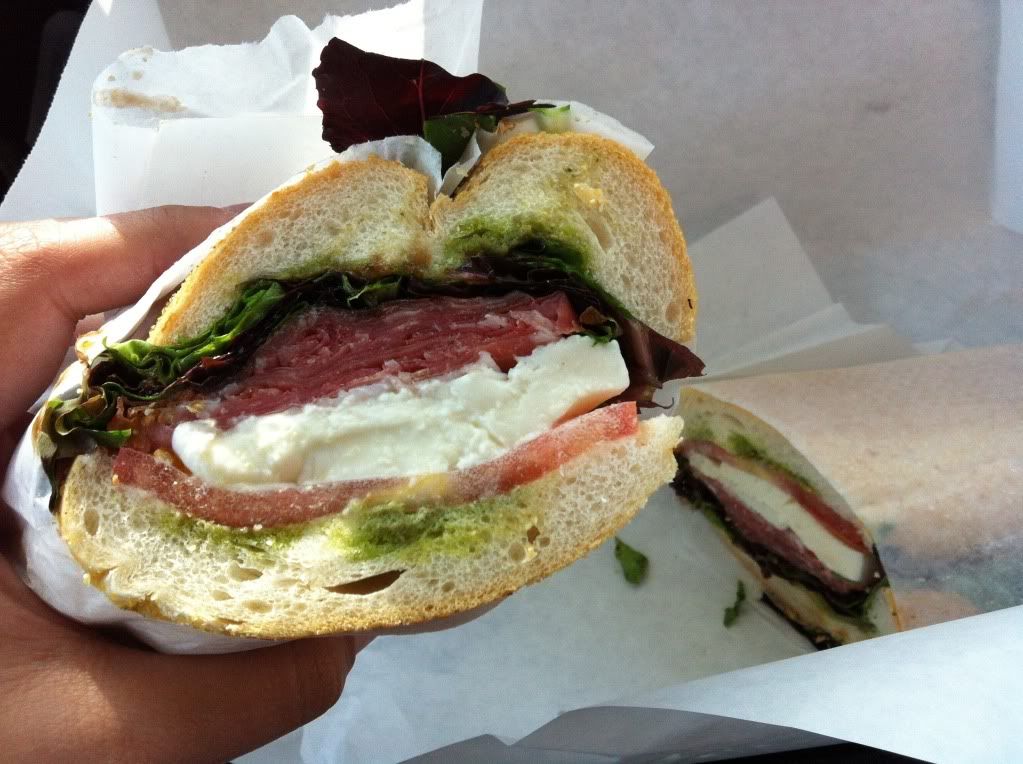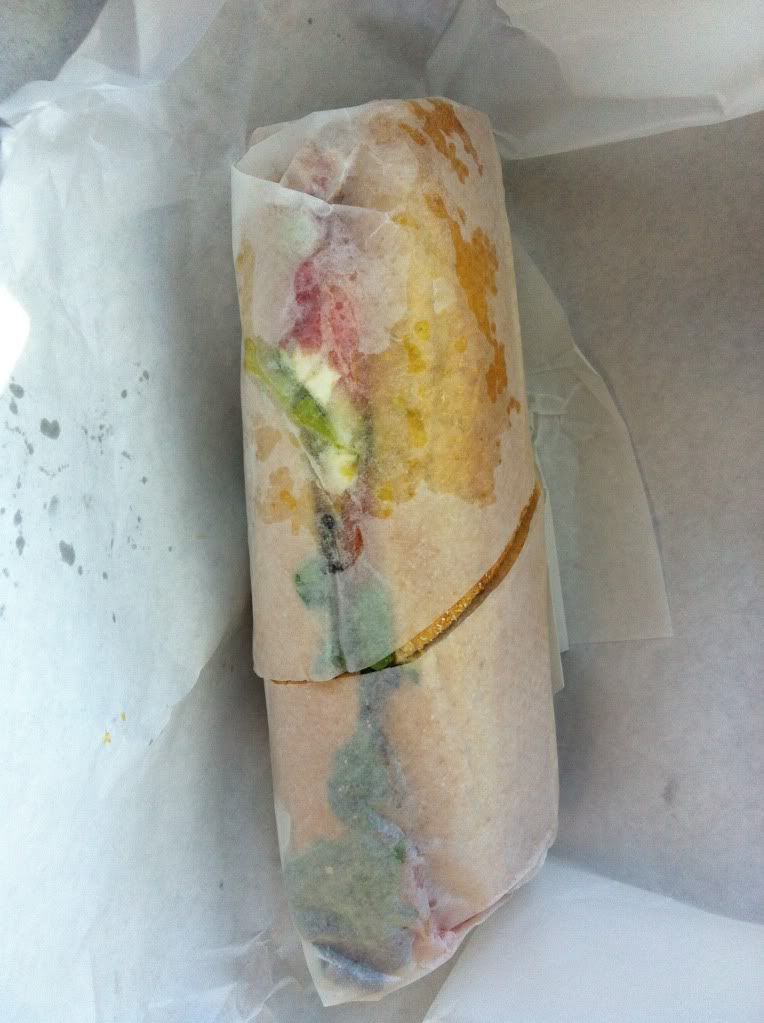 After my first sub, I was hooked. I soon came back and decided to get a Caprese salad. That same fresh mozzarella from my original visit with some fresh tomato, pesto, balsamic and salad greens. This was the most delicious (and fattening) salad I've had in a long while. They also serve the salad with a couple pieces of garlic bread to slop up any left over balsamic/pesto juice.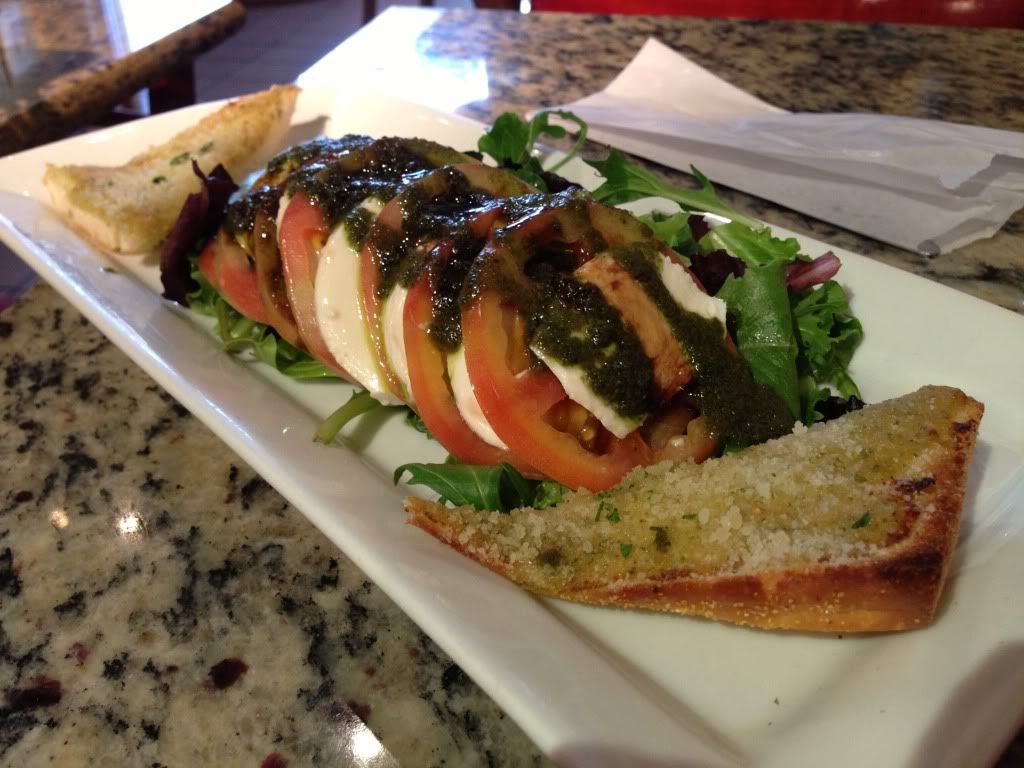 Along with my salad, I went ahead and got their Brad-Bino's Hot Pastrami. I've been on a personal mission to find a great pastrami sandwich and so far, this is my top contender. I got the sandwich on rye bread and it comes with provolone, sautéed onions, tons of provolone cheese and their house made spicy bbq sauce. This sandwich gets real messy real quick, so be warned! The cheese is all ooey-gooey delicious, the pastrami is piled high and piping hot. You'll be in need of a nap after you're done with this one.
On my most recent visit, I decided to go with their lunch special which is half a cold sandwich and a cup of soup for $7.95. I went with their Al Diavolo sandwich on ciabatta bread. The Al Diavolo packs a lot of meat (hey now!) with mortadella, genoa salami & parma prosciutto. Along with all that carne the sandwich comes with pesto, provolone cheese, tomato, salad greens and hot cherry peppers on the side. This sandwich was slightly spicy, but delicious. Again, the fresh ingredients in this sandwich make a world of difference.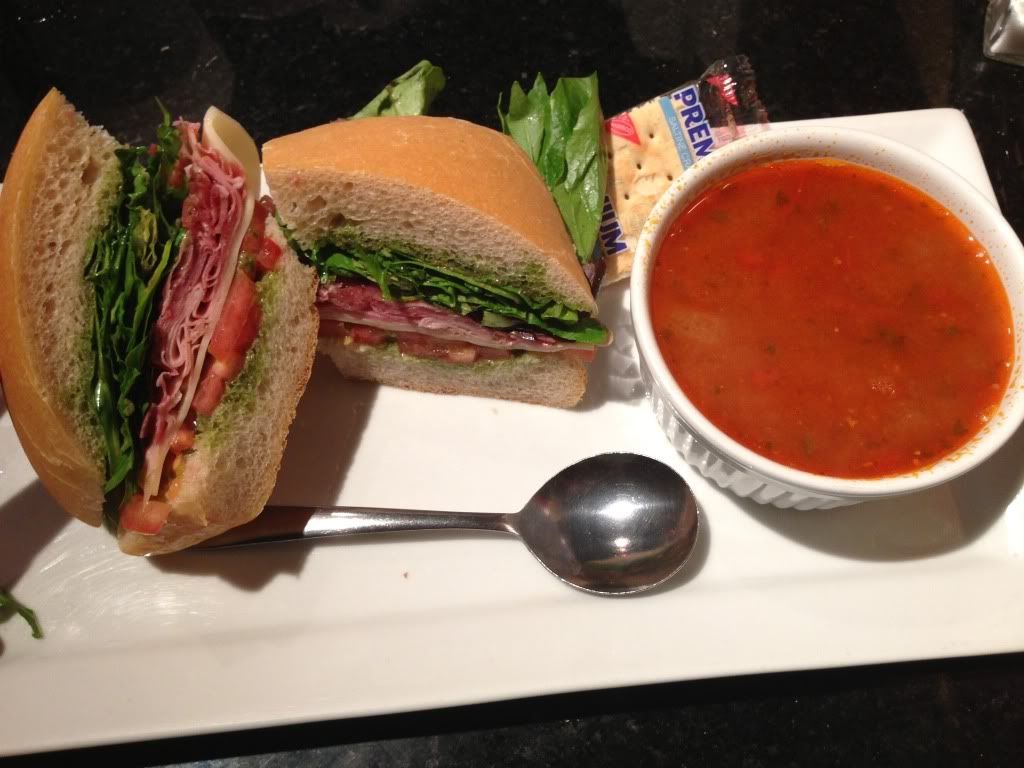 The soup of the day when I went was chicken, red bean and brown rice. It had a mild kick to it and was very well seasoned. I could've easily gotten myself a huge bowl of this soup and have been perfectly happy. There was plenty of chicken in the soup making it really hearty all on its own. I had to ask if they make their own soup and sure enough all of their soups are made in house. Definitely a must try. 
This is easily one of my favorite lunch spots at the moment. The food is always fresh and very reasonably priced. If you go right during their lunch time rush you'll most likely be forced to get your food to-go, given the limited seating at the tiny restaurant. Another small issue I have is that their service can be rather inattentive at times, but I assure you that the food makes up for it. They serve Segafredo coffee for any of your
cafecito
needs, which I promise you'll need a pick me up after stuffing your face here. Although, I've only hit up their sandwiches, this place also offers a ton of pasta dishes and from what I hear from
Burger Beast
, their bread pudding is "ridiculous." Be sure to check this place out for lunch or an early dinner!
________________________________
Restaurant Details:
Gusto Fino Italian Deli
(305) 444-0504
2103 S LeJeune Rd
Miami, FL 33134
http://www.gustofinodeli.com/