I've been to Huahua's about 5 or 6 times since they opened their doors a few months back. Created by the same team behind Haven Gastro-Lounge. This place is located on Lincoln Road, west of Alton Rd, just a couple doors away from Haven. This fast-casual place serves up Mexican classics with a New American twist at affordable prices. Nothing on the menu is over $10, which is a nice change of pace to the usually expensive Miami Beach dining scene. I should warn you, most some of this food is meaty, cheesy and greasy AKA delicious. So if your diet consists of kale chips, lightly dressed salads and comida de conejo... this place ain't for you.

In regards to their appetizers, I've had their Elote, Queso Blanco with Chorizo and chips, and their Nachos with Short Rib. The Elote is a big ol' ear of corn on a stick, rubbed with spicy mayo, cotija cheese, cilantro. This is what you get when you're trying to send more direct signals to that guy you're trying to date #DeepThroat. The chips with queso blanco and chorizo were very tasty. The creamy queso blanco sauce is seasoned just right, just wished we got a little bit more of it since we had a bunch of left over chips and no queso. The Nachos are a thing of magical wonder and delight. So magical that I'm positive that their cheese sauce is made with Unicorn juice #SkeetSkeet.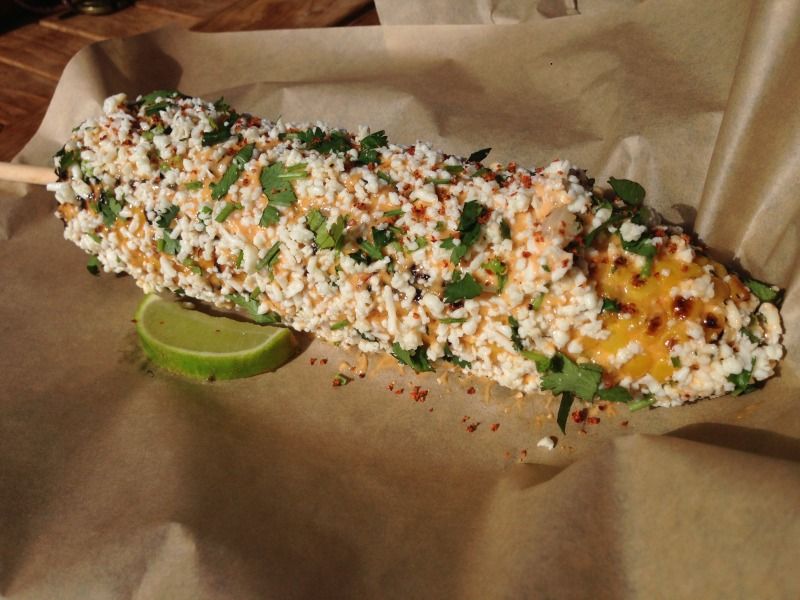 Elote
Chips with Queso Blanco and Chorizo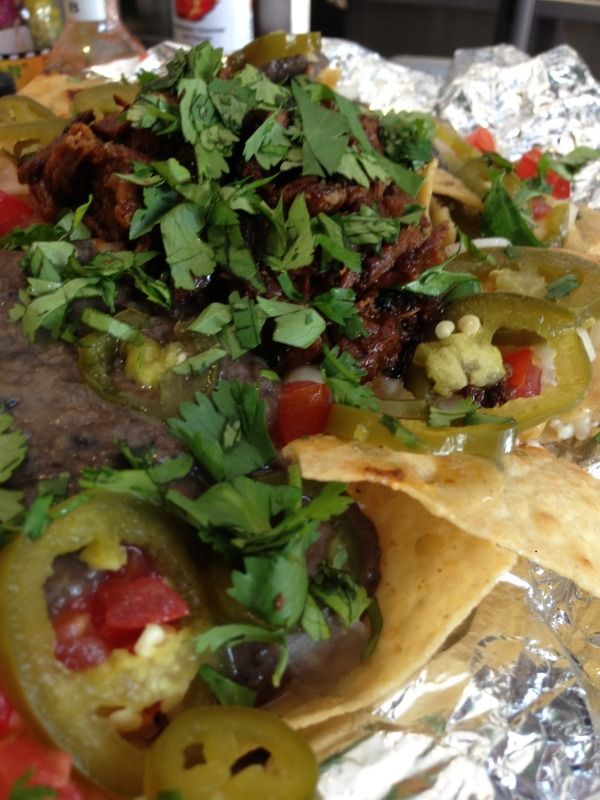 Nachos with Short Rib
I've pretty much tried all of their tacos at this point, with the exception of their shrimp taco. Their guac taco comes with grilled veggies, fried avocado, guacamole and topped with some spicy tofu crema. Very tasty and definitely on the "healthier" side of the spectrum. Their crispy pescado taco is SoBe take on a Baja fish taco. Cornmeal crusted fish with papaya pico, cabbage, jalapeño tartar. Spicy and actually refreshing, one of my favorites. Their fried chicken taco (yes, you read that right) comes with jalapeño cornbread, sliced cabbage and ancho ranch. Their BBQ Short Rib taco is topped with pickled jalapeño, sweet heat coleslaw. It's slightly spicy, but not overpowering. Their Breakfast taco is a whole meal in a taco. It's cheesy eggs, carnitas, pork green chili and hash browns in a tortilla. Easily the greasiest taco on the menu and naturally, it's one of my favorites. So far, I haven't had a taco I didn't like #ThatsWhatHeSaid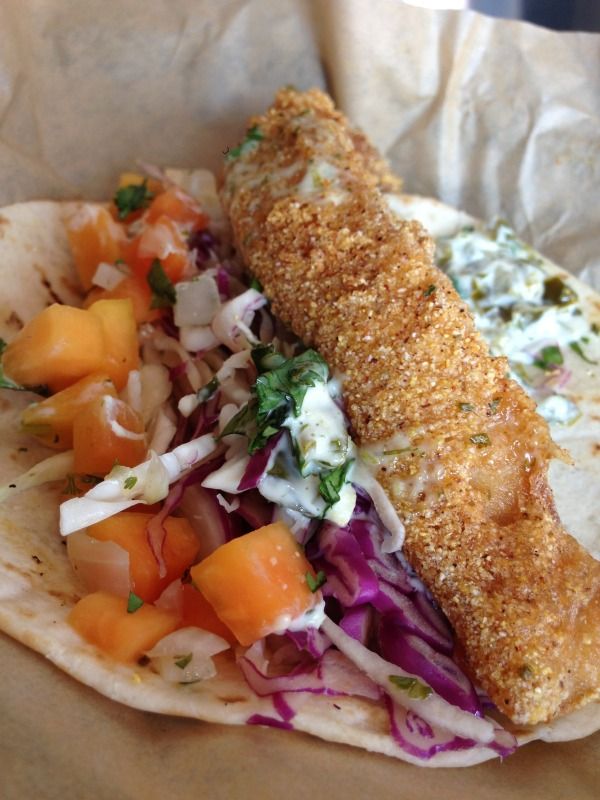 Crispy Pescado Taco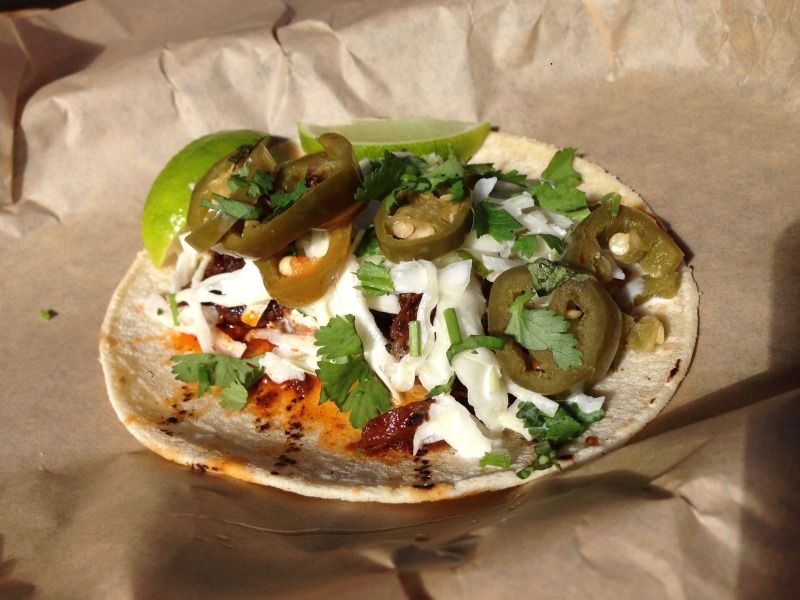 BBQ Short Rib Taco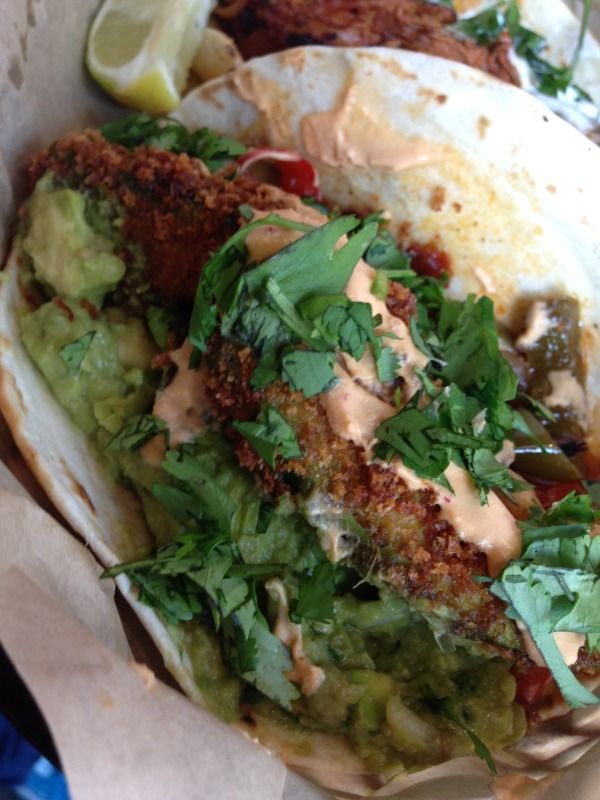 Guac Taco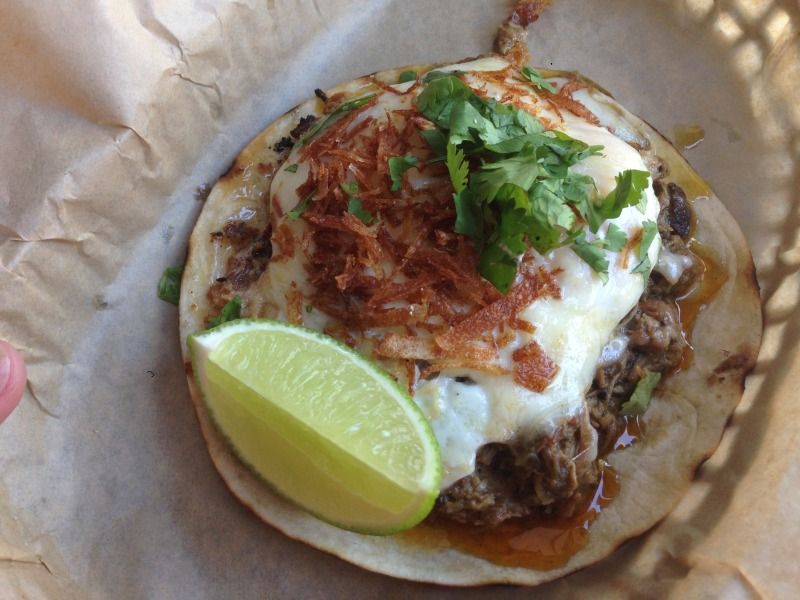 Breakfast Taco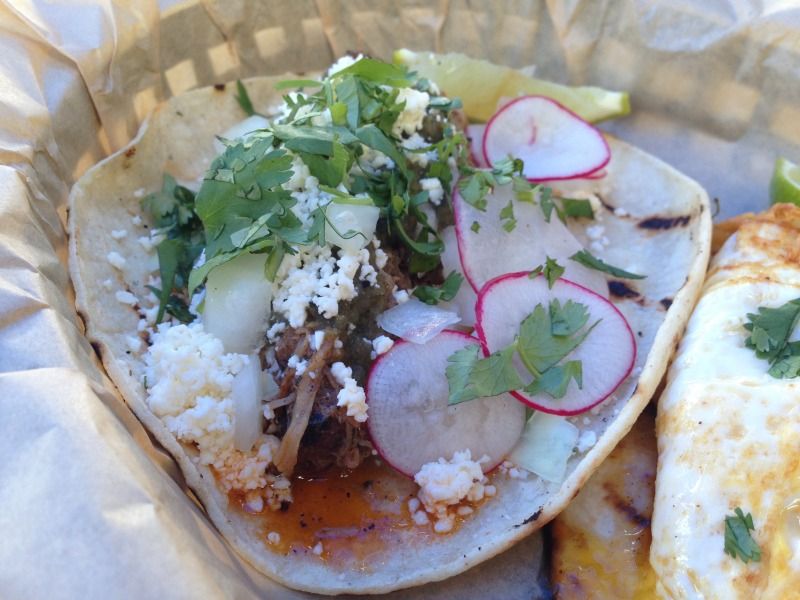 BBQ Short Rib Taco
I've had a couple of their enchiladas. With the enchiladas you get to make em your way. You pick your salsa and your meat filling. My first time around I went with shredded chicken topped with pork green chili sauce. Really delicious, nothing too complicated and slightly spicy. On another visit, I had the enchiladas with braised short rib and topped with a beef red chili sauce. This one was the TITS. At first glance, the plate looked like a mountain of chili, but rest assured that their are delicious enchiladas hidden underneath. My best friend stole a bite while I wasn't looking and said, "Oye, pero like... That's delicious. Tu no vas a split it with me?!"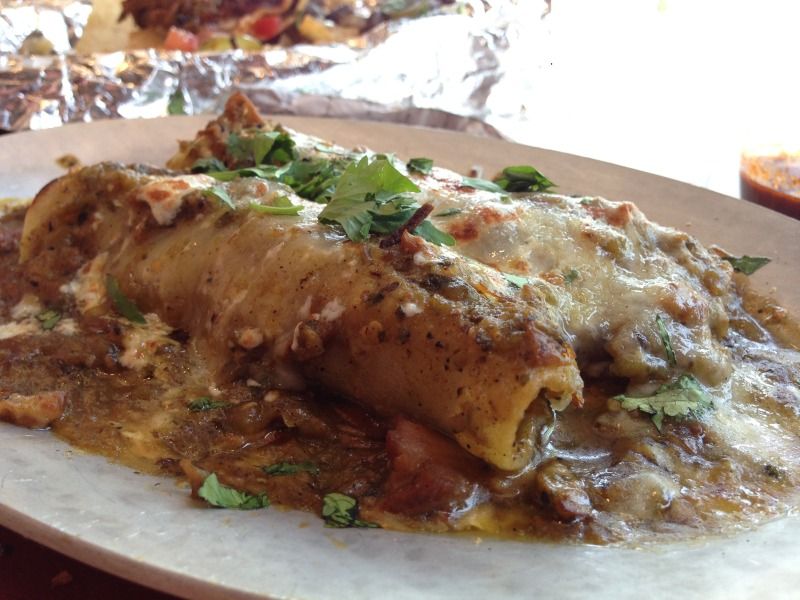 Shredded Chicken Topped With Pork Green Chili Sauce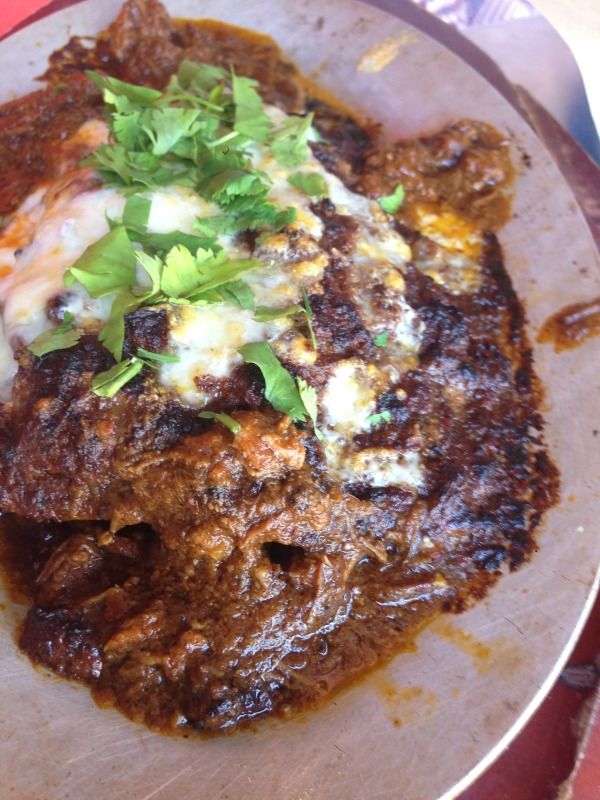 Somewhere under all that beef chili sauce, there are braised short rib enchiladas.
God knows I love to suck on a tasty paleta #HeyNow. Luckily for me, Huahuas makes some really great paletas with a variety of fun flavors. So far my favorites include Passion Fruit, Arroz con Leche and Coconut. This ice cold treat makes the almost mandatory outdoor seating slightly bearable. Their flavors rotate every couple of weeks, all the more reason to keep coming back.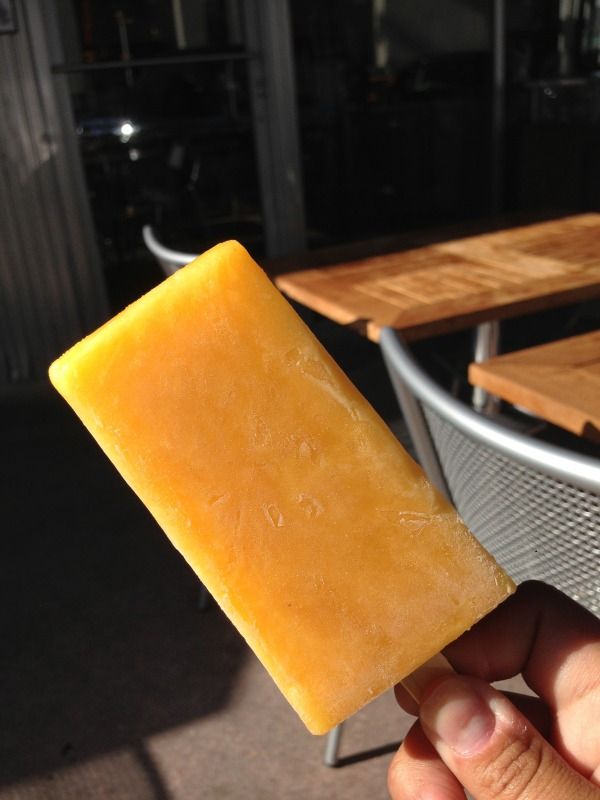 Passion Fruit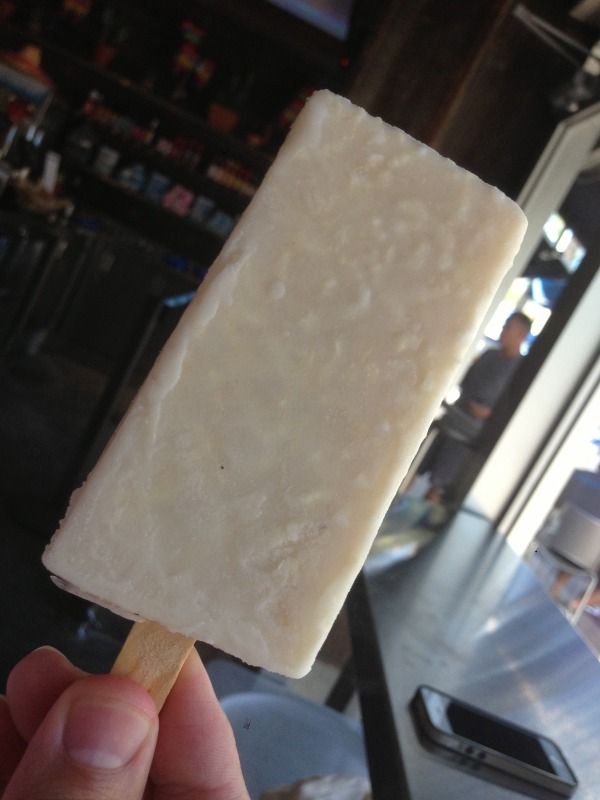 Arroz con Leche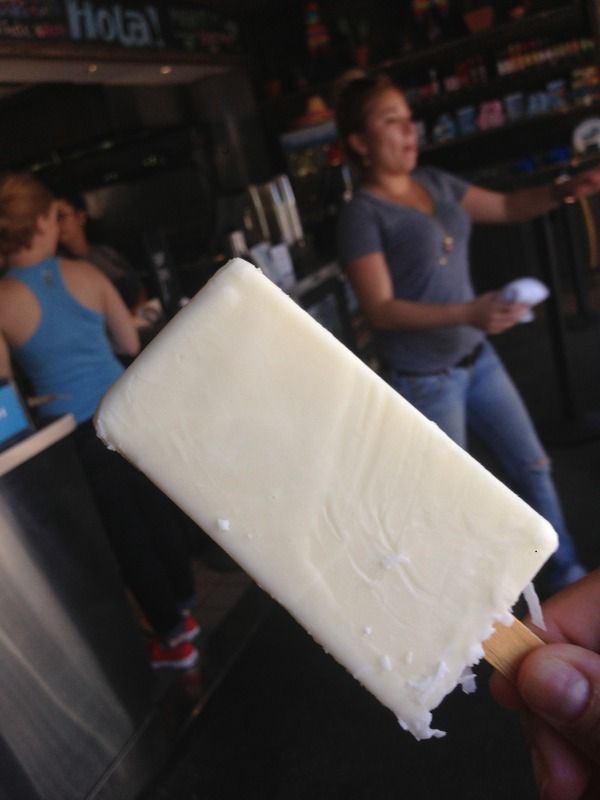 Coconut
This place is great. My only negative comments are regarding the lack of indoor seating. There are only 3 seats available inside, all the other seating is outdoors in the gross Miami Beach heat. Granted, Huahuas tries to make the best of the situation by offering plenty umbrellas, fans, water bowls for your furry friends and even a cell phone charging station. Parking can be a bitch, because it's fucking Miami Beach. Parking's a frigid bitch all over the damn beach and God forbid you don't remember your license plate number, but I digress. Even then, simmering in your own sweat and spending 25 minutes circling for parking is still worth the visit to Huahuas and enjoying some Mexican gluttony. I haven't had a dish at Huahua's I didn't like and the service is quick and friendly. I'll most definitely be back there soon.
_______________________
Restaurant Details:
Huahua's Taqueria
(305) 534-8226
1211 Lincoln Rd
Miami Beach, FL 33139
http://www.huahuastaco.com/