As you can imagine, I ate A LOT on my recent trip to DC. I could sit here and write a book on all the places I checked out, but instead I'm just going to cover the highlights of my trip and maybe a couple of low-lights. That still narrows it down to seven restaurants, so preparate. I'm breaking it up into two (maybe 3) posts; I'll try to keep it sweet and to the point.
My first stop was
Busboys and Poets
, recommended to me by a few people including
The DC Cupcake Critic
herself. Upon walking half a block to the restaurant you could tell this place was bursting at the seems, as if they were giving away the food. I walked up to the hostess and asked for an approximate wait for a table of 4 and nearly fainted when she said "2 hours."
AINT NO BODY GOT TIME FO DAT!
I walked over to where they had first come/first serve dining and found an empty seat. The restaurant itself is divided into a book store, lounge and dining room. They host open mic nights and poetry readings weekly, in other words it's a Miami hipster's wet dream. People were crammed into this place so tight, you'd think Beyonce was about to lip sync the national anthem.
I went with their Mekhleme, which is their take on Iraqi corned beef hash. It looked more like
picadillo con papas y salsa de tomate
instead of corned beef hash, but
irregardless it's delicious.
The "hash" comes topped with two perfectly poached eggs and some whole grain toast. The seasoning is slightly spicy, rich and like nothing I'd ever had before. This dish was very filling and for $11.00, I found it to be reasonably priced too.
My friends got their Home Roasted Turkey Sandwich with Havarti cheese and their grilled chicken panini with chipotle mayo, caramelized onions and pepper jack. The turkey sandwich was stacked high and looked fresh. Both sandwiches were good, but nothing particularly spectacular about them according to my friends.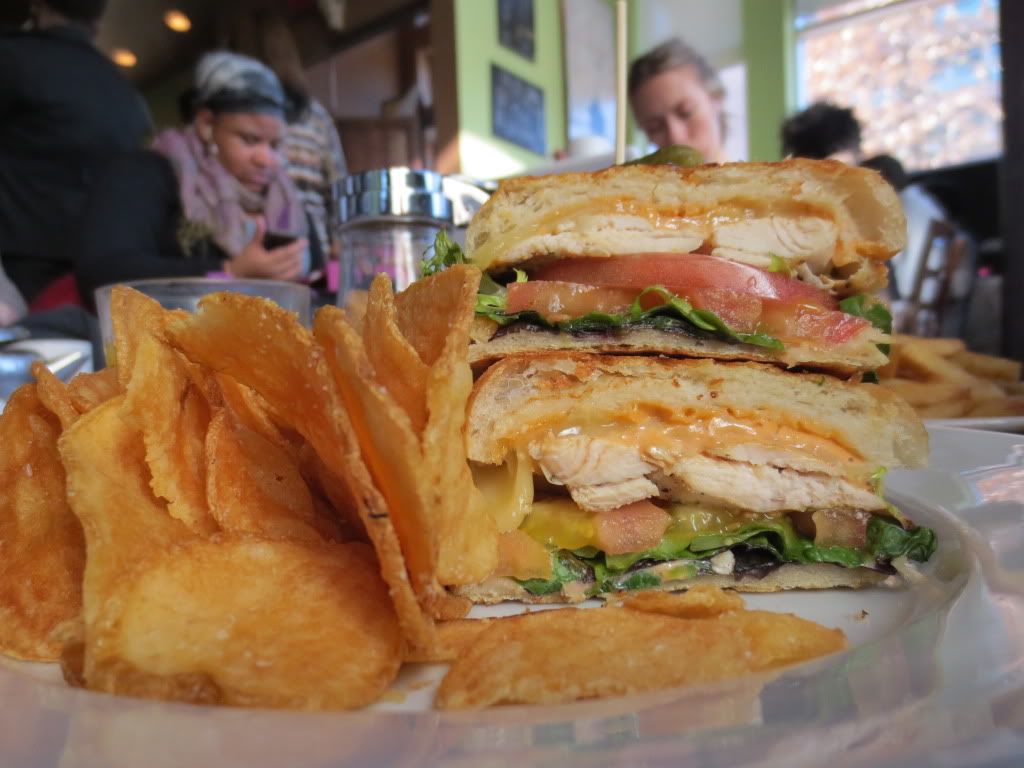 As the girl that was sitting next to me explained, busboys and Poets is the place you go to when you want good food at a fair price. Also, this is the place if you're a skinny jean wearing, poetry reading, art appreciating hipster. Even if you're not a hipster, this place makes for a chill atmosphere and good people watching.
_____________________________________
Restaurant Details:
Busboys and Poets
(202) 387-7638
2021 14th St NW
Washington, DC 20009
http://www.busboysandpoets.com/
After the inauguration, countless hours of walking and getting lost in the DC transit system I found my way to Co Co. Sala. I had originally been to this restaurant in 2011 and have been dreaming of it ever since. For the inauguration, they were offering brunch during the day. I decided to go with their $26 price fixed menu which consisted of their amuse of the day, one entree and one dessert.
I started off my brunch with some of their french pressed coffee. I have no clue what bean it was, all I know is that after the long morning I had it was completely revitalizing. It tasted fresh, crisp and not bitter at all, which is how I like my coffee. Their mugs, were
super que
fancy and made me feel all bougie in DC. Either way, I was in desperate need of a wake up after standing around in 19 degree weather for 6 hours.
Up next I got their amuse of the day which was a chocolate fritter, rolled in cinnamon sugar, drizzled with chocolate ganache and topped with pecans. It was piping hot, delicious and all sorts of heavenly.
Up next I went with their 'Cheese Magic." It's a twice baked upside down cheese souffle with leek sauce and a dollop of tomato sauce. To help cut the straight up cheese overload, they pair the souffle with an arugula salad tossed with blue cheese, cranberries, walnuts, sliced pears and honey balsamic vinaigrette. The souffle was fucking amazing, I found my self scrapping the bowl with my fork to get every last bit of cheese. The salad was light, fresh and peppery, the perfect compliment to this cheese invasion. They also served a couple of crostini with some of that same tomato sauce from the souffle. It was awesome and I still have sweet day dreams of that souffle.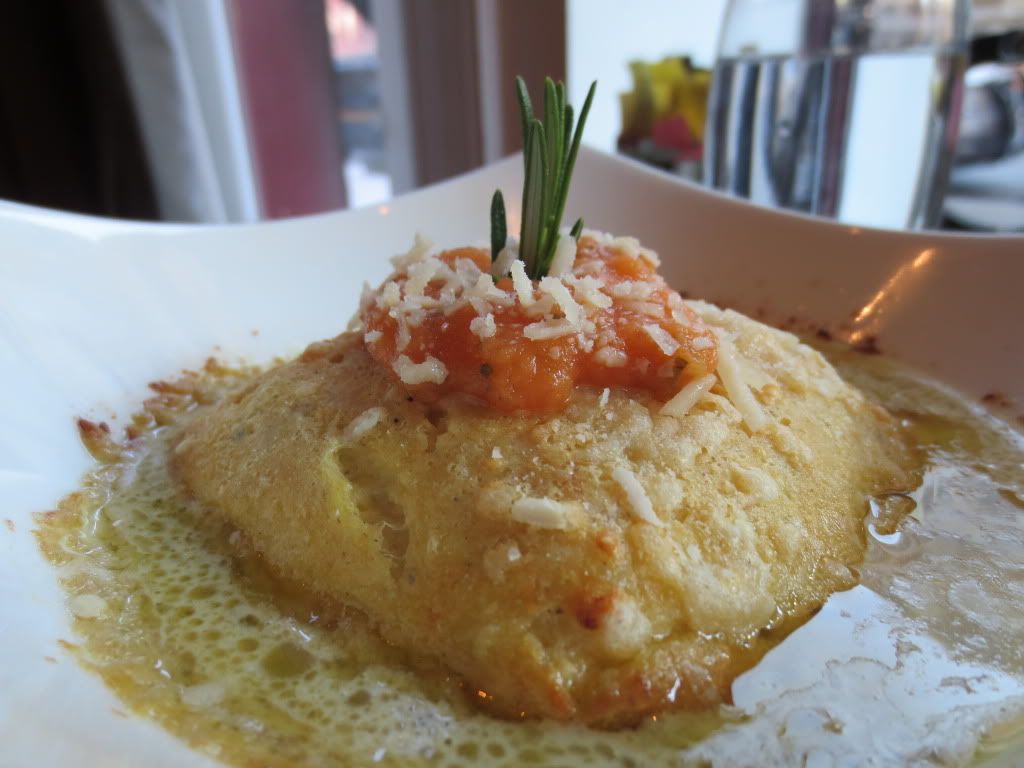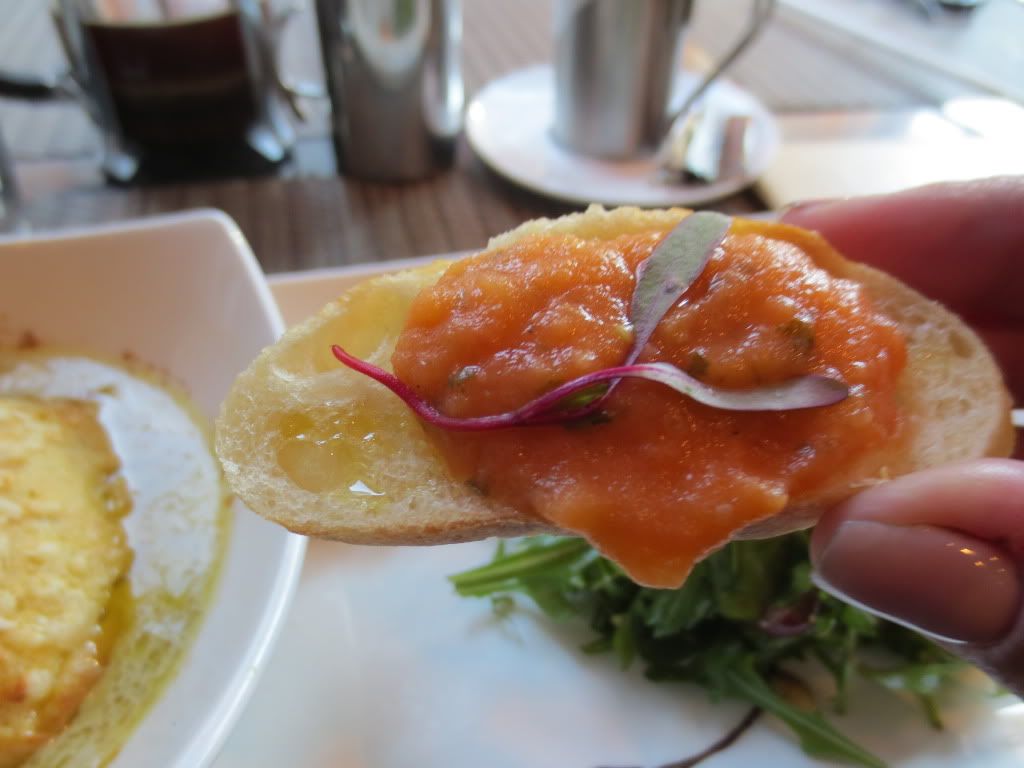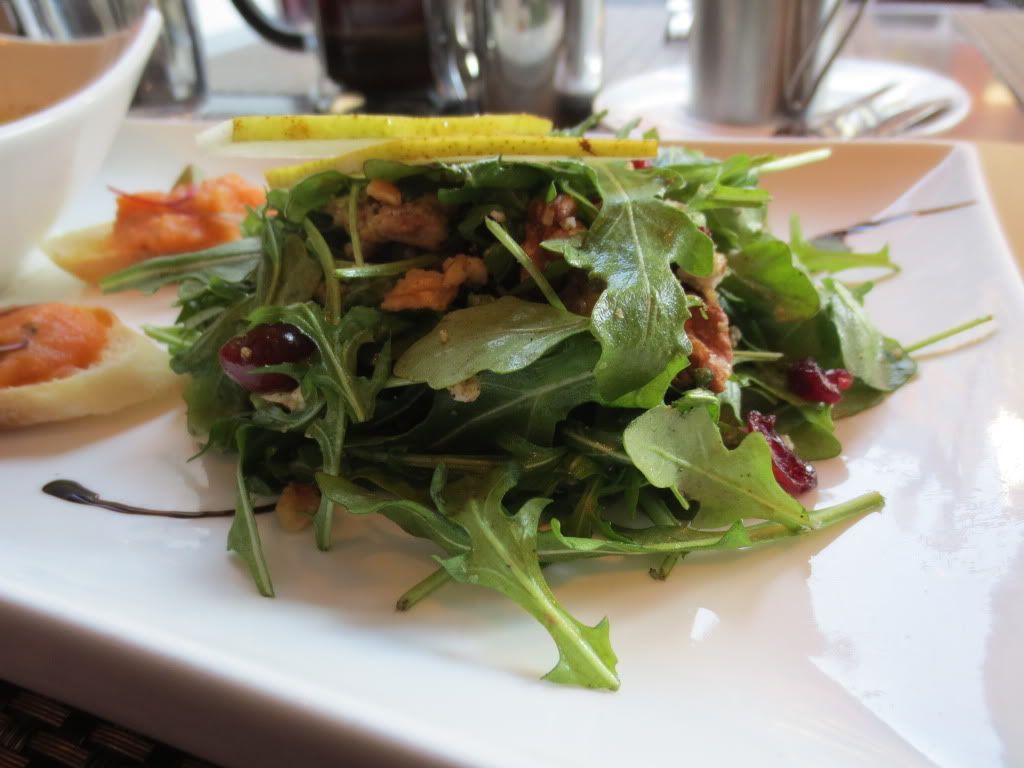 Along with my "Cheese Magic," I got an order of their chocolate enrobbed bacon,
naturally
. Their crisp bacon is covered in dark chocolate and then lightly sprinkled with sea salt. It's all sorts of wonderful, slightly salty, creamy and crispy all at the same time. I even got a pack of it in their chocolate boutique (located right next door to the restaurant) to bring home to Miami.
For my dessert, I opted to go with their Some More Crème Brulee. It consists of chocolate crème brulee topped with toasted marshmallows and homemade graham crackers. It was light and rich all at the same time. The crème brulee also came with an earl greay chocolate truffle. As much as I loved the crème brulee, I was not crazy about the truffle. The flavor of the truffle was to flowery and fragrant for my own personal taste. None the less, I'd get this crème brulee again in a heart beat.
If you're ever in DC, be sure to check out this restaurant or at the very least check out the chocolate boutique directly next door. The food is delicious every time and rarely disapooints. Even the service at this place was great. My waitress, Mayra Elizabeth, was attentive, courteous and took the time to answer all of my nerdy questions. This place is a definite must.
_____________________________________
Restaurant Details:
Co Co. Sala
929 F St NW
Washington, DC 20004
http://www.cocosala.com/