Over the weekend I had the pleasure of attending one of Edge Steak & Bar's monthly pop-up cooking classes. Not only are these classes a boozey great time, they are extremely informative. The class I attended was their Brews & Bites edition and we learned how to cook with beer. We got to make six different dishes using beer; everything from a cocktail to dessert all while hanging out at the hotel's terrace. It was fan-fuckin-tastic. Plus, it doesn't hurt that Edge is by far one of my favorite restaurants in the Brickell area. Not only is their service great, but every time I've been their the food has been delicious.
Sorry you missed the class? I am too, not only did we learn how to cook using beer in everyday dishes, we ate like kings and drank like lushes. At the end of it all, we got copies of the recipes of everything we cooked so we can recreate the dishes once we sobered up. Don't worry though, they will be hosting pop-up classes on the third Saturday of every month til the end of the year. Get all the details and register for the next class here.
I shared a picture of the Cheesy Beer Bread we learned to make on my Instagram and got several requests for the recipe. Now that I've gotten the ok from Edge, here it is:
Ingredients:
3 cups of All-Purpose Flour
3 teaspoon of baking powder
½ teaspoon of caraway seeds
1 teaspoon of salt
¼ cup of white sugar
24 oz of beer - your favorite hoppy beer (IPA) will do
½ cup of cubed cheddar cheese
½ cup of melted butter
Preheat your oven to 375 degrees. Drink half of your beer (12 oz to be exact) CHEERS! Mix all the dry ingredients in a large bowl and mix in the remaining beer. Once combined, fold in the cheese. Pour the mixture into a greased loaf pan and then pour the melted butter all over the mixture... yeah you read that right. Pop the pan in the oven for about 40 minutes until done. Allow for the bread to cool completely on a cake rack once you've removed it from the oven.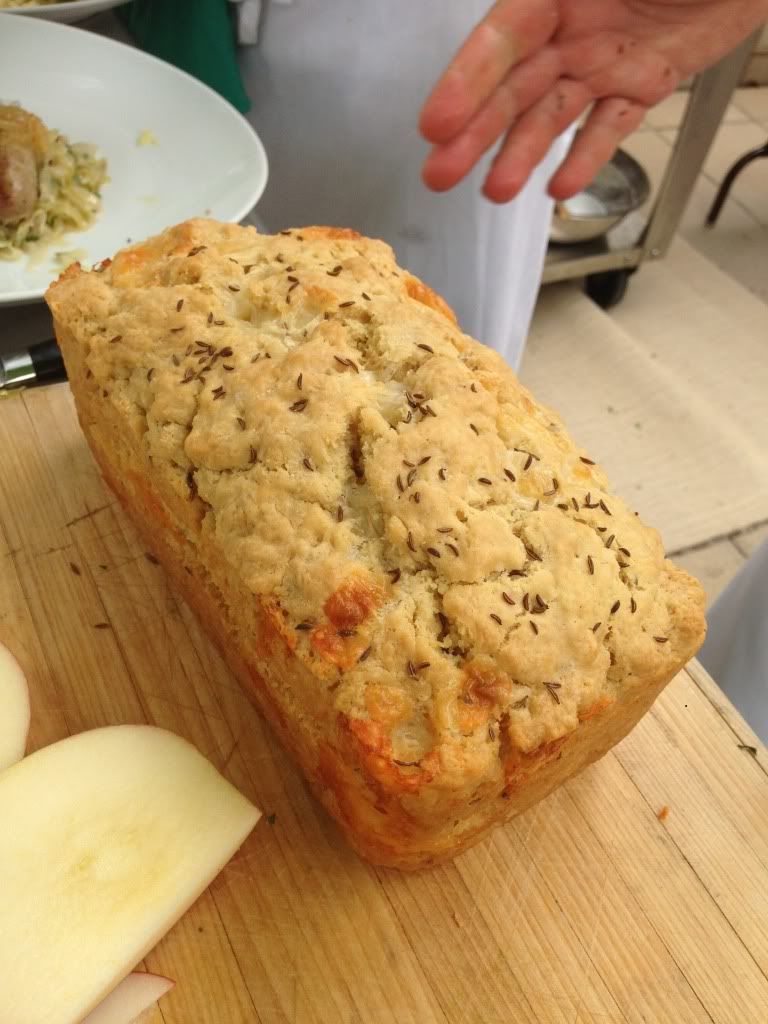 When the bread is ready to eat you can slather more butter on it or eat it all by itself. You can also share this with friends, but honestly, you're not going to want to share this deliciousness with those assholes.
_______________________________
Restaurant Details:
Edge Steak & Bar
(305) 358-3535
1435 Brickell Ave - Lobby floor of the Four Seasons
Miami, FL 33131
www.edgerestaurantmiami.com/