I had been a fan of Latin House Grill since it came onto the food truck scene in the beginning stages of the food truck rush that hit Miami. They had gimmicky names for their dishes like "Muffin Tops," "Mad Love" and "Chuchi Bowls." They boasted about how their truck was a family run operation, which is actually the bulk of most food trucks that are out. But even with their gimmicky nature, I liked their food, specifically their international muffin tops. So when they fell off the radar and starting focusing their energy to make the transition from truck to restaurant I was excited for them. Only a very small few food trucks (actually I can only think of one other) have successfully made the jump. The actual restaurant opened up right next to Sweetness Bakeshop, which I personally thought was an ingenious idea. The restaurant offers wine and a small (yet nice) selection of beer. The northern wall is adorned with bright graffiti art. The bar also features some graffiti along with TV's that are usually showing sports. Their menu took their original classics and expanded it with some Miami/Tex-Mex selections.

The first time I went I opted to start off with their Chilanga Quesadilla. According to the menu, this quesadilla comes from the Districto Federal/Mexico City. The quesadilla comes stuffed with mozzarella, provolone, swiss cheese and your choice of meat. I didn't know Mexico City put provolone, swizz and mozzarella in their quesadillas, but c'est la vie. The meat options are chicken, veggies, chorizo, cabo wabo, ribeye steak, calamari, carne asada, vaca frita and shrimp. For the quesadilla I decided to go with their ribeye. The quesadilla is actually a large portion and could easily be someone's whole meal. The meat tasted good, but could've use a hint of salt and the light drizzle of avocado lime sauce and crema over the top gave it a nice touch. The meat, although tasty, was really greasy and it made it almost impossible to eat the quesadilla with your hands. Every time I picked up a piece of the quesadilla, a pool of grease was left behind on the plate. Next time I will try this with chicken.


My boyfriend decided to have their Taqueria Calle Tacos. The tacos come in corn tortillas and are topped with you pick 'em meat, crema, avocado lime sauce and pico de gallo. He decided to have 2 with chicken and the other 2 with ribeye. He personally liked the flavor of the chicken tacos over the ribeye. When compared to the chicken, he felt the steak tasted average and over-cooked since it's shaved very thin.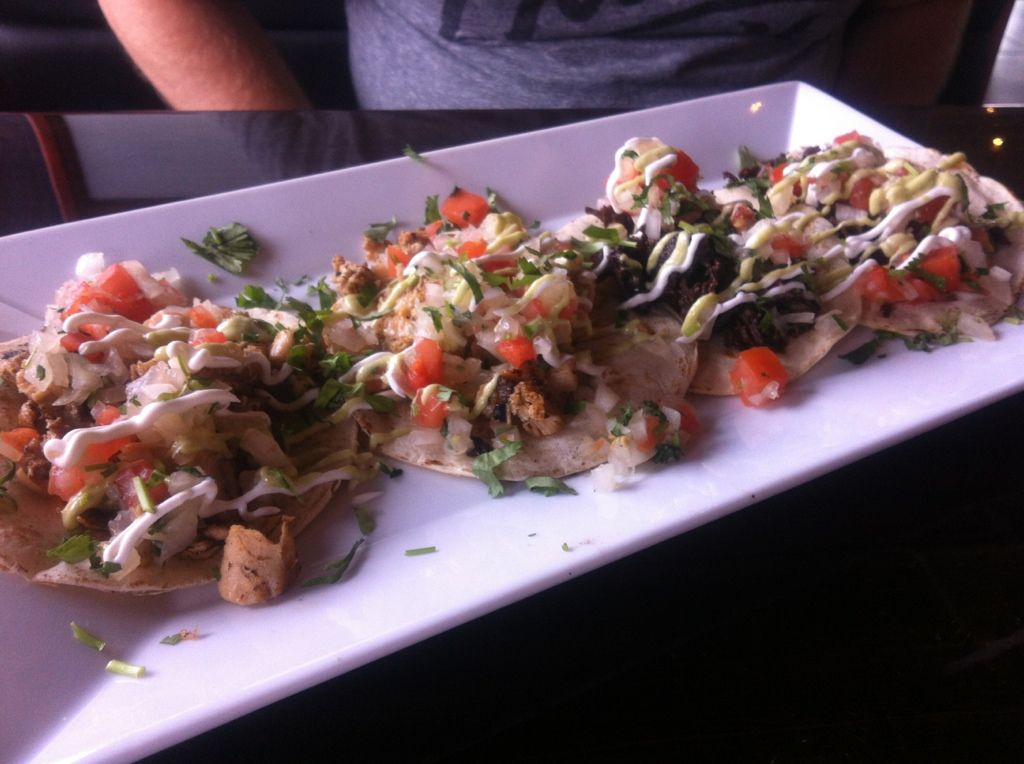 I decided to have their French Muffin Top. I used to love getting these at the food truck roundups, so I was excited to have it. I only ordered one because that quesadilla is truly filling. Their price had gone up since they had been sold on the truck, but I guess that's to be expected since these folks have more bills to pay. The muffin top came with a side of their Tangled Love, which are really thin potatoes that have been fried into a tangled ball. The mini burger was smaller than I remembered but just as delicious. The burger comes topped with brie cheese, honey and sliced almonds. This burger has that sweet and salty combination that I love.


On my second visit we decided to change things up. I started with their Queso Fondu Madlove. This cheesy meaty mess combines chorizo, melted Chihuahua cheese and their Madlove beef. It was delicious but every tortilla chip we tried to use would fall apart. So as true fat assess, we picked up our forks and just started eating it straight from the pot. Definitely an appetizer to have and probably not share with absolutely anyone.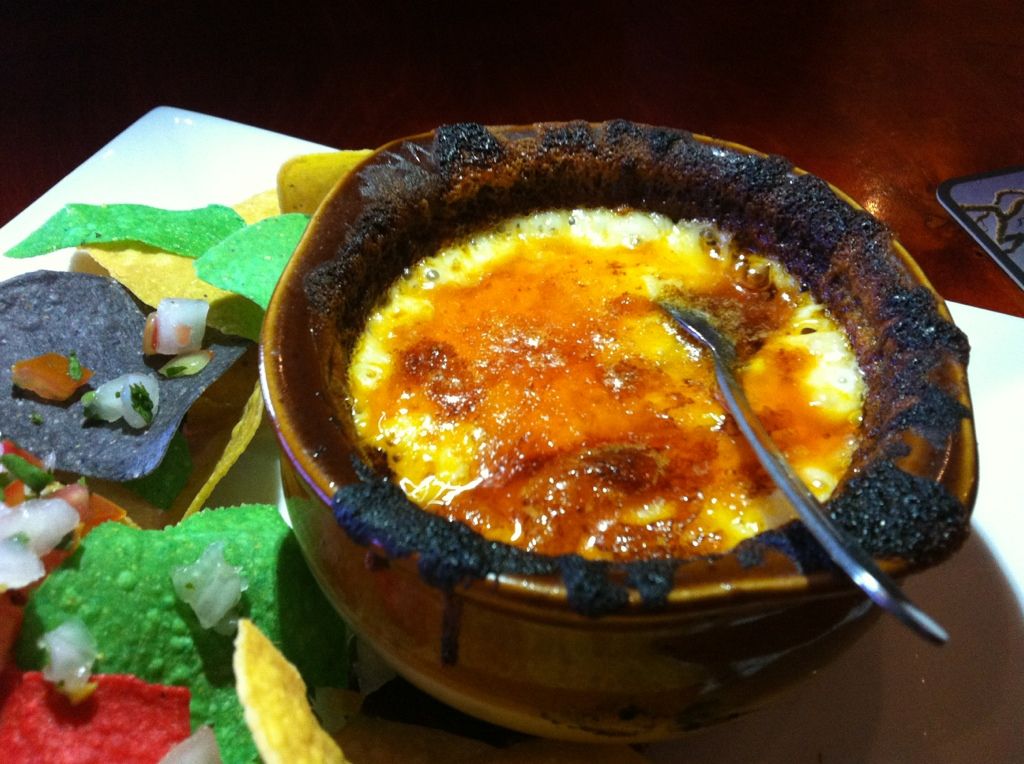 On my second visit I went with my close friend who decided to have their Chuchi Bowl of Rice. This is also a 'pick your meat' dish, so my friend went with chicken. The bowl also comes with yellow rice, topped with pico de gallo, avocado lime sauce and crema. What she got looked A LOT like a Chicken Kitchen Original Chop-Chop; it also tasted like it as well. Don't get me wrong, it was good and I'm in no way knocking down Chicken Kitchen. The rice and chicken were both well seasoned but for the price paid at LHG ($10, not including tax & tip) my friend will hit up Chicken Kitchen instead.


As my entrée on my second go around, I decided to go with their Chimi Burrito. Another 'pick your meat' dish. I decided to go with Vaca Frita. The burrito comes in a flour tortilla and is stuffed with yellow rice, fried sweet plantains and three types of cheese. The menu does not tell you that this burrito is actually fried, but it is. This deep fried behemoth also comes with a side Tangled Love potatoes. I would've preferred a non-fried burrito, but "irregardless it's delicious." They've got their vaca frita down to a science; the flank steak is perfectly seasoned and cooked with onions that just add to the whole burrito's flavor. The rice and cheese went perfectly together (think arroz imperial) and the sweet plantains gave the whole thing a nice hint of sweet. Along with almost everything else in the menu, this is also topped with a drizzle of avocado lime sauce, crema and pico de gallo. I ended up asking for an extra side of avocado sauce and crema because, a light drizzle on this bad boy just wasn't going to cut it. This burrito was a winner.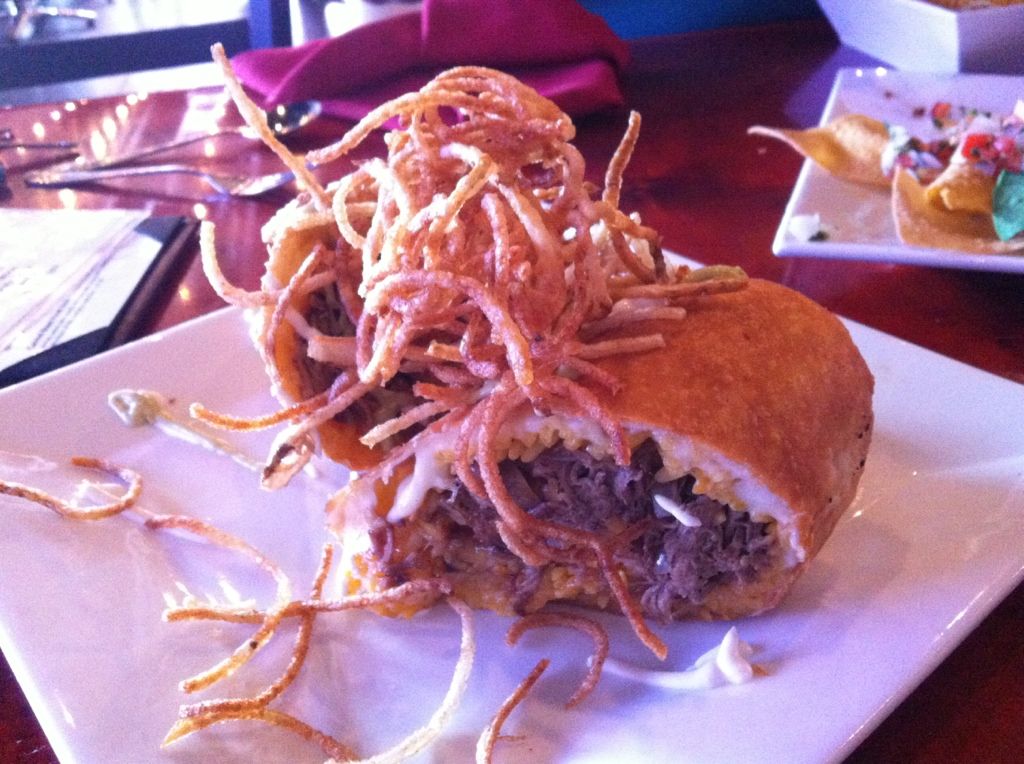 Overall, I will probably go back to this restaurant if I'm in the area. On our second visit our service was poor. We waited almost 40 minutes to get our appetizer; we had to practically flash a boob to get our waiter to refill our drinks and even to pay. On our second trip our waiter was more preoccupied with figuring out what channel the Heat was playing than attending to patrons. We didn't try their desserts because, I mean... c'mon... they're right next to Sweetness Bakeshop! Some dishes I will most likely avoid in the future such as their rice bowl and others I will definitely revisit. If you ever tried them as a food truck and have been missing them, definitely give them a visit since they're offering all of their old classics.
_________________________
Restaurant Details:
Latin House Grill
9565 SW 72nd St
Miami, FL 33173
(786)564-LOVE
http://www.latinhousegrill.com