Only until recently did I realize there was a good sushi restaurant in Pembroke Pines. All these years I was subjected to withstand RA Sushi whenever I wanted sushi in Pines. Let's be real, you only go to Ra sushi for their happy hour or to pick up pata sucias at the bar. Otherwise, the overpriced sushi sucks, the music is loud enough to burst an ear drum and the wait for a table is usually over an hour. Come to find out that there is a hole-in-the-wall restaurant named Blue Ginger located right by the Cinemark 24. To be exact, it's located right next to the Publix in the large shopping plaza directly west of the Cinemark 24.
You walk in and you're greeted by a friendly hostess and asked if you'd like a booth or sit at the bar. The booth offers a more intimate experience, but the plus side to sitting at the bar means you get to pick dishes from their ever moving river. At the bar dishes float along on little boats. In the middle of the bar stands the sushi chef readily making rolls and sashimi as plates get picked up by hungry guests. The restaurant itself is brightly lit and inviting. We decided to grab a booth since the bar was already slammed.
Their menu is pretty extensive with several specialty rolls to pick from, in addition to Pad Thai, fried rice, udon noodle bowls and a few other Asian dishes. My boyfriend started off with their house salad which consists of lettuce, carrots, cucumbers, tomatoes and a ton of ginger dressing. My boyfriend really enjoyed the salad and he seems to be a bit of a ginger dressing freak. Once he was done I caught him licking the bowl to get every last bit of the dressing.
My boyfriend also decided to try a few pieces of sashimi. Two salmon and two tuna, both were fresh and inhaled within seconds. However, he did say that the tuna slices weren't top notch quality, as you can see for yourself in the picture below. The salmon was really good, but all four pieces fall short of the quality you'd get at a place like Pubelly Sushi or Makoto.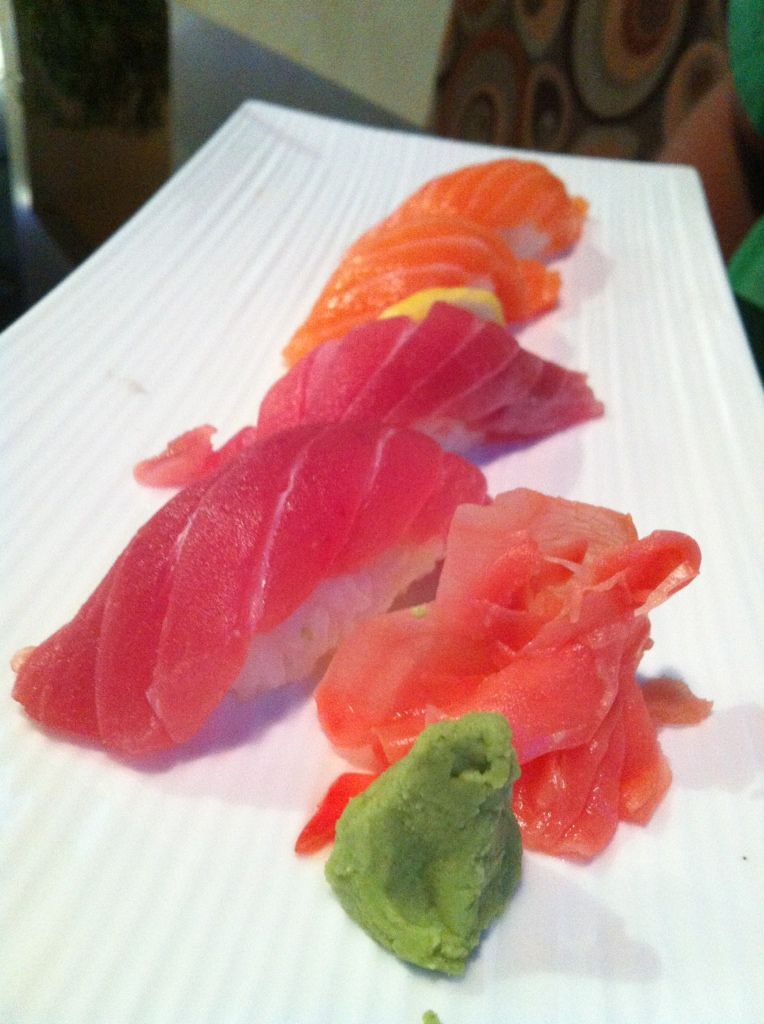 Our first plate of sushi came out and it was both my Mango Tango roll and my boyfriend's Angry Tuna roll. The Mango Tango roll comes with krab meat, avocado, cream cheese, mango, tempura flake and drizzled with a mysterious "yummy sauce." The roll itself comes wrapped in a bright yellow soy wrap. I was disappointed they didn't use real crab meat, but overall I really liked the roll. The mango was really fresh and ripe with flavor that just burst in your mouth. The tempura flake gave the roll a nice crunch. I still don't know what was in the "yummy sauce." Which scares me because the last time someone told me to try their yummy sauce was in the backseat of their car. Any who... the avocado was fresh and added to the rolls creamy texture. I am a fan of sweet and salty mixes so this was right up my alley. The Angry Tuna roll was the total antithesis of my refreshing mango roll; it was spicy and deep fried. It consisted of tuna, avocado, scallions, battered in panko bread crumbs and deep fries. Over the top it comes drizzled with kimchee sauce and creamy wasabi.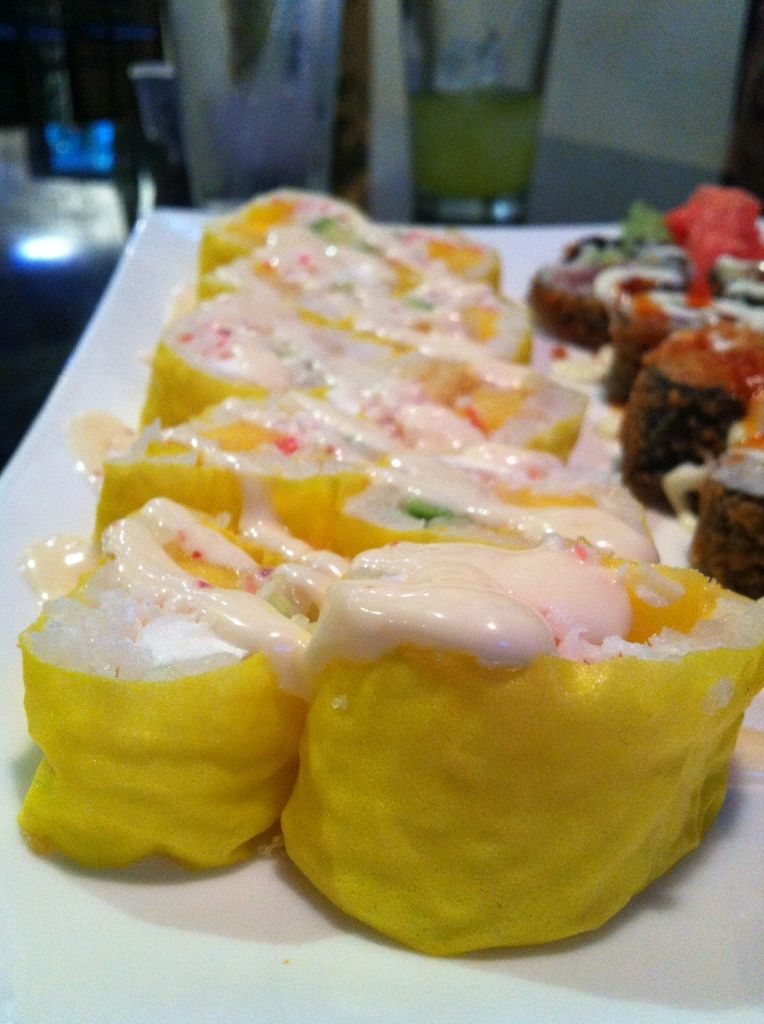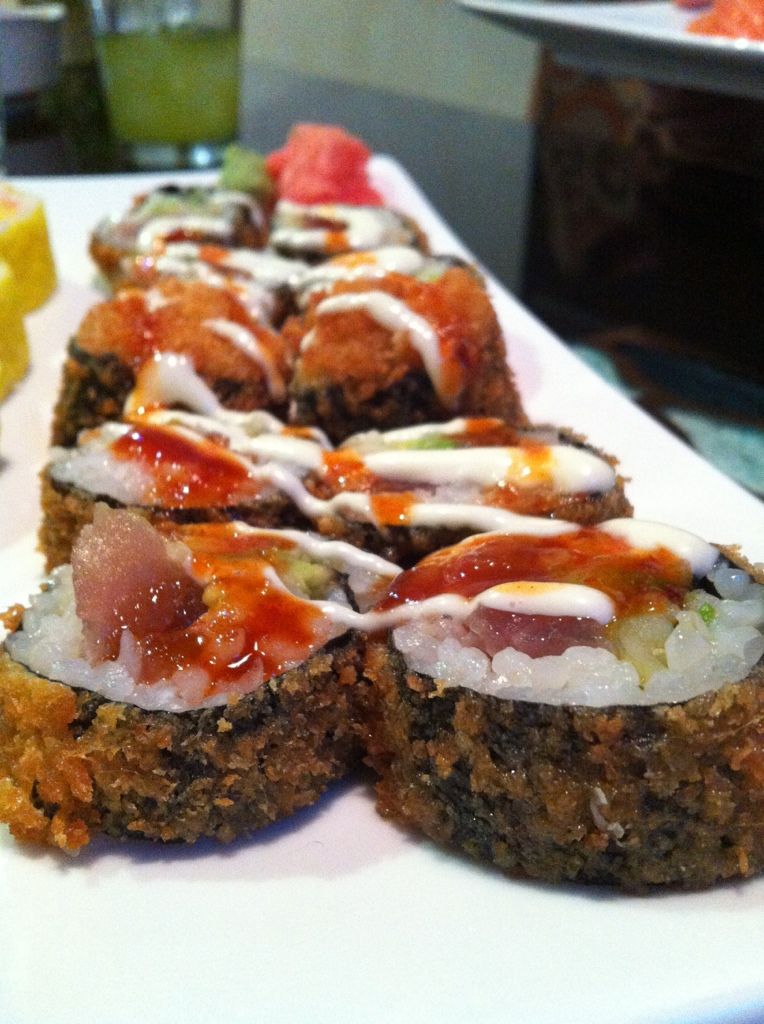 Soon after the first two rolls came out, the ocean drive roll was placed on our table. This roll consists of tuna, yellowtail, avocado, cilantro wrapped in bright green soy wrap and drizzled over the top with fresh line and chili oil. Unfortunately, this roll was swimming in chili oil, had it stuck to the menu description it would've been a lot more inviting. My boyfriend liked this roll the least, I didn't try this one because I was saving up for dessert. The fish was fresh as was the avocado, but the abundance of chili oil was a turn-off.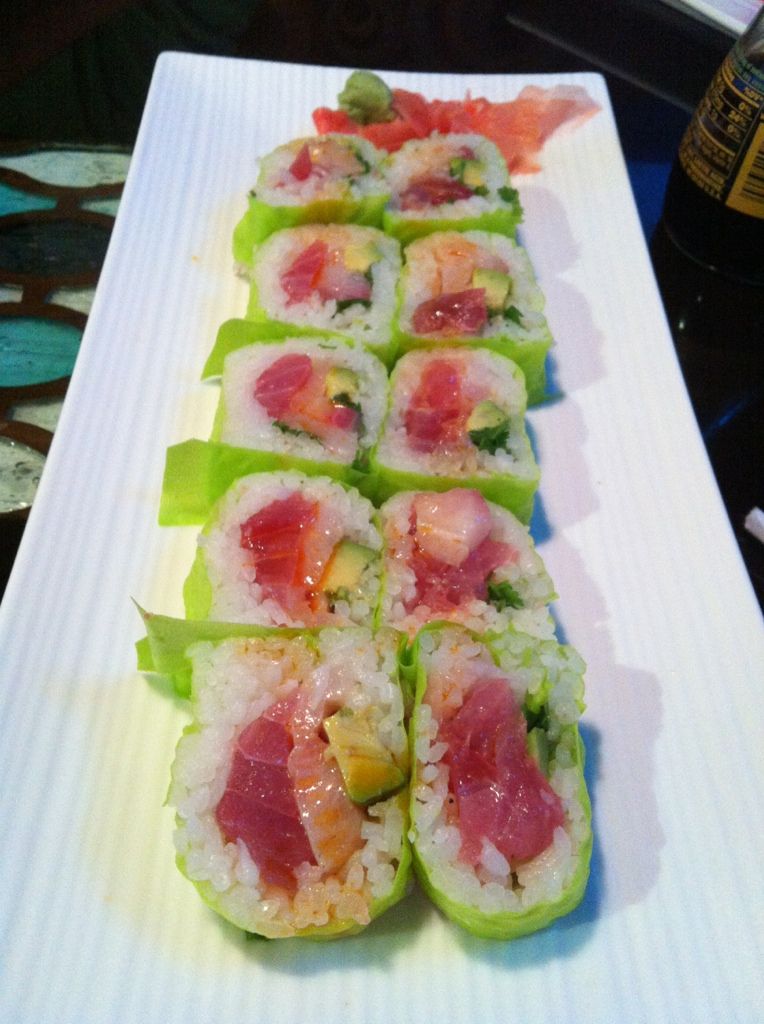 Lastly, we had their Miami Heat roll which comes with spicy tuna, fresh jalapeno, tempura flakes, served in pink soy wrap topped with spicy mayo and eel sauce. We asked for no eel sauce on this one, but we definitely noticed a trend: this place love to douce their rolls in a ton of sauce. None the less, this roll was good, the jalapeno and spicy tuna gave the roll a nice kick in the nads and the tempura flake gave it a nice crunch. Definitely one of our top picks.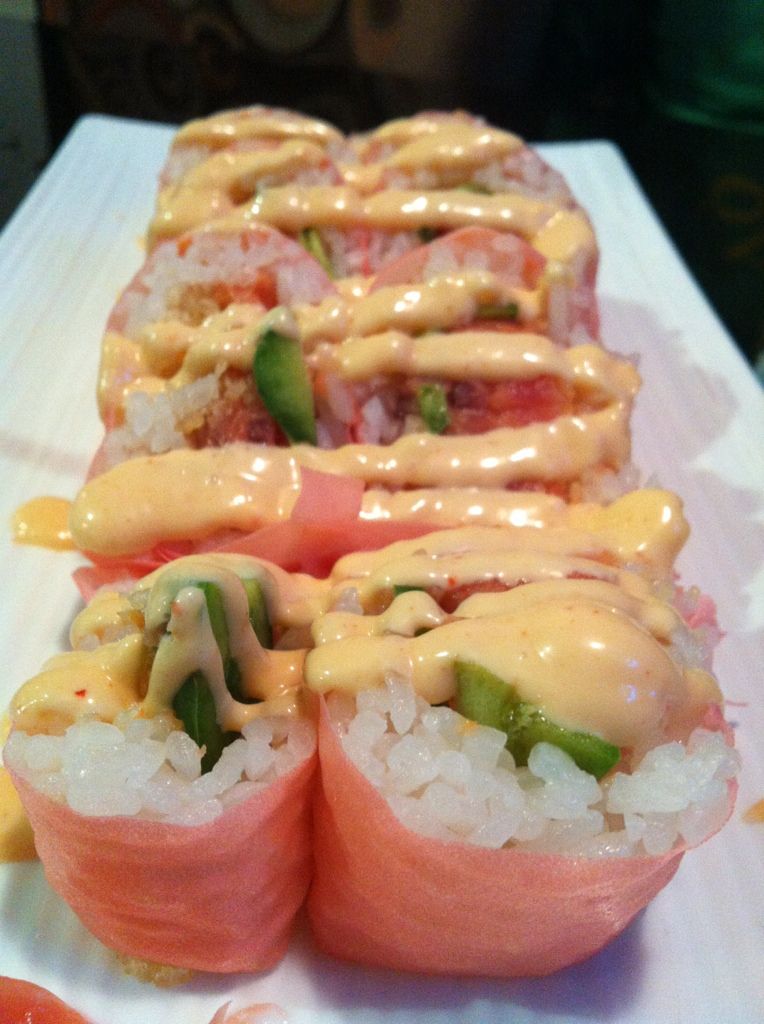 Lastly, we finished of the night with some Thai donuts. I'm used to simple donuts, fried dough, condensed milk and some crushed peanuts, plain yet amazing. Blue Ginger tries to dress up their Thai donuts with chopped strawberries, whipped cream and chocolate syrup, but all that stuff is fluff and unnecessary! The donuts were really good, piping hot and fresh. I would definitely have them again, but ask for no chocolate syrup or strawberries.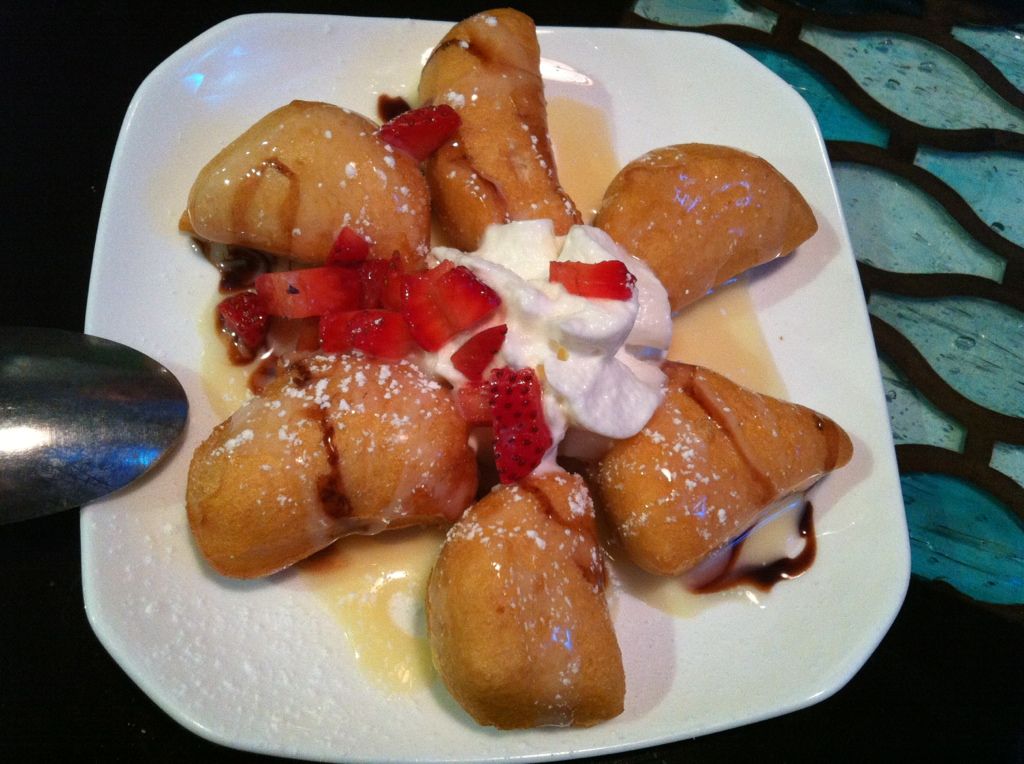 I liked this place, from the floating sushi river at the bar, eager to help staff to their extensive menu. If you want a sushi option other than RA sushi in Pembroke Pines, this is a place to definitely check out. It's not going to blow your mind, but it will get the job done. My boyfriend said he actually preferred RA sushi over this place when the music isn't blaring, but I think that has something to do with the fact that he's into pata sucias.
_____________________________________________
Restaurant Details:
Blue Ginger
15791 Sheridan St
Pembroke Pines, FL 33331
www.bluegingerfl.com