Over the last couple of decades, Hialeah has become synonymous with bad traffic, chongas and Cubans. Flashback to a few decades back and Hialeah was an up-and-coming town with a dignitary attracting race-track and a burgeoning garment district. The garment district was located in the south east corner of Hialeah and was mostly run by families of Jewish decent. However, like locusts, us Hispanics invaded Hialeah and made the town our own. The one-time garment district is now overrun with thrift stores and auto-body shops with plans to be turned into an art district. The only thing that has survived in the area is Stephen's Restaurant, a 60 year old Jewish deli. Yep, you read that right. A Jewish deli in Hia-fuckin-leah.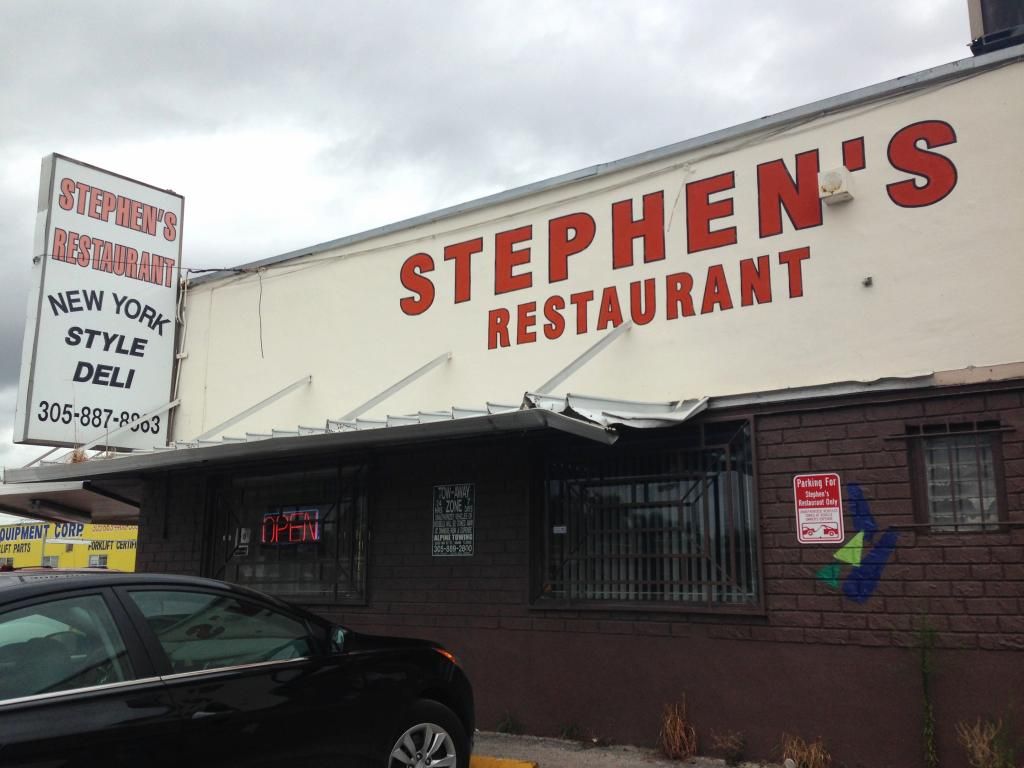 I've been going to this place on and off for the last ten years. It's only open Monday through Friday 8am-4pm and it is the only place in Hialeah where the majority of diners will be anything except Hispanic. The mere existence of this place is a well kept secret, even to people who grew up in this city. Walking in you suspend reality and are no longer in 2014, instead you're somewhere in the early 1980's. Formica errthang, even formica wood panels on the walls. It's a well preserved time capsule.
Before you even get your menu you get a dish full of freshly made coleslaw and a piece of challah bread. So what do you eat when you come to Stephen's? A sandwich. The question then becomes which sandwich? Well my personal favorite is the pastrami, particularly their Grilled Rachel and at $10.50 it's one of the most expensive dishes on the menu. It consists of their homemade pastrami topped with sauerkraut, Swiss cheese, thousand island dressing on rye bread and a pickle on the side. Absolutely delicious, the pastrami is piping hot and practically melts in your mouth.
Challah roll
Grilled Rachel
Maybe you're not in the mood for pastrami, in that case go for the corned beef and get their Grilled Reuben. Almost identical to the Grilled Rachel, but switch out the pastrami with their house-cured corned beef. Their corned beef is perfectly seasoned and tender.
Maybe you're looking for something a little heavier than a sandwich, then may I suggest a patty melt? Their patty melts come topped with tons of grilled onions, Swiss cheese on rye bread. The patty melt comes with a side of french fries, but if you can, switch them out for onion rings of potato latkes. Since their fries are cooked in the same oil as their onion rings, the fries tend to taste a lot like onions. Their patties are homemade and I was assured they make their own ground beef mixture, no frozen patties here.
Patty Melt
Aerial View Of The Patty Melt
Perhaps you're in need of something light or are fighting a cold. How about some Jewish penicillin? Stephen's also offers some delicious Matzo Ball Soup. Light and flavorful broth with a basic mirepoix, noodles and classic matzo ball. Simple, but it hits the spot when you're sick and in need of some comfort food.
Matzo Ball Soup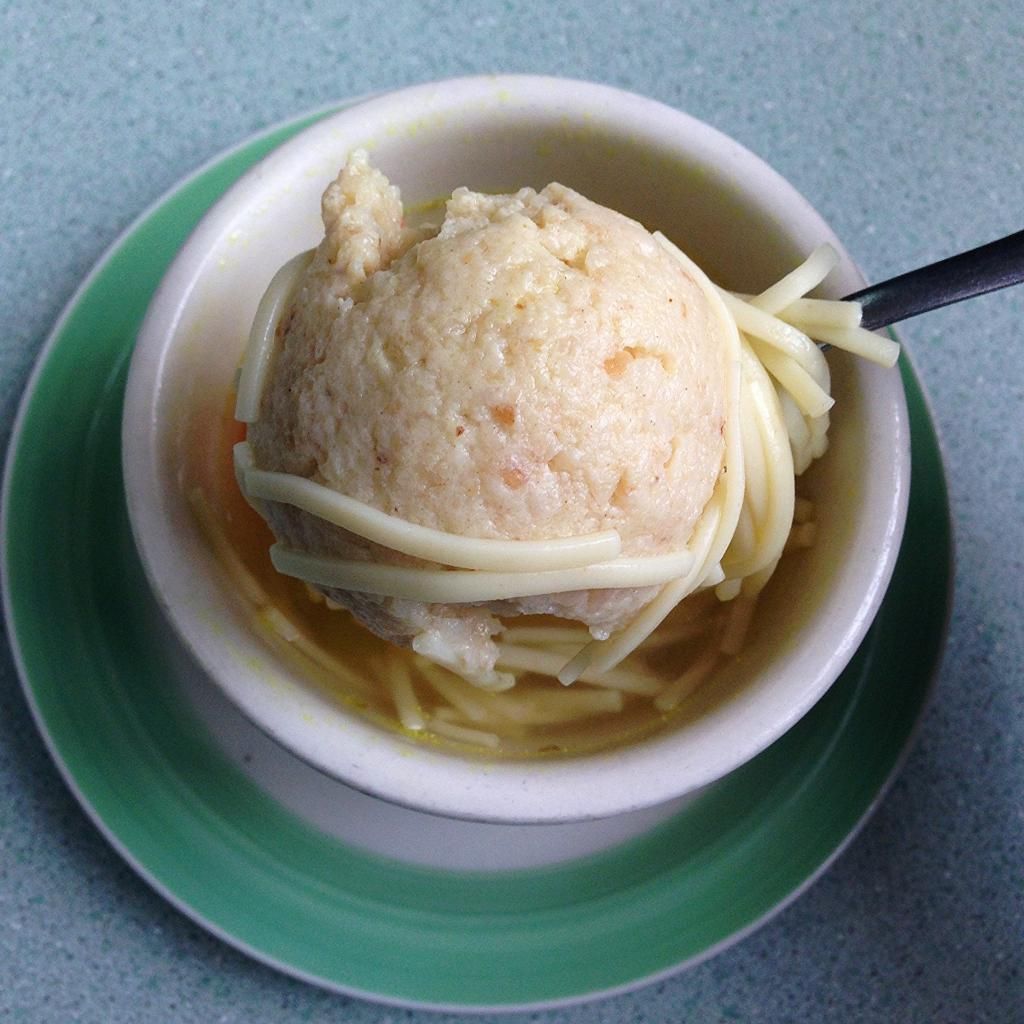 Matzo Ball Soup
One dish I don't recommend is their French Dip sandwich. Sure it's huge, but it's tasteless
#ThatsWhatSheSaid.
 The roast beef is completely unseasoned and the plate is just unappetizing. Skip this one, if at all possible.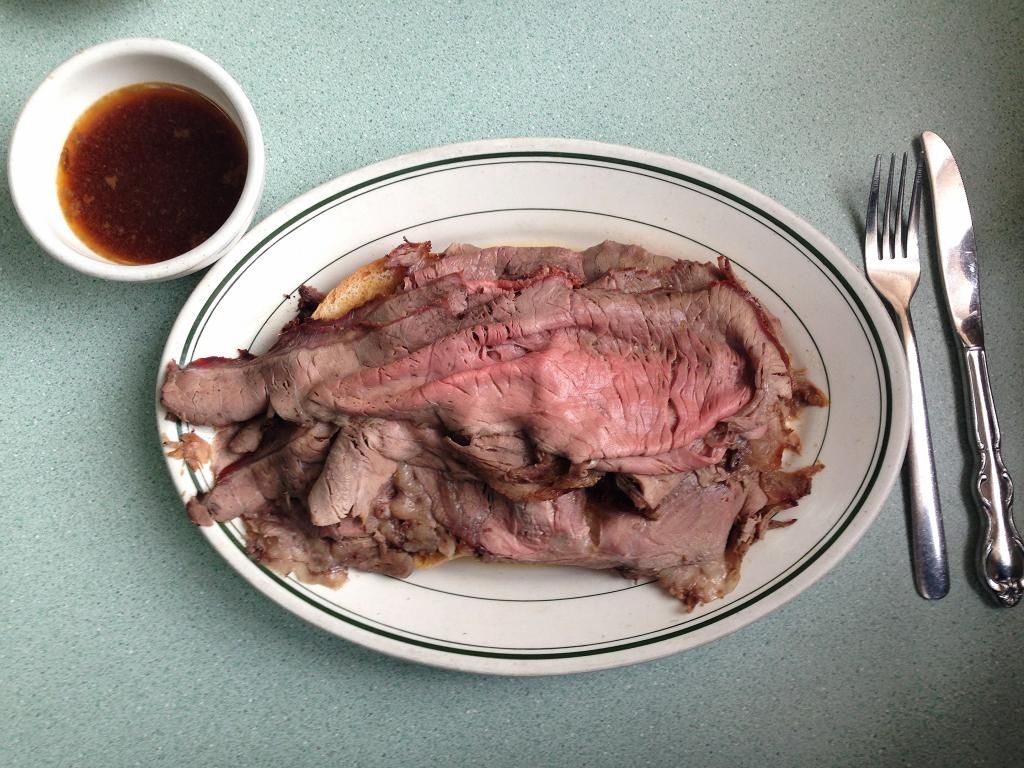 French Dip
The service at Stephen's has always been wonderful and attentive. Most of the waitstaff is on a first name basis with their regular lunch customers and are all eager to make suggestions. Daily specials such as Philly cheesesteak sandwiches, mango chicken wraps and meat loaf are all popular amongst diners. This little piece of Hialeah history is a must for natives and for fans of good pastrami.
________________________
Restaurant Details:
Stephen's Restaurant
(305) 887-8863
1000 E 16th St
Hialeah, FL 33010
www.stephensofhialeah.com