I've been enjoying the delicious croissants at
Panther Coffee
 for quite some time. Unfortunately, I've never taken the time to inquire where they came from. I've always just been thankful for their mere existence and devoured them with rampant fervor all while telling my friends, "
Bro. The croissants at Panther are the fucking tits, guy. Pero like, for real, they're suuuper delicous.
"
Plain Croissant
Fast forward to just a few weeks ago, someone asked on my instagram, "Have you ever been to True Loaf Bakery?" The truth is, I had never even heard of the place, much less been to it. So I did what any girl would do and did some instastalking research. I soon realized that those perfectly shaped croissants from Panther Coffee came from this little bakery. Some more webstalking investigating led me to the bakery's address.
The bakery is located in Sunset Harbor and is just a couple of doors down from Lucali. It's a small storefront with about 10 different pastry offerings available at any given time as well as various types of freshly made loaves of bread. So far I've been to True Loaf 5 different times and each time it's been practically empty. The service has always been knowledgeable and kind.
I've had three different kinds of croissants so far. Their original croissant, their almond croissant and their ham and cheese croissant. All large, pretty, flaky, delicious and pricey. Seriously, the best croissant I've found in South Florida. The outside of the croissant has a slight crunch and the inside is a warm, pillow of fluffy, buttery delicousness. Just thinking about them makes my mouth water. Prices for croissants range between $3-$5 depending on their filling.
Plain Croissant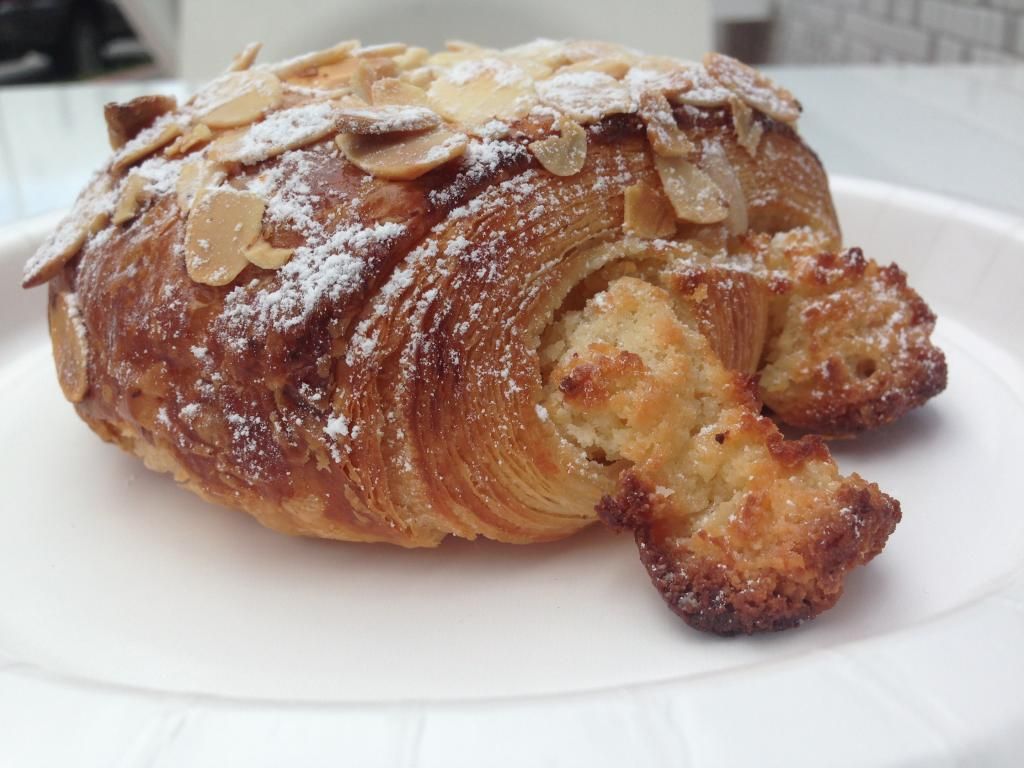 Almond Croissant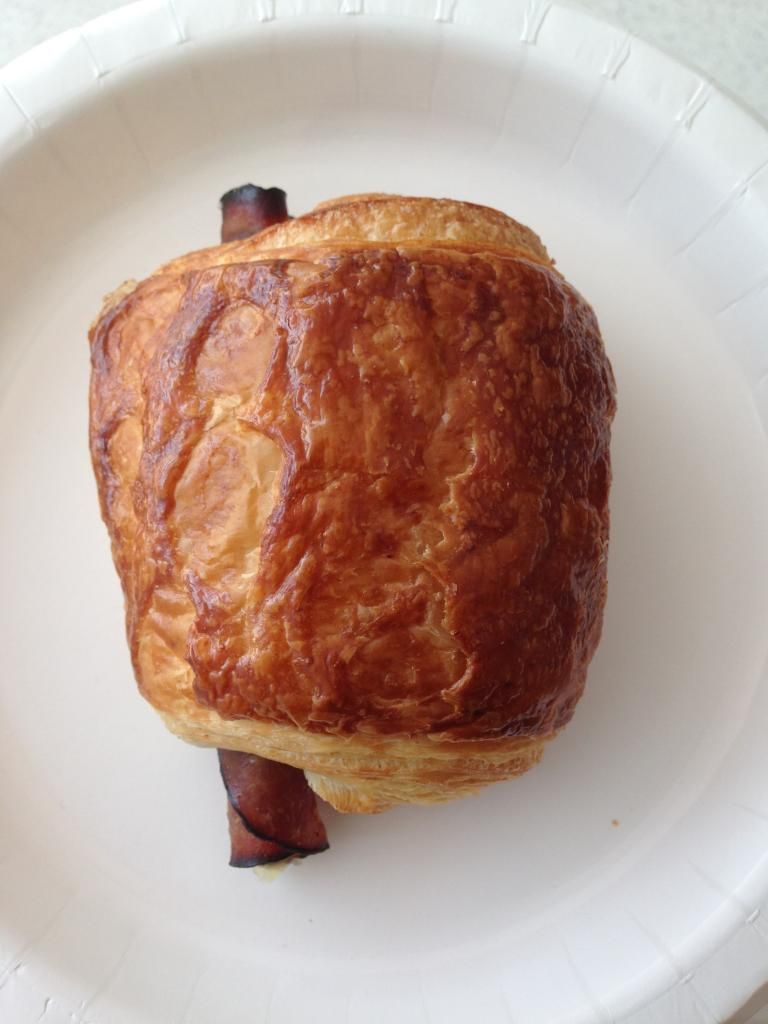 Ham and Cheese Croissant
In addition to their fuhmazing croissants, I've had a few of their pastries. On my first visit I had their raspberry palmier. Made from delicious, buttery puff pastry dough and a big dollop of raspberry preserves, this pastry was crunchy, pretty, sweet and soft all at once.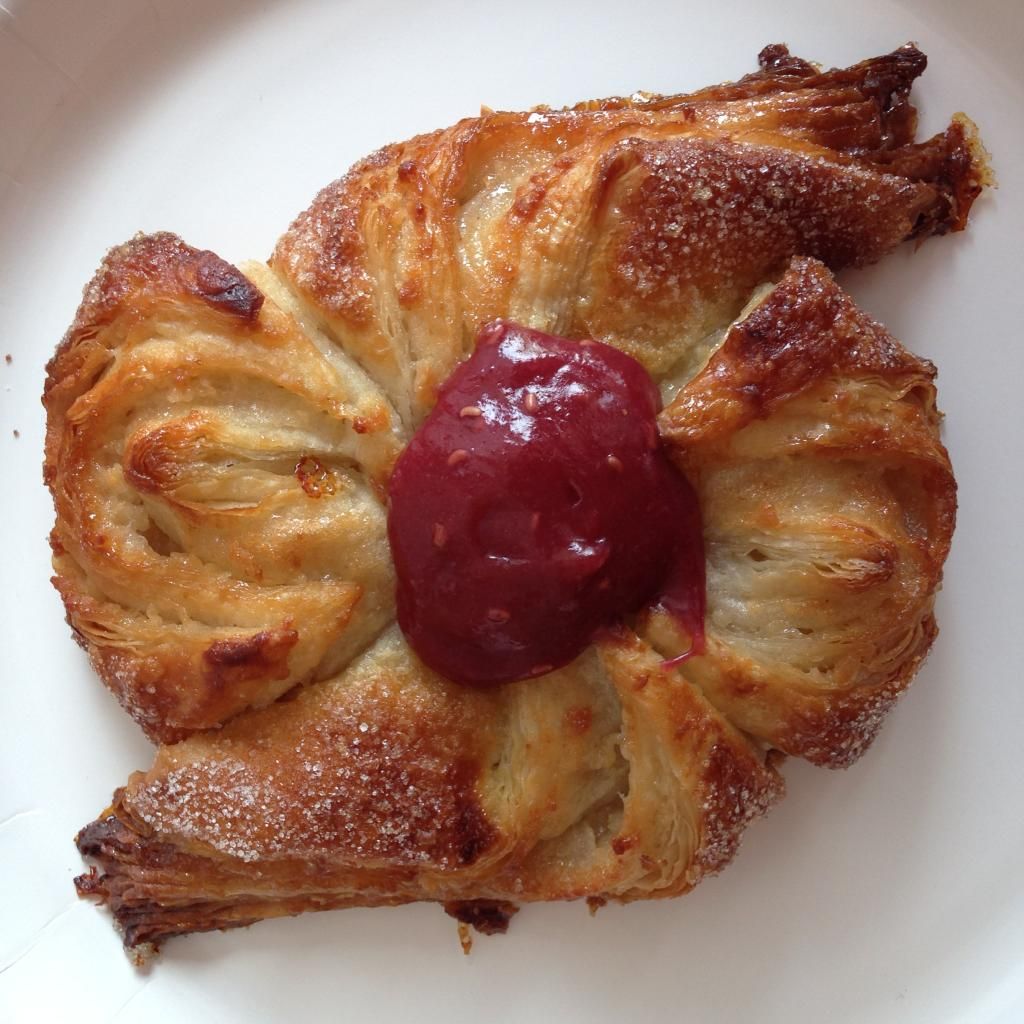 Raspberry Palmier
I've also had a financier, (no, I didn't have an accountant) a small sponge cake made from almond flour. The flavors to their pastries changes frequently and the variety that day was a brown butter and drunken cherry financier. It was soft, moist and the flavors of brown butter and cherry were both mild but complimented each other perfectly.
Brown Butter and Drunken Cherry Financier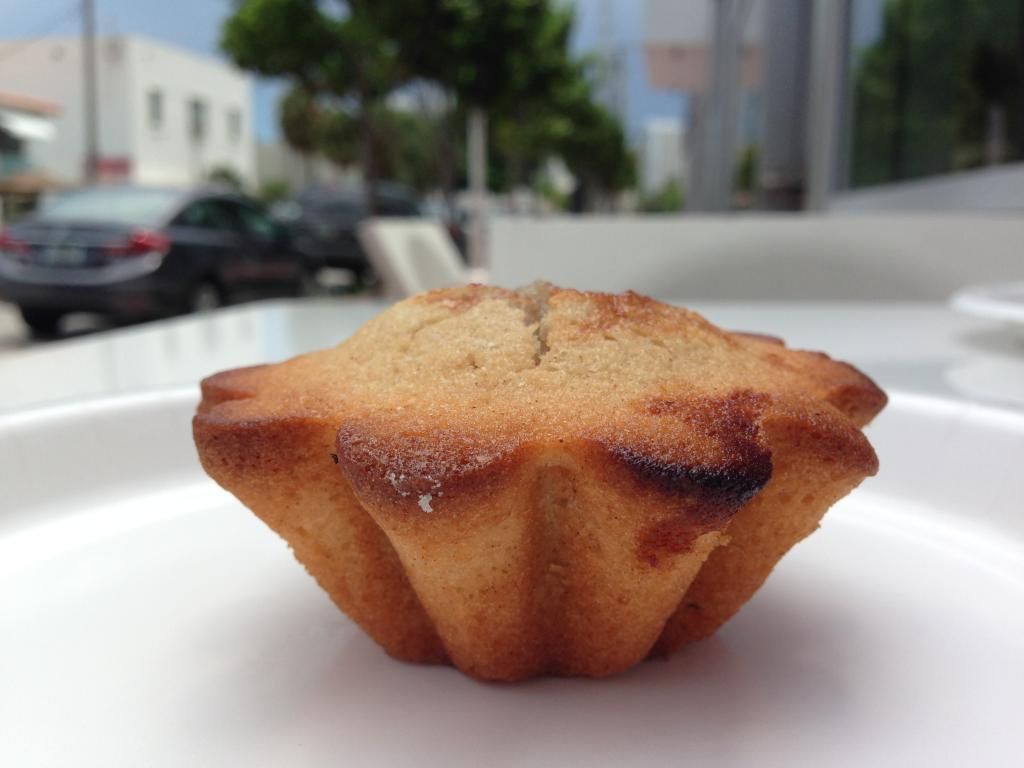 Brown Butter and Drunken Cherry Financier
On one of my visits I decided to have a latte (they serve Panther Coffee with a small upcharge) and I had their madeleine. This was the largest madeleine I've ever seen and also the most delicious. It was topped with a layer of ogarnge zest and sugar. It was like a little sweet cake topped with this amazing little crunch and burst of orange flavor.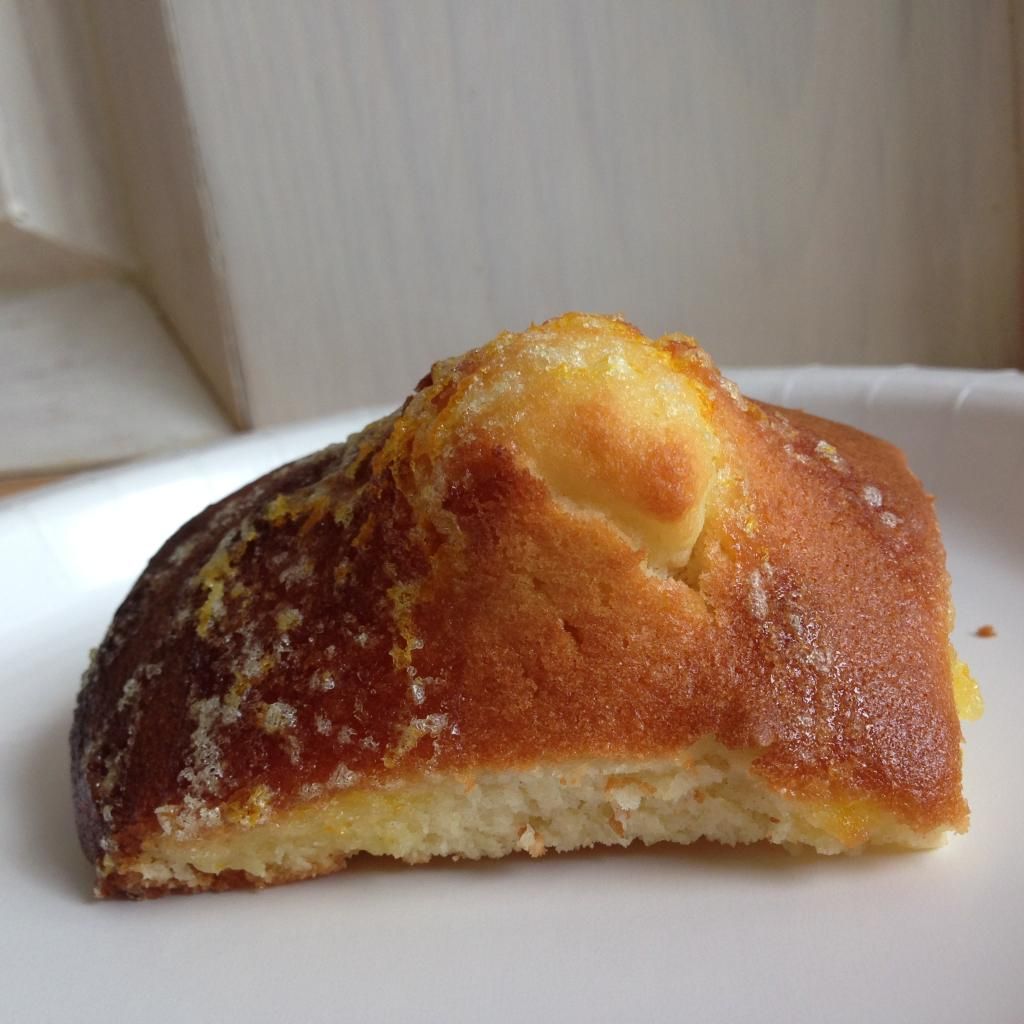 Orange Zest Madeleine
On one visit I noticed they had a giant yellow cookie with some white suspicious-looking glaze drizzled over the top. I asked the cashier and he explained it was a lemon cornmeal cookie. I looked at him in awe  and decided I had to try this oddity. The texture was definitely different than what I'm used to experiencing when eating a cookie. It was smooth and soft, almost like the inside of a polenta fry. The flavor of the lemon was bright and went surprisingly well with the mild corn flavor in the cookie.
Lemon and Cornmeal Cookie (note the suspicious glaze)
So far, there's only one pastry that I wasn't completely crazy about and wouldn't recommend. That pastry is their sweet brioche filled pastry cream. This was so dense and it was missing this little thing I like to call, "flavor." Sadly, it really didn't taste like anything at all, so skip it when you visit. One mediocre pastry out of ten aren't bad odds, but I don't gamble so what do I know?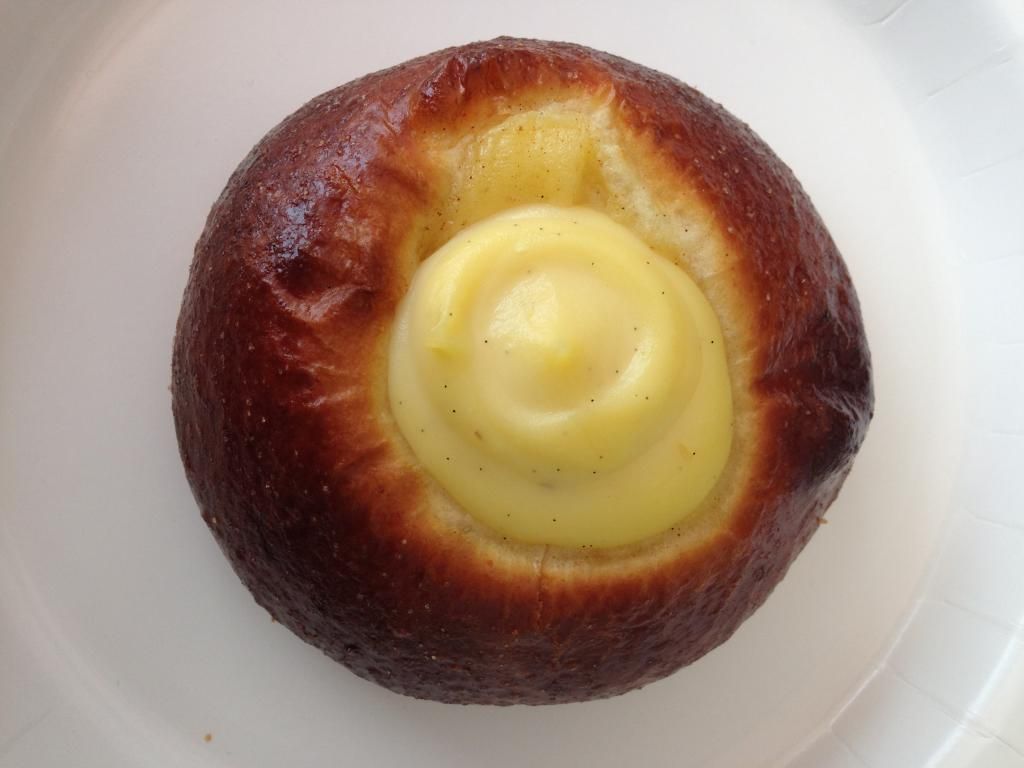 Sweet Brioche Filled With Pastry Cream
This is a perfect neighborhood bakery with a small selection of freshly baked, french inspired pastries. I love bread (I love all carbs, who am I kidding?!) and can easily say this place offers the best croissants I've had in South Florida. However, as previously mentioned this place isn't cheap. One loaf of bread costs an average of $10 each and the average pastry costs about $4. Flavors and the types of pastries offered change daily, giving you a reason to go a few times and try their different creations. Check it out, get a croisant and a palmier then thank me later.
________________________
Restaurant Details:
True Loaf Bakery
1894 Bay Rd
Miami Beach, Florida 33139
(786) 216-7207