You can never go wrong with a grilled cheese. Like many people, I grew up on these easy made sandwiches. With the recent food truck explosion, one truck that is very near and dear to my heart is Ms Cheezious. They offer specialty grilled cheese sandwiches, build your own grilled cheese, tomato soup, Turkey 3-bean chili, fries and other great things. They burst onto the scene right around Art Basel 2010 and their staff is the sweetest, most welcoming bunch of any of the food trucks I've encountered (yea, I said it).
Ms. Cheezious offers unique specialty sandwiches or you can choose to build your own sandwich with eight different cheeses to choose from, six funky add-ons and several different bread options. When I am feeling on the adventurous side, I usually go with gruyere, havarti and bacon on sourdough. In recent months though, I've stuck with three of their specialty dishes. Whenever I am on my sweet and salty kick I always get the Grilled Harvest with extra cheese. The Grilled Harvest comes with cinnamon spiced apples and havarti cheese on multi-grain bread. I always ask for extra cheese on this one because for starters, there's nothing wrong with extra cheese (duh) and without the extra cheese the apples over power the sandwich and you don't get much of the cheese flavor or texture. This is such a funky mix, but it lands on the slightly sweet side of the spectrum. So if you're looking for something slightly more salty and less risqué then move along.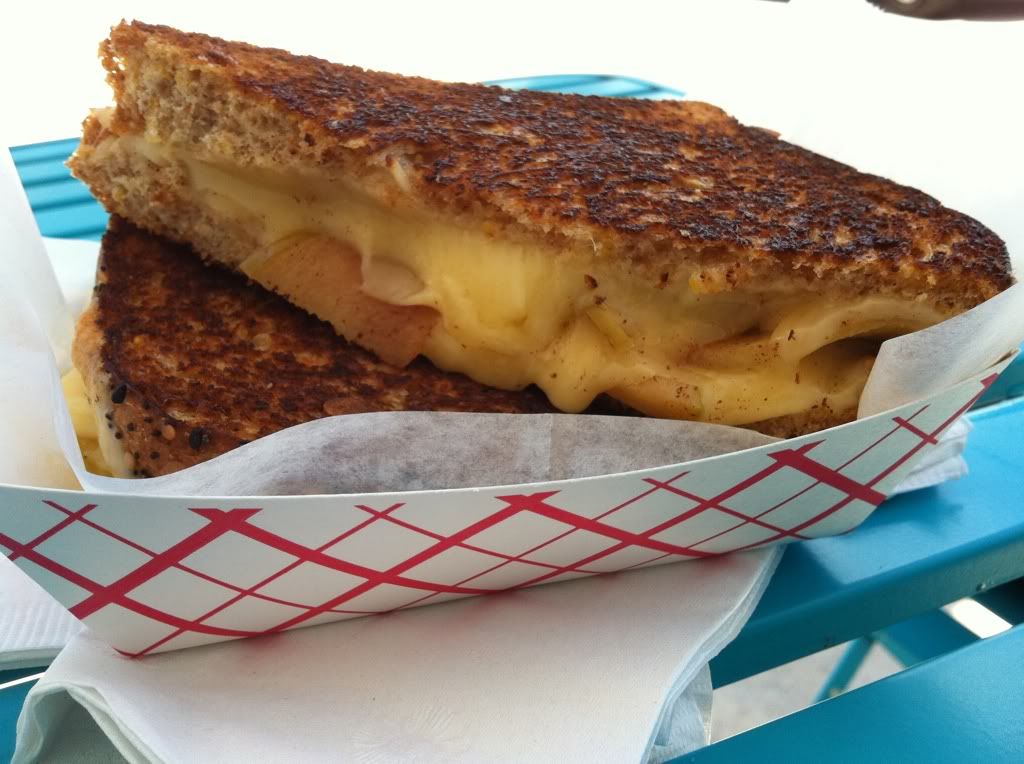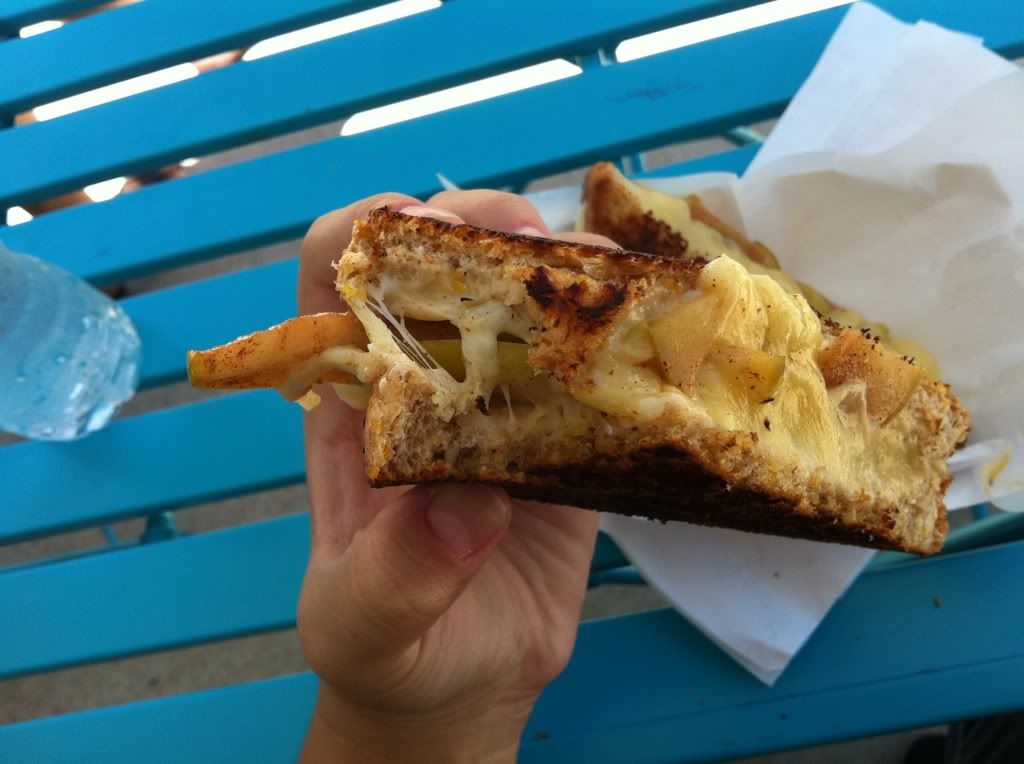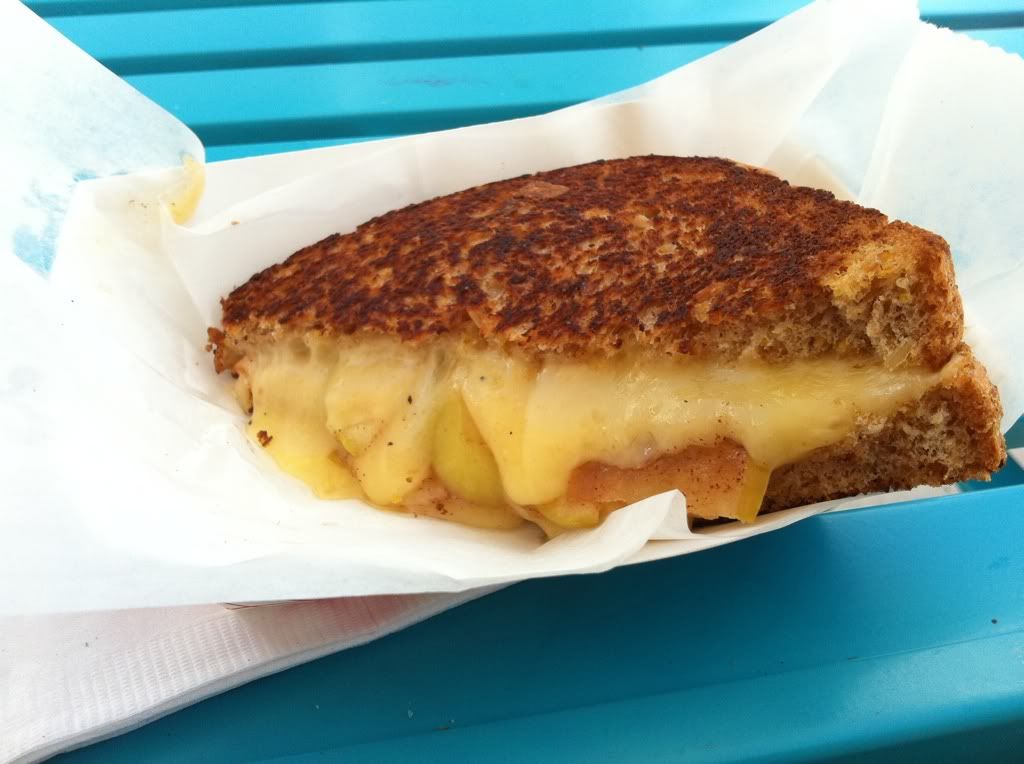 My salty favorite over at Ms. Cheezious is none other than their Grilled Bacon and Blue sandwich. This grilled sandwich comes with bacon with blue cheese and green onions on sourdough bread. I personally didn't know that blue cheese could be ooey and gooey until I had this sandwich. The minced green onions are mixed in with the cheese and give a great dimension and depth to this savory wonder. The bacon is cooked just right and is a natural companion to blue cheese. This sandwich is actually one of their top 2 selling sandwiches off this truck and definitely one to check out.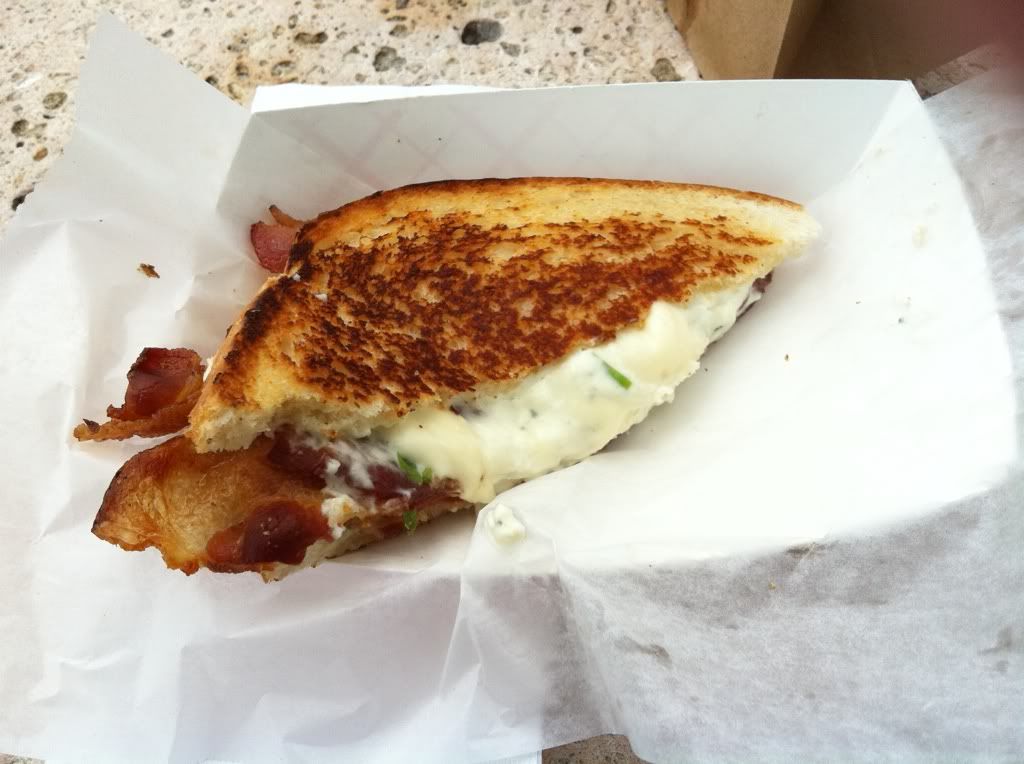 Onto my favorite sandwich off the Ms. Cheezious truck, the Sweet Meltdown, or how I like to refer to it as the Sweet Oblivion. The Meltdown comes with ricotta cheese and orange marmalade on Texas toast then sprinkled over the top with confectioner's sugar. The sandwich also comes with a side of chocolate dipping sauce for your dunking pleasure. When thinking of this sandwich I like to think of it as a handheld stuffed French toast. The ricotta cheese is subtle and lets the orange marmalade's flavor shine through. The chocolate dipping sauce is great and I always ask for extra (there's never enough chocolate, ever). However, there's no perfect way of eating this sandwich. Whether you dunk the sandwich into the chocolate sauce or drizzle the sauce into the sandwich, you will get messy and that is ok in my book.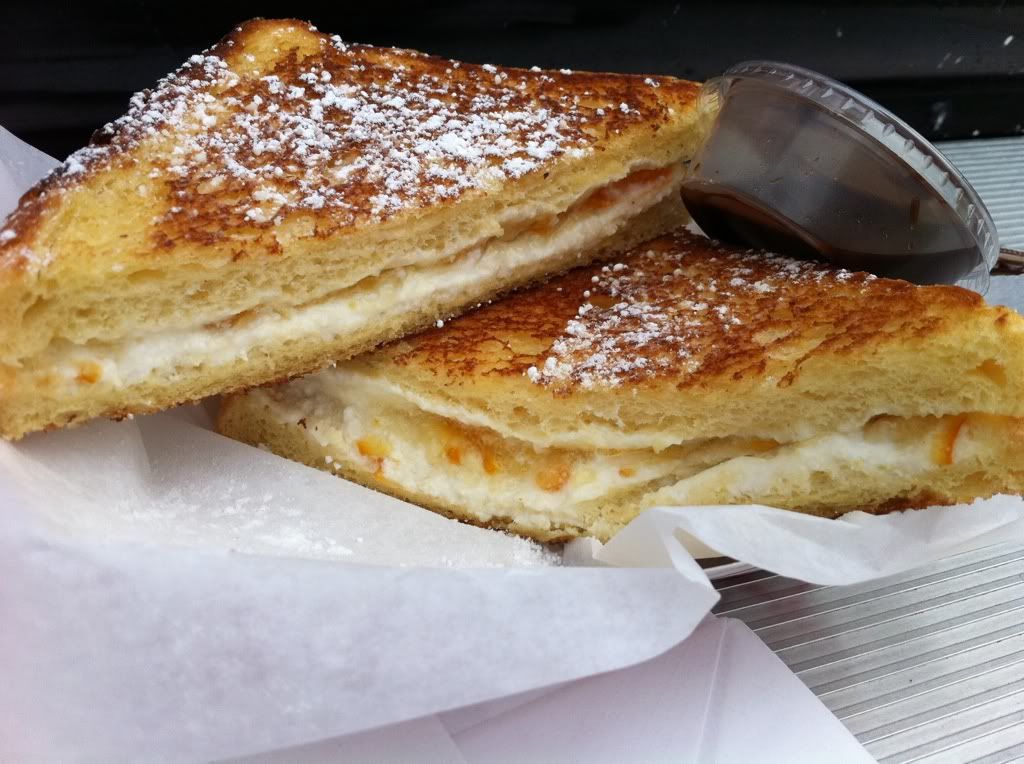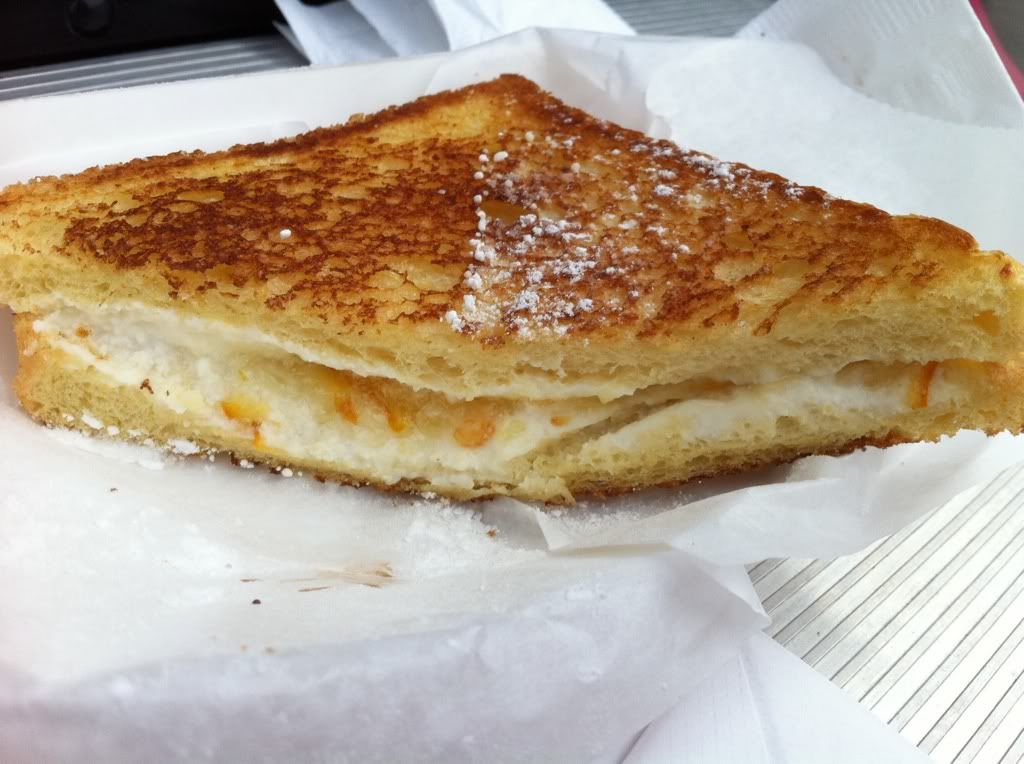 The truck is decked out with a voluptuous cartoon woman with tattoos in a scantily clad bikini. They also play all sorts of great music. The staff is always friendly and inviting and the prices are a lot cheaper than the other grilled cheese truck running around town. I am a definite regular at this truck. All of their sandwiches are perfectly toasted and buttered on the outside, so toss that south beach diet to the wind when you come to this truck. I suggest going with friends and sharing, that way you can try different sandwiches. Usually though, I eat half of my sandwich there and take the other half to go. If you haven't made your way to Ms. Cheezious, then hurry the hell up and go already.
___________________________________
Food Truck Details:
Ms. Cheezious
http://twitter.com/#!/mscheezious
http://mscheezious.com/