I was headed home the other day and I was craving a good sandwich. Luckily for me, my drive home takes me right through the design district. I decided to stop at my favorite little sandwich shop, Lemoni's Café. This is a small hole in the wall on Northeast 2nd avenue sandwiched between Blue Piano and Buena Vista Bistro/Deli. Stiff competition on either side of this shop, but Lemoni's definitely holds its own. It's a tiny restaurant with minimal sidewalk seating and holds approximately 40 people. The specials are written in chalk over the bar and the waitresses are all very friendly and accommodating. The walls are all painted in deep earth tones, but the place is always brightly lit with sunlight from the large windows at the front of the restaurant. I decided to just sit at the bar and eat in versus taking it to go. Food always looses it's life when you take it go, atleast to me it always seems that way.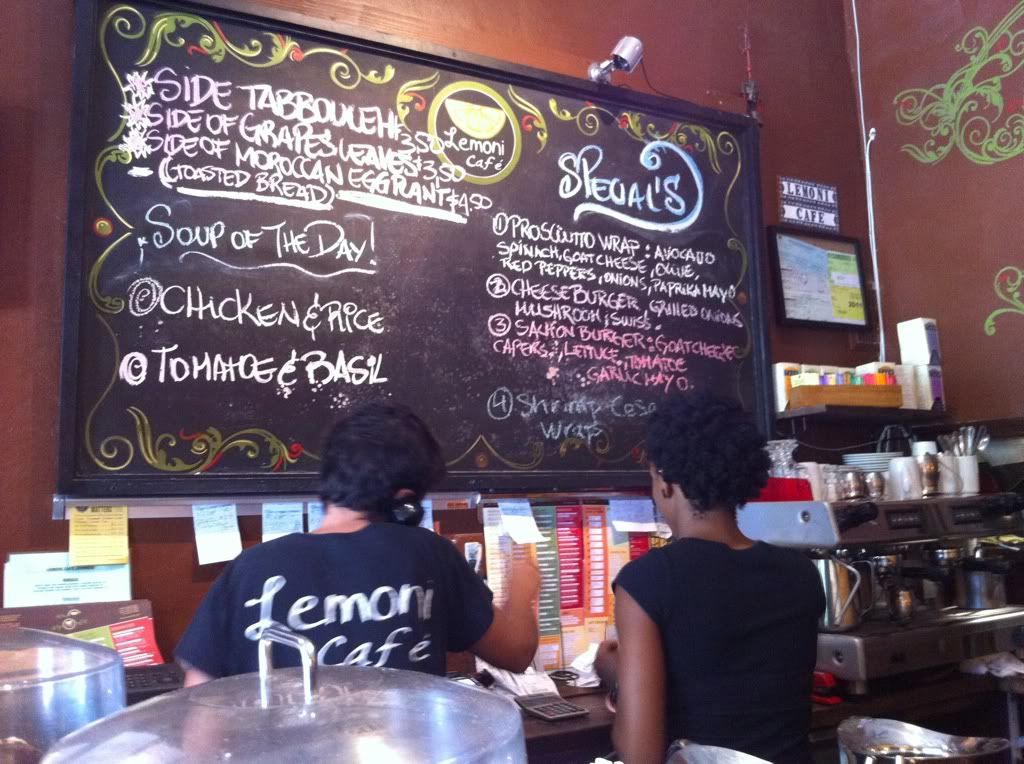 I grabbed a menu and realized they had several new wraps, sandwiches, salads and paninis since my last visit. I decided to start off with their Brie Bites. They're Brie Bites are slices of Brie cheese over ciabatta bread with date spread, sliced almonds and drizzled over the top with honey then toasted. The bites are also served with a small green and cherry tomato salad with balsamic vinegar. I went ahead and ate half of the bites and decided to take the other half home since I also wanted to eat some real food. The ciabatta bread is soft and warm and it goes perfectly with the dates, brie and honey combination. This is an appetizer that lands on sweet side of the spectrum but a great one none the less. I went ahead and washed my bites down with a cup of water; I should mention that at Lemoni's they place fresh mint in their tap water to give it a tiny hint of mint flavor. With our Miami heat, their slightly minty water is actually really nice and refreshing when served ice cold.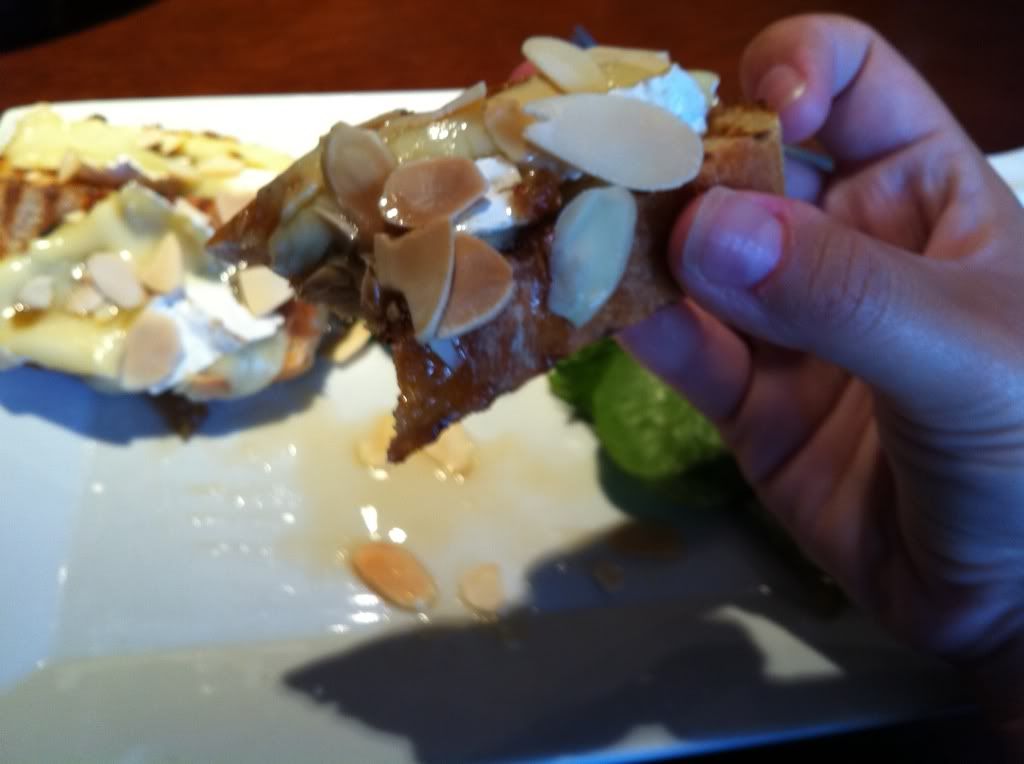 After my Brie Bites, I decided to go with their Prosciutto Caprese wrap which was new to me on their menu. The wrap comes with pesto, garlic mayo, spinach, fresh mozzarella, prosciutto, tomatoes and calamata olives. The description alone had my mouth watering with excitement. All of their wraps also come with a side of their three-bean salad. The wrap itself on the plate looks very pretty lots of bright and fresh colors popping out at you and begging to be shoved in your mouth. This wrap had so much savory flavor, it was genuinely insane. The olives, prosciutto, mayo and pesto all have very strong in your face flavors and they were all cut down by the generous amount of spinach and monstrous slab of mozzarella that's right in the middle of the wrap. The three bean salad that comes with the wrap is very fresh and also great for our never ending south Florida summer. The salad consists of chick peas, red and black beans are all tossed in olive oil with minced green peppers, cilantro and onions This turned out to be way too much food for me, so inevitably I decided to take half of it with me and ensuring the next day's lunch (or midnight snack).
Along with my to-go bag, I decided to take with me one of their home made chocolate chip cookies. It was calling my name since I walked in the door and they have several of their baked goods on display at the bar. The cookie was great, soft yet firm with giant chunks of semi sweet chocolate. If only my fat ass would've waited until I got home to eat it with some milk, instead of stuffing my face with it at a red light. I guess there's always next time, I suppose.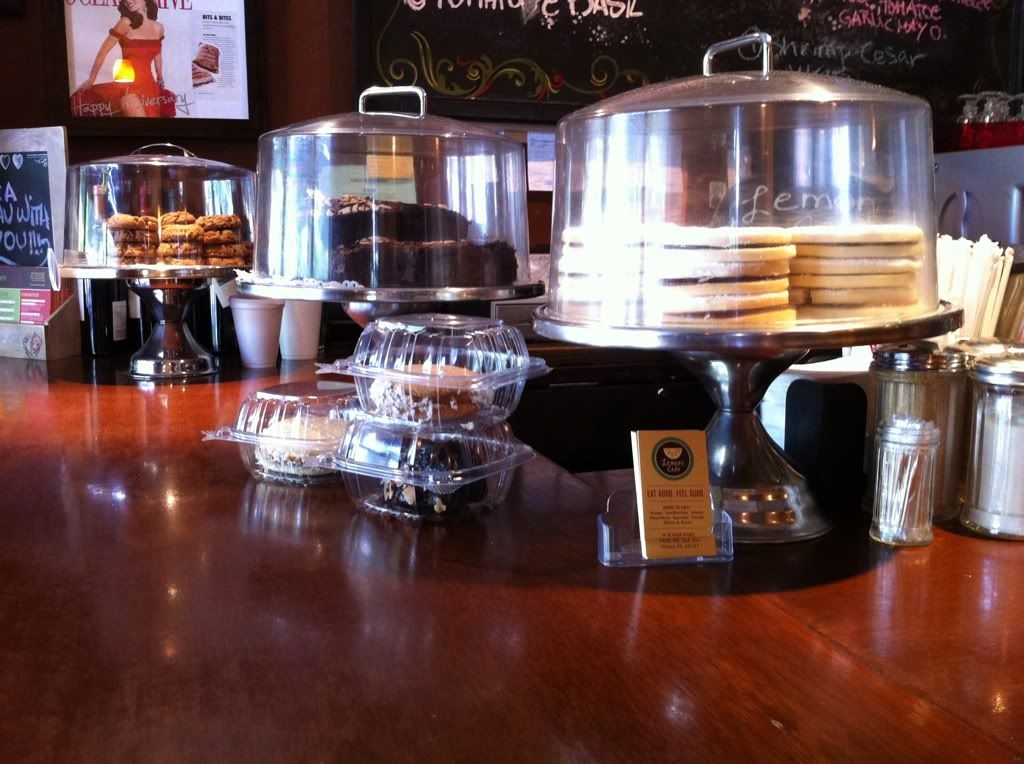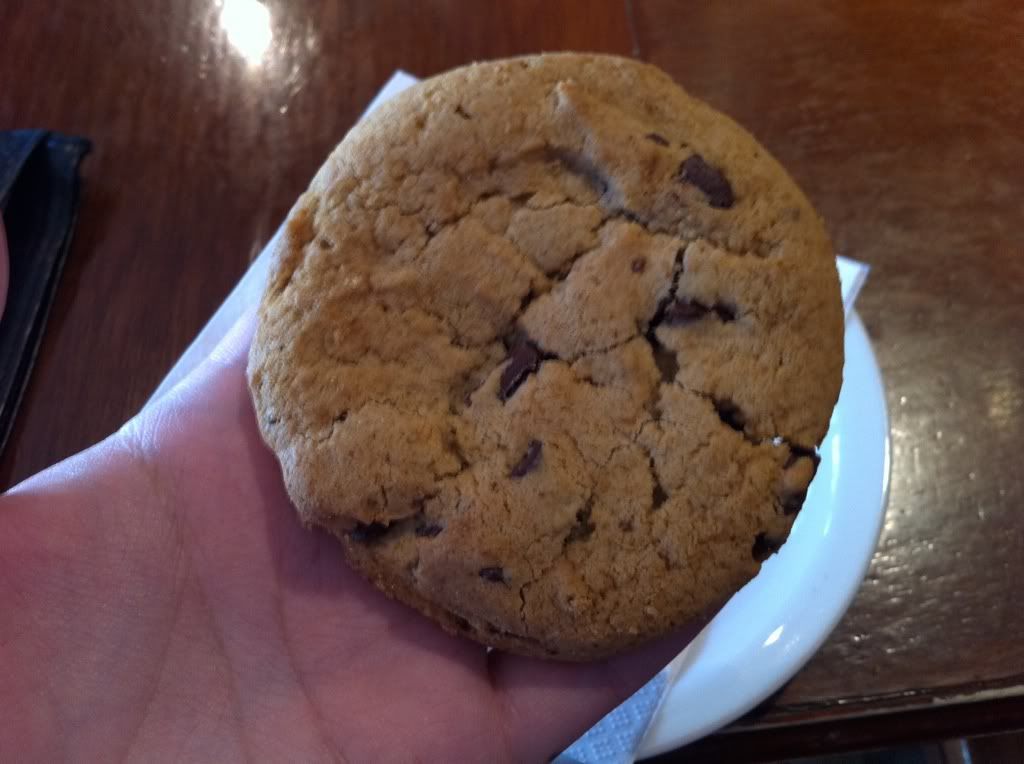 I love this little shop and of course I had to share my thoughts on it. It's just north (by only a couple of blocks) of the design district in the Buena Vista side of town. The staff is always nice and the sandwiches, wraps, and paninis are always great and fresh. Miami New Times awarded this place as "best place to eat alone," in the 2011 Best Of list but again I disagree. Lemoni's Cafe is a great place to go and share with friends and family for lunch or dinner. I should mention, if you're interested in seeing the most up to date menu, don't bother with their website. Unfortunately, the menu posted on Lemoni's website is not up to date by any means. Even though it is a small place, the staff is always very accommodating and the food is always made to order and refreshing.
___________________________________
Restaurant Details:
Lemoni's Cafe
4600 NE 2nd Ave
Miami, FL 33137
(305) 571-5080
www.mylemonicafe.com