Chef Michael Schwartz opened up his newest project, Harry's Pizzeria, on September 27th to eager and hungry pizza hounds. I made my way over during the first week and back again a few days after that. So the food I'm commenting on is actually from two separate visits. I went over on their first Friday night and the place was buzzing, packed wall to wall with people laughing, cheering and eating. The space is relatively small and seats approximately 45 people at any given time. There are chalkboards through out the restaurant with hand written messages, the lighting is kept relatively dim and it helps set the welcoming and cozy vibe. They have a small bar with wine and four different local beers on tap. As many people know, Chef Schwartz is very big on sustainable foods from local farmers. So the vast majority of the ingredients that go into their meals are all grown locally.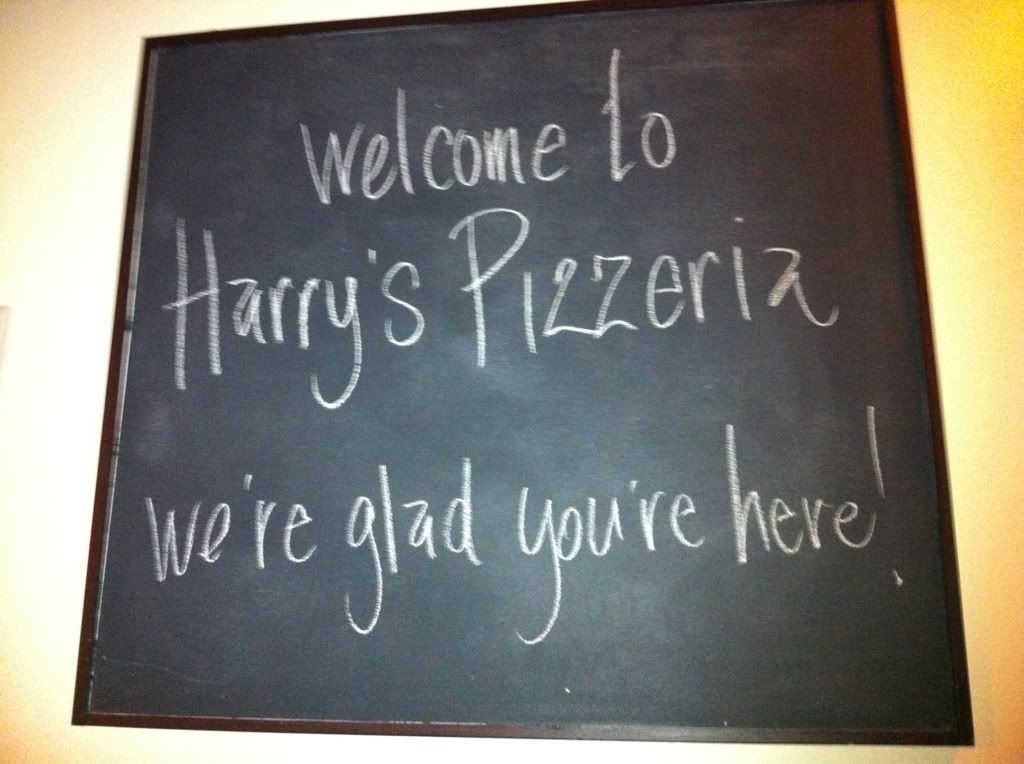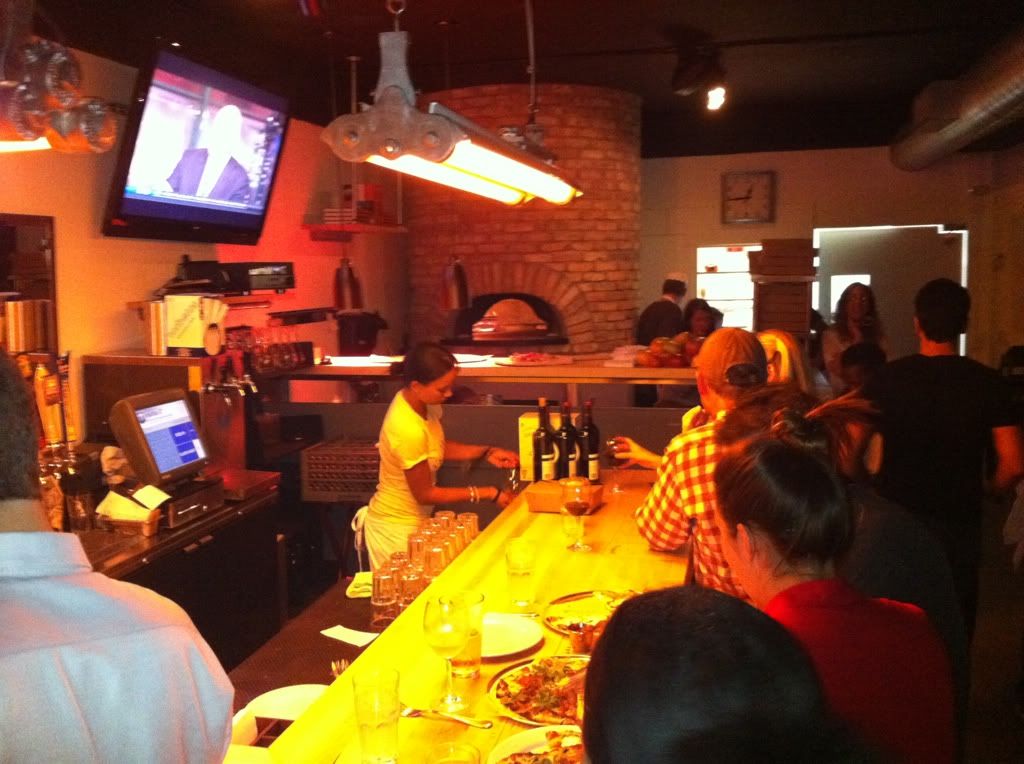 Between my first two visits I had a total of three different appetizers. The first one I'll discuss is their Polenta fries. They're presentation is fun and playful, stacked up like a game of edible Jenga. They're very crisp on the exterior, creamy and smooth on the interior. They were perfectly seasoned and were great alone without any additional condiments. They're served with a home made ketchup that tasted somewhat like a ketchup/salsa mix. I didn't quite understand how salsa came into play at a pizzeria/Italian restaurant, but it tasted great either way.
Next appetizer was their Meatballs in Sauce and the flavor on these things was insane. The flavor popped in your mouth and was all up in your face like a Jehovah Witness at the crack of dawn on a Sunday. The meat was tender, well seasoned and perfectly cooked. The sauce on this dish completely stole the show and left me wondering how I could take an order of these to go so I can make myself a meatball sub later. Maybe at some point down the line, they'll make meatball subs (HINT HINT!!) Once I was done inhaling them, I caught myself spooning the sauce out of the plate.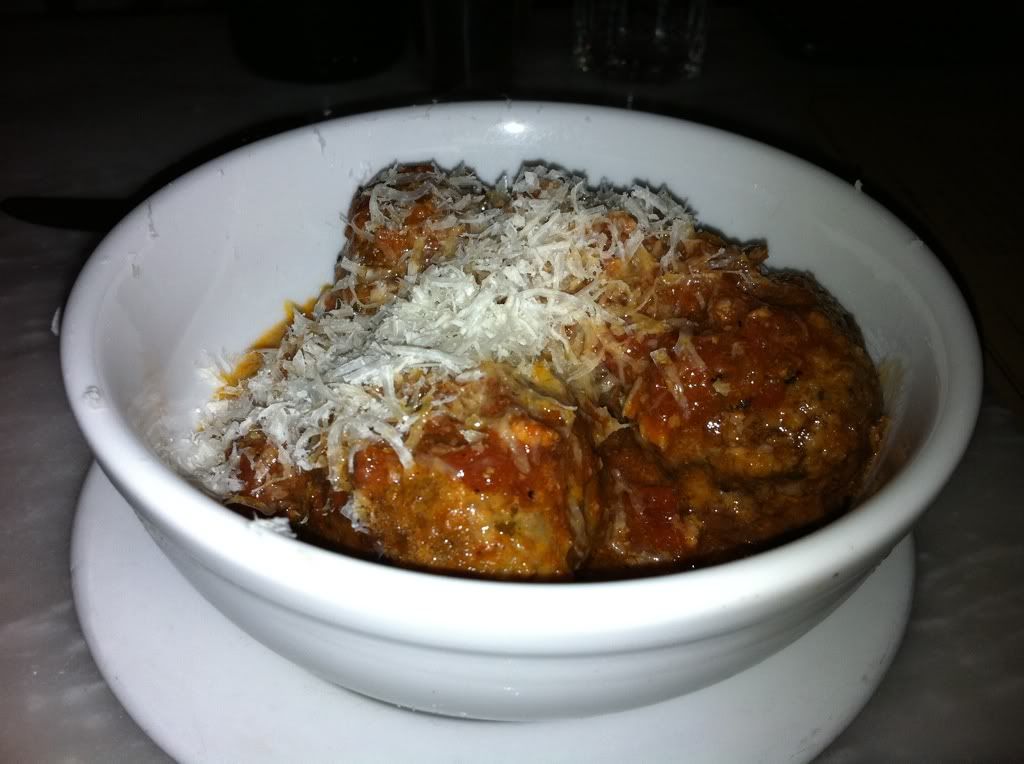 The last appetizer I've had thus far is their Italian Wedding soup. Their soups vary from day to day and on this lucky day their special was this old school Italian soup. The recipe is simple: meatballs, chicken stock, ditalini pasta and fresh spinach. However, the freshness of the ingredients makes all the difference in this dish. The spinach is bright green and still slightly crisp, the meatballs hold their shape in the soup and taste wonderfully and the pasta is cooked al dente. The flavors make a happy marriage that make eating soup feel like less of a chore and more of a blessing. I ate every last bite of this soup and almost went all Oliver Twist on the waiter by saying, "Please sir, I want some more."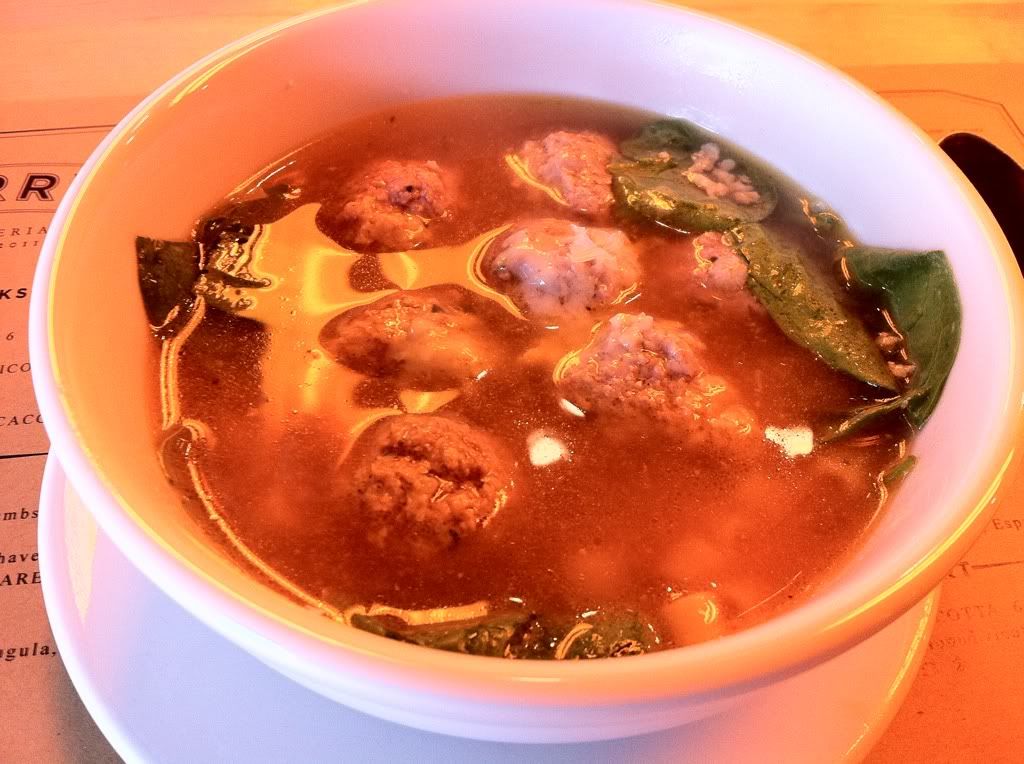 I've only had a couple of pizzas at Harry's so far, but I plan on making my way through their menu in due time. On my first visit I had their Shortrib pizza. The pizza, like the rest of the menu, keeps it simple. The pizza comes topped with short rib, fontina cheese, arugula, and grilled onions. The crust on the pie is a thin crust and the crust alone is really flavorful. The short rib was well cooked and seasoned. Although I found the flavor of the pizza much more subtle and subdued than the appetizers, it still tasted very good. I would definitely have this pizza again. The combination of toppings was different than your usual pepperoni, but it worked in a great and different way.
The second pizza I've had is the Slow Roasted Pork pizza. Again, Chef Schwartz keeps it simple with a thin crust pizza topped with just slow roasted pork, figs, grilled onions, fontina cheese and arugula. The fig and pork worked on that sweet and salty play. The pork is cooked and seasoned well. The grilled onions are cut rather large for my personal liking, but the flavor they bring to the pie is integral and great. Again I found the flavor on this pie more subtle with no big pop in flavor when compared to the appetizers I've had so far. None the less, the flavors of all the different ingredients worked in a harmonious way to bring a party to my mouth.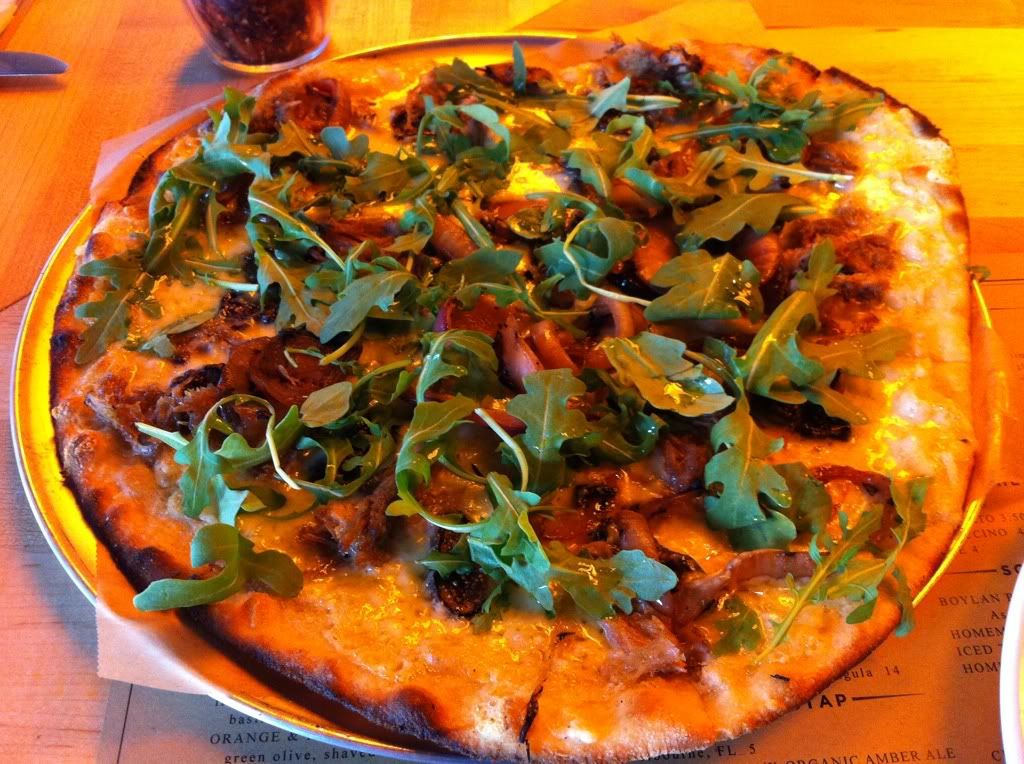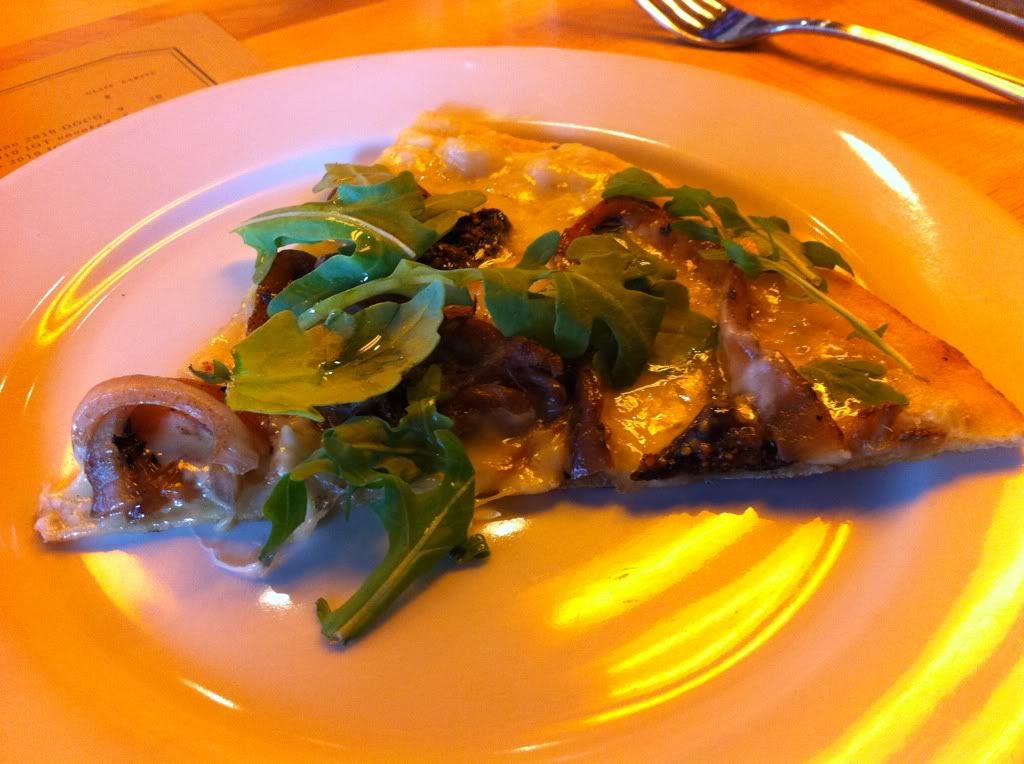 Finally, I've only had one dessert from Harry's Pizzeria and that is their Zeppole Think Italian beignets. Their take on zeppole comes dusted with confectioner's sugar and with a side home-made honey whipped riccotta. The zeppole are a bit denser than beignet and were served piping hot. The honey whipped riccotta was sweet, refreshing and also had some lemon flavors shining through. The combination of the dense fried dough with the refreshing and light riccotta worked really well. This was a great ending to my first meal.
The freshness of all the ingredients really beams through and brings a new complexity in flavors that you don't typically get at other restaurants. The pies served at Harry's aren't your usual pizzas and are definitely bringing pizza to a whole new level. The food is not only great quality and fresh, but it's ridiculous cheap. None of the food items on the menu exceed $15.00. It's definitely a great place to check out if you're looking for great pizza and appetizers with a twist in Midtown.
_____________________________________
Restaurant Details:
Harry's Pizzeria
(786) 275-4963
3918 N Miami Ave
Miami, FL 33127
www.harryspizzeria.com