If I had to pick the best all-around pizza joint in Miami, I would probably say Andiamo! Brick Oven Pizza. However, that wasn't the case a couple of years back. I started going to Andiamo about 5-6 years ago when I was dating some pendejo and he introduced me to the place. It was an instant attraction (with the pizza, not the pendejo). I even celebrated my 26th birthday there. A futile attempt to hold onto my fleeting youth with an old school pizza party decked out with My Little Pony hats and whistles #DontHate. It was equal parts pathetic, nostalgic and fun. When the relationship (with the pendejo) went sour, so did my adoration for Andiamo. It was no longer the best place for a pizza date, but a painful reminder of love lost. My love for Andiamo somehow turned into distaste and I stopped going completely. When people would suggest going there, I'd automatically bark back with, "Fuck that place, Andiamo sucks!" I'd say this not because their food was bad or because their service was horrible, but because of the emotional value Andiamo had developed and what the place now represented.

Fast forward to about a year and a half ago when my best friend and I were trying to think of where to have dinner. He suggested Andiamo and I said, "FUCK NO." To which he replied, "Para de comer tanta mierda and lets go. Find your big girl panties, put them on and enjoy the god-damn pizza." Like a scolded child, I begrudgingly agreed to go. We walked up to the restaurant and nothing had changed, the out door seating with picnic tables, the giant tv screen hanging between two palm trees, it was all the same. I could start to feel a knot in my stomach and for some reason I couldn't shake the panic that I might bump into my ex. Then I realized, I was the pendeja. Not him. I had given him so much power that he even dictated where I ate even years after the relationship had ended. My best friend was right, I was comiendo mierda.
With that realization a sudden weight was lifted off my shoulders and then a resounding calm. Just like that, I was back to loving the pizza at Andiamo. My personal favorite isn't exactly on the menu, a secret menu item of sorts. It's the Quattro Formaggi pizza with tomato sauce. The pizza normally comes topped with Parmesan, Mozzarella, Ricotta and Gorgonzola cheeses as well as garlic and basil. It tastes great on its own, but adding the tomato sauce just makes it a hundred times better and balances it all out.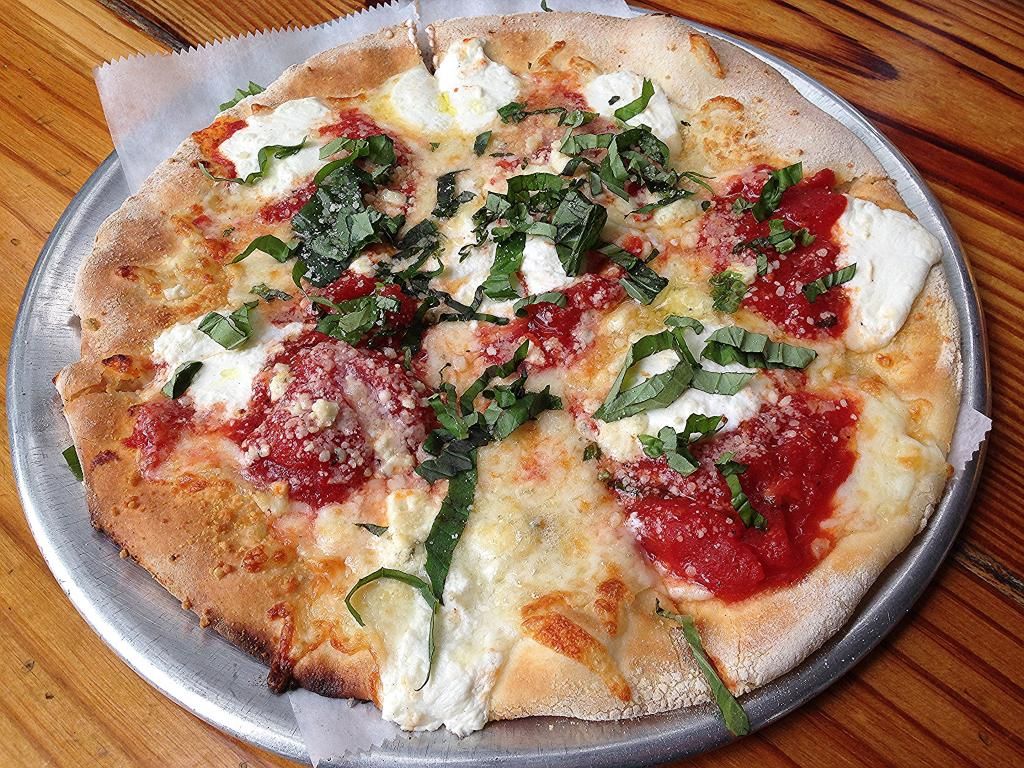 Quattro Formaggi with Sauce
Another favorite is the Genovese pizza with rosemary potatoes, pancetta, onions, garlic, mozzarella and gorgonzola cheese. It's magical and insanely filling. It's like an epic baked potato laid out on a pizza. One slice is usually enough for me, which means breakfast for the next few of days #SinPena. 
Genovese Pizza
The Brooklyn Special pizza comes topped with pepperoni, caramelized onions, roasted peppers, tomato sauce and mozzarella cheese. This is a slightly more classic take on pizza, but the quality of the ingredients used at Adiamo is what makes a world of difference. The bright colored peppers burst both visually as well as with fresh flavor. The pepperoni has a slightly spiciness that ties in perfectly with the onions and peppers.
Brooklyn Special
Another great pizza at Andiamo is their Bella Bambina. Pancetta, caramelized onions, tomato sauce, smoked gouda and mozzarella cheese. The smokey flavor from the gouda and pancetta combine perfectly.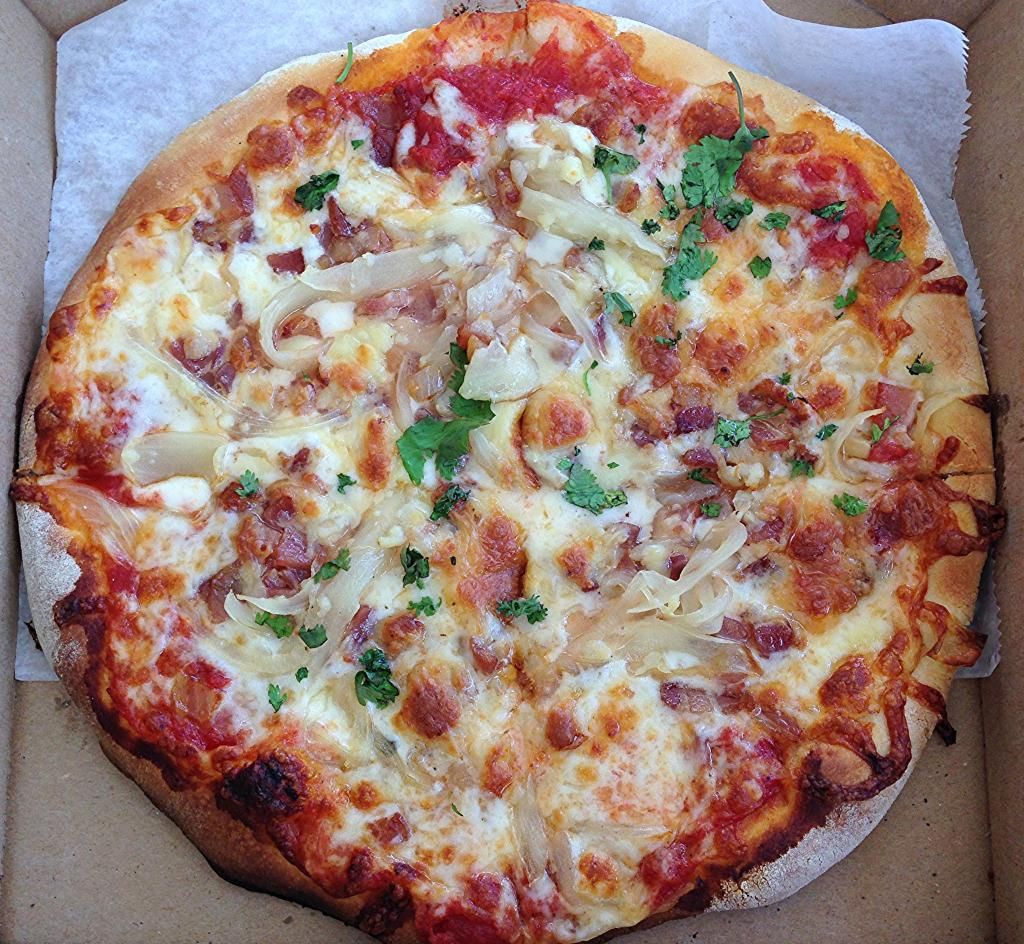 Bella Bambina
Another favorite of mine is the Popeye pizza. The pie comes with spinach, basil, fresh mozzarella, ricotta, sliced roma tomatoes and tomato sauce. This pie is amazing, simple and deceptive. I like to lie to myself by saying, "Bro, this pizza has spinach. So it's like, totally good for me." I really like the bubble of denial and delusion I've built for myself, so please don't pop it.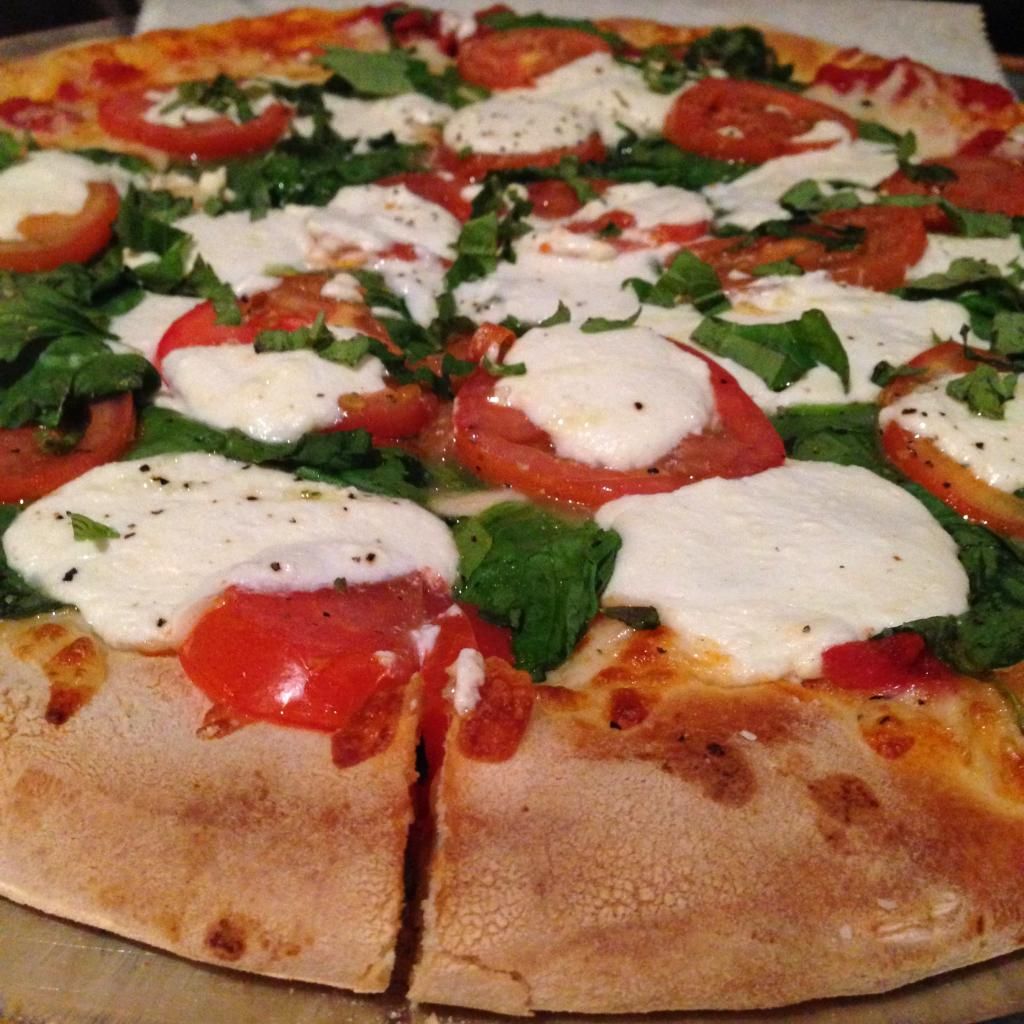 Popeye pizza
Maybe you're in the mood for some balls in your mouth. That's cool. Andiamo has some tasty meatballs that I encourage you to try. They're not the best meatballs you'll ever have, but they're surely above average and will hit the spot.
Meatballs
Andiamo also offers a meatball sub which interestingly enough, I'm not a fan of. Maybe it's the complete lack of sauce that makes the sub so dry and all-around undesirable. They offer paninis, but I've never tried any of them. They also serve salads, but fuck you if you come to this place and get a damn salad. I mean, SERIOUSLY? If you come to Andiamo you must get a pizza #DASSIT. Take your pick, I've never had a mediocre pizza at Andiamo. Every pizza I've ever gotten has always been absolutely delicious. So if you've never been, now is the time to go!
_______________________
Restaurant Info:
Andiamo! Brick Oven Pizza
(305) 762-5751
5600 Biscayne Blvd
Miami, FL 33137
http://www.andiamopizzamiami.com/