A few months back a lot of my coworkers told me I had to check out La Latina. Then, about a week later my blogger friend, Javier from
GourmandJ
, advised me there was a small Venezuelan place he needed me to check out called La Latina. It quickly became evident that I had to go to this place,
si o si
.
My first visit was a pretty epic one. Gio from Chat Chow Tv, GourmandJ and myself met up for quite the Venezuelan feast. Javier acted as our culinary tour guide as the resident Venezolano. We had a cachapa, arepas, a pabellon empanada, patacones and more. We practically had 80% of the entire menu and it was all delicious. The restaurant is cute and insanely colorful with a fast-casual set up. It's like the Crayola crayon factory projectile vomited all over the inside of the dining room and I mean that in the nicest way possible.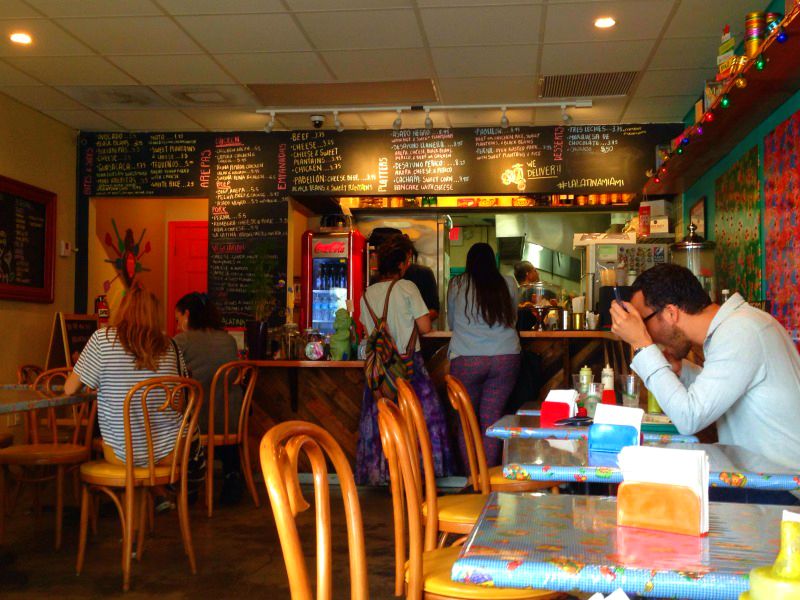 Since that initial visit, I've been to the restaurant at least twice a week. Sometimes three and four times a week, whatever bro don't judge me. My favorite thing to get there (and what they're most known for) are their arepas. They've got a nice variety of fillings ranging from vegan/vegetarian options to chicken, beef and pork. Thus far, I haven't had a single arepa I didn't like. Some of my favorites include La Pelua (which got its name because Venezuelans are perverts), La Latina arepa, which comes stuffed with bacon, cheese and avocado. Reina Pepiada (not pictured) is chicken salad and avocado is mighty tasty. Last but not least, La Rumbera which is shredded pork with your choice of cheese (I like to go with queso guayanes). Best part is all of their arepas are less than $7.00, making it cheap and scrumptious.
La Pelua with Gouda cheese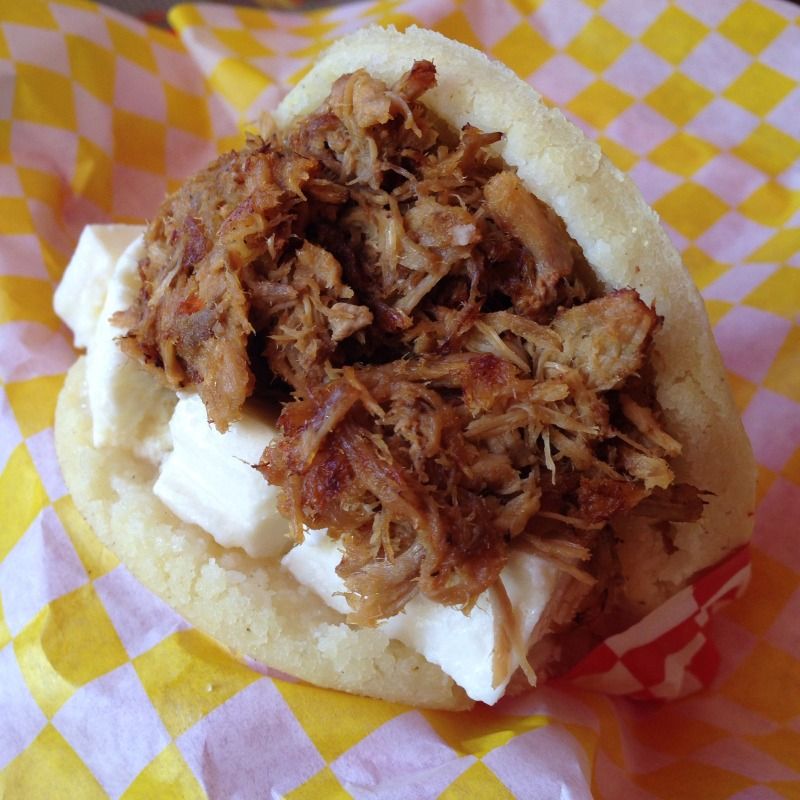 La Rumbera with Queso Guayanes
La Latina Arepa
I've had all of their appetizers and thus far they've all been great. Their tequeños are all sorts of deliciously phallic, cheese filled snacks. The cachapa is what gluttonous South American dreams are made of: a massive sweet corn pancake filled with a giant slab of queso de mano then topped with some butter for good measure. Seriously, it's probably my favorite thing off their entire menu. Their patacones are tostones that have been formed into little miniature cups and stuffed with your choice of filling, both adorable and delectable. Their boliarepas are little arepas that have been stuffed with cheese, flash fried and served with nata (Venezuelan cream cheese). Their sweet plantains with cheese are wonderful and easily some of the best I've ever had. I personally prefer them with queso de mano over the salty cheese, but that's just me. I could easily go and have all of these appetizers in one sitting because let's face it, I love to eat.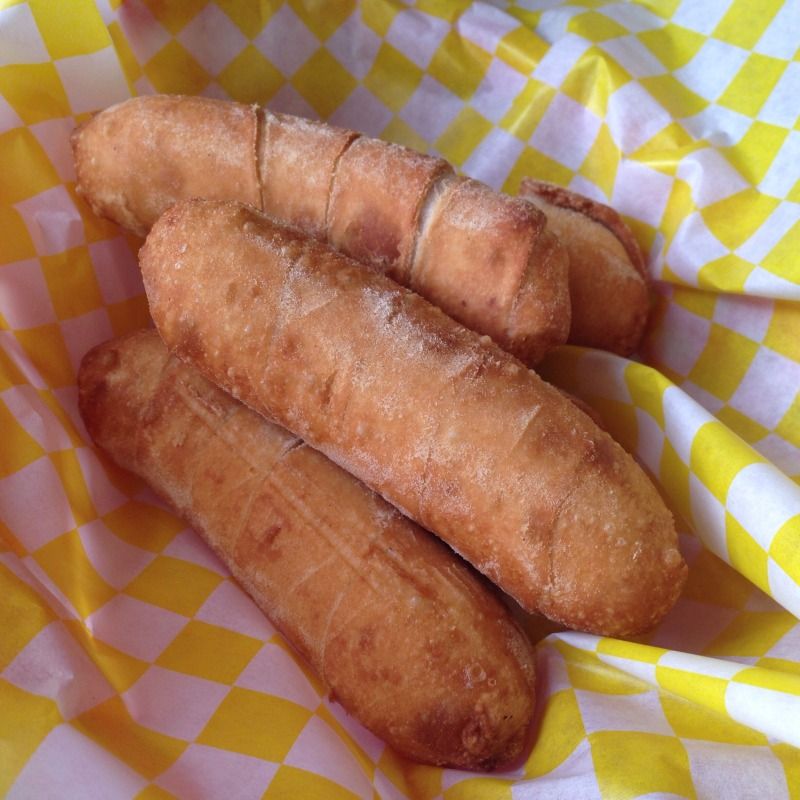 Tequeños
Fried Sweet Plantains with salty cheese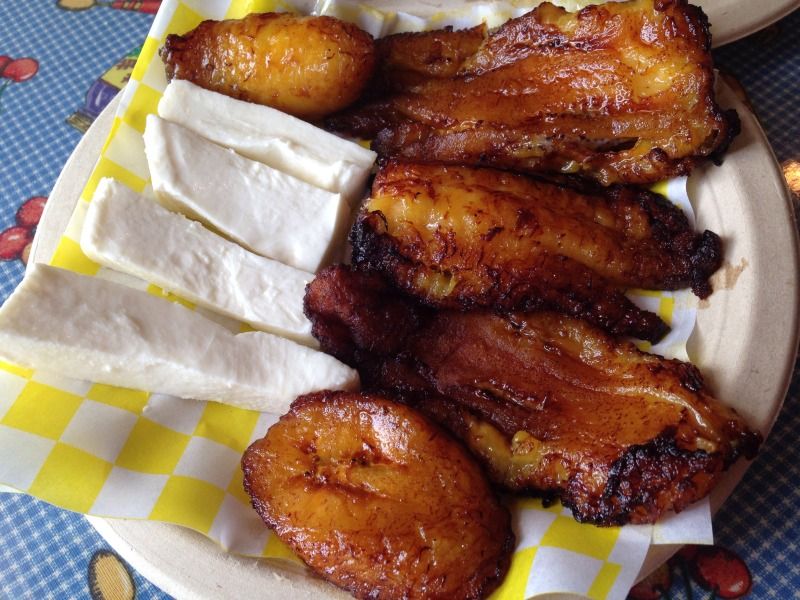 Fried Sweet Plantains with Queso De Mano
Boliarepas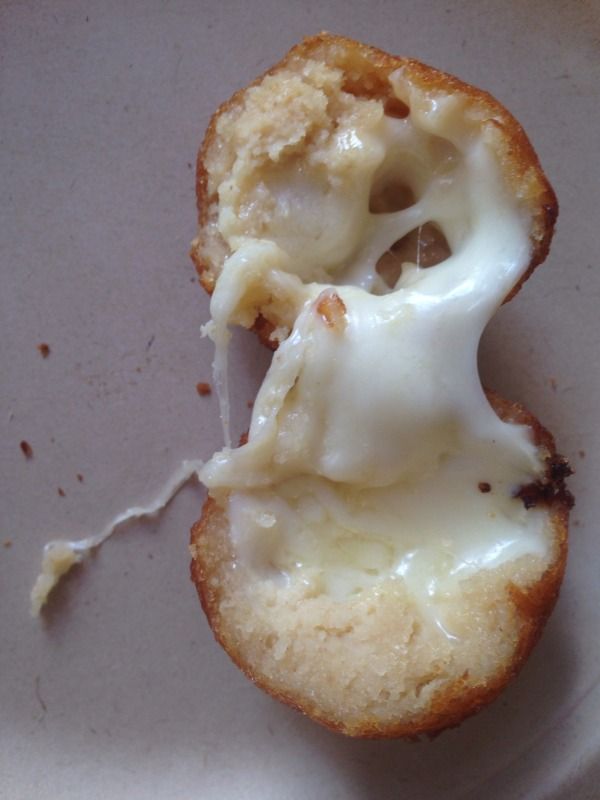 Inside of a Boliarepa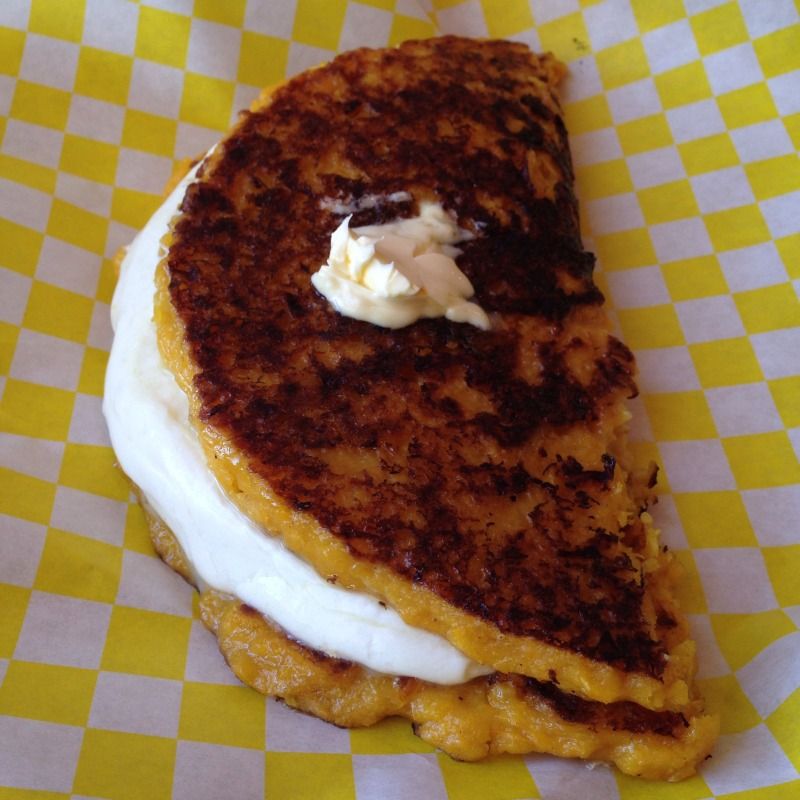 CACHAPA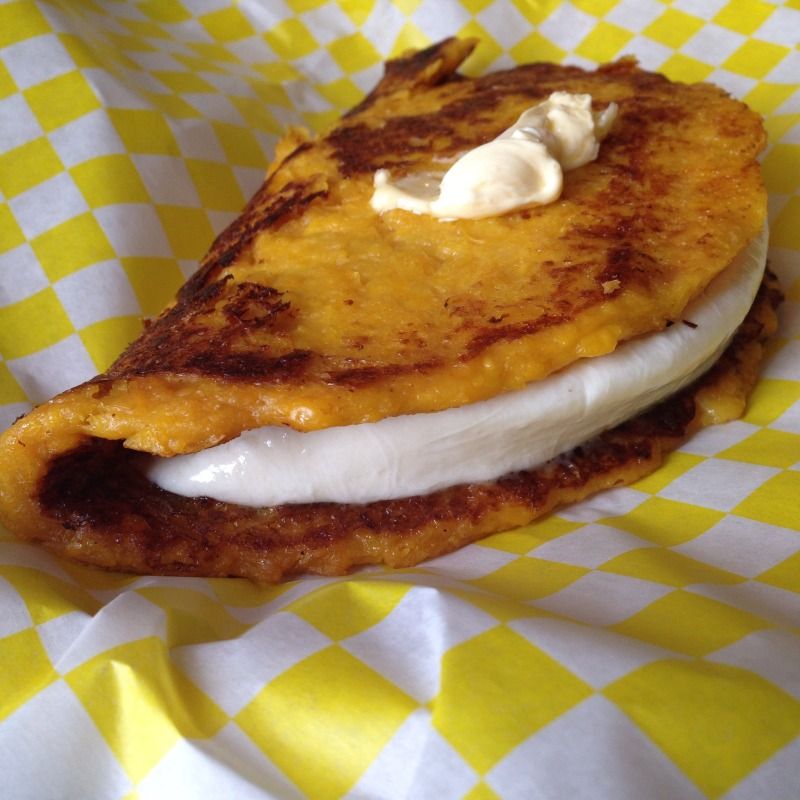 MOAR CACHAPA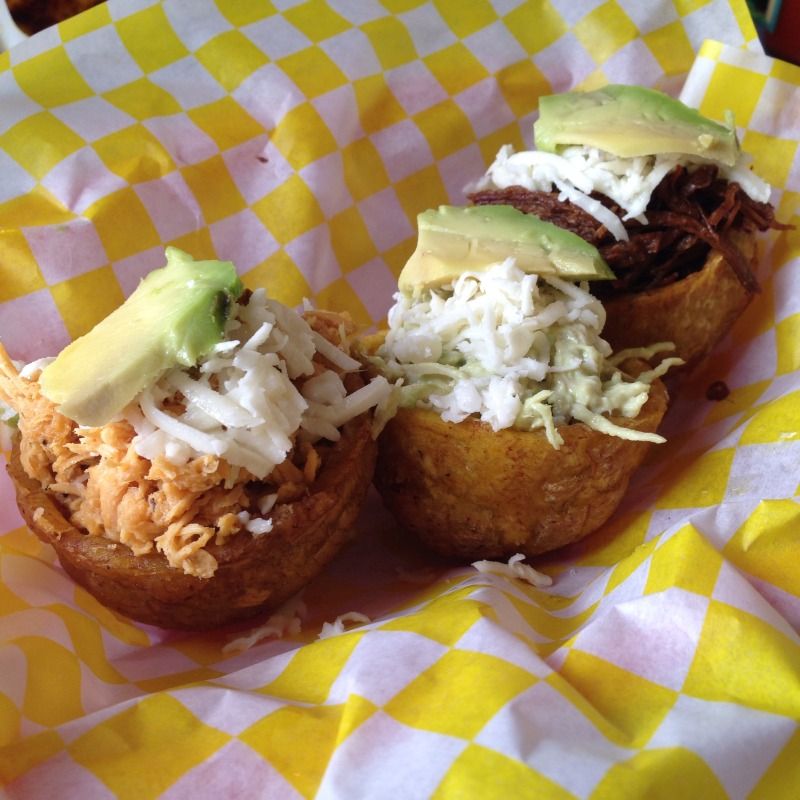 Patacones
One day, I was really starving and decided to try one of their platters. I opted for the pabellon platter wth carne mechada. It came with black beans, shredded beef, white rice and sweet plantains topped with cheese. The black beans were terrific, that carne asada was all sorts of tasty, the sweet plantains were perfectly cooked, but the rice... GOOD GOD ALMIGHTY... that rice was absolutely awful not very good. It was an over cooked, mushy, flavorless mess. The rice was seriously disappointing, but it didn't stop me from eating everything else on the plate nor did I let it deter me from coming back.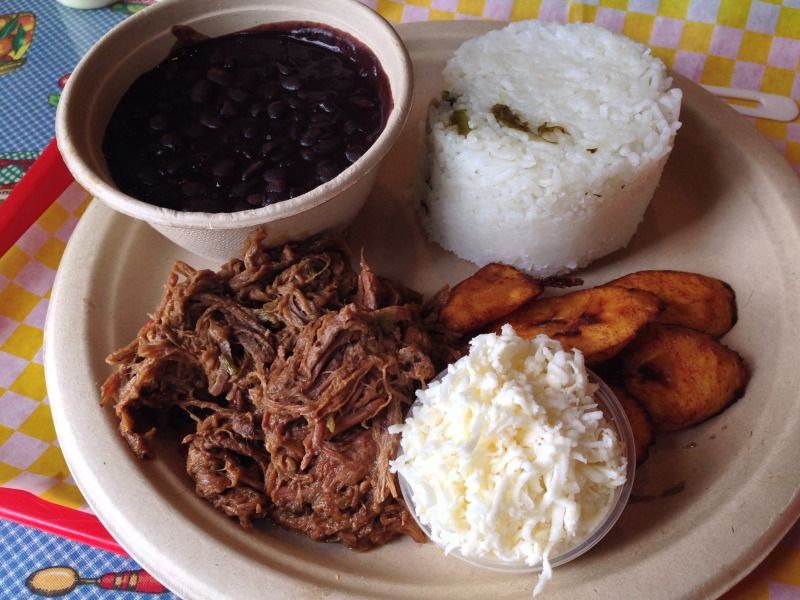 So far, I've had two of their five empanadas. Venezuelan empanadas are made out of the same masa as arepas. On my first visit, I had the pabellon empanada, basically an entire meal stuffed into an empanada and fried. It contains carne mechada, sweet plantains, cheese and black beans. It was the tits. Recently, I tried their sweet plantain and cheese empanada. It was piping hot, but once I got to the center of the empanada it was completely cold and the cheese was brick hard. I was left all sad and feeling like "wtf?!" But alas, shit happens and not everything can be perfect 100% of the time (except for me, DUH).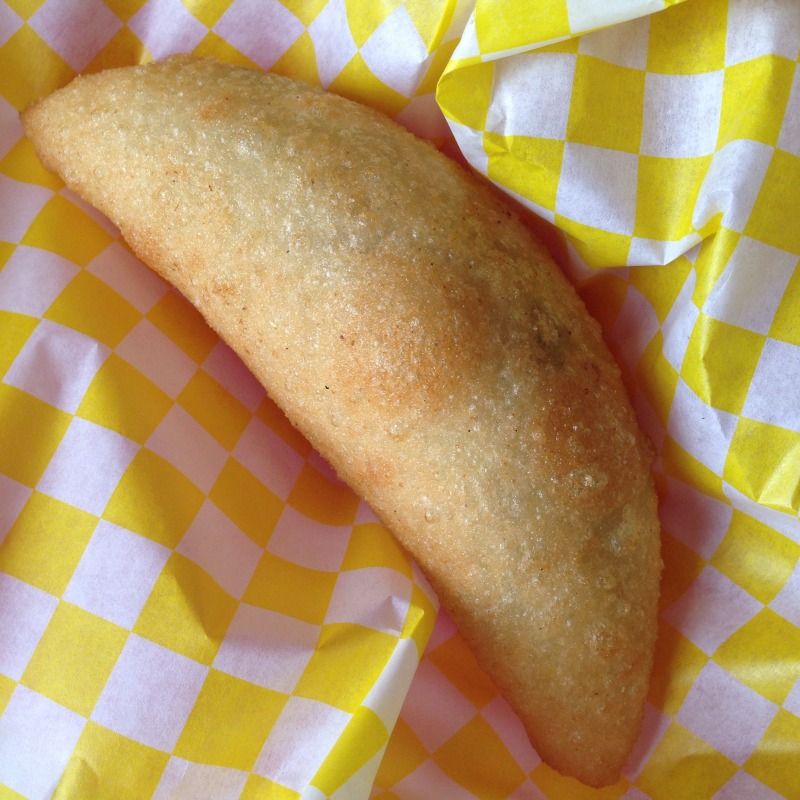 Pabellon Empanada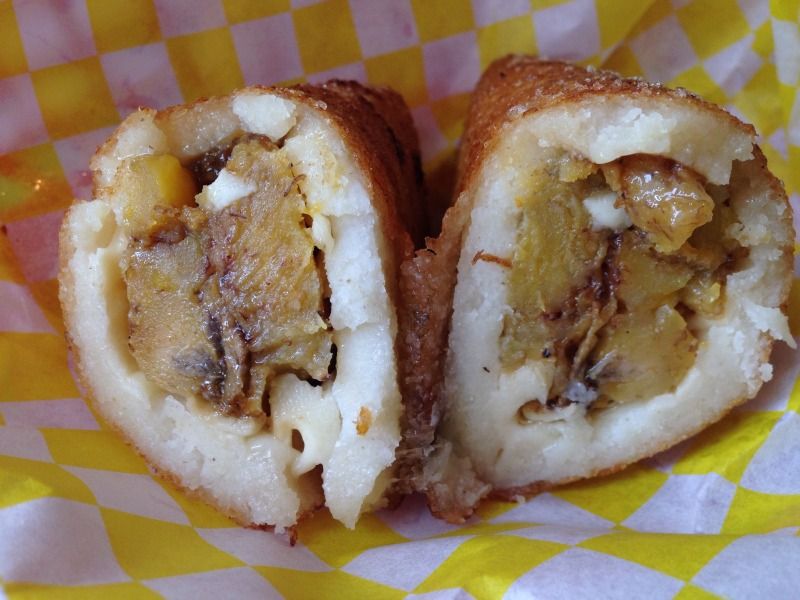 Inside of the Sweet Plantain & Cheese Empanada
So to sum things up, go check this little place out! Stick to their appetizers and their huge selection of arepas. I haven't had any of their desserts, so I can't comment on them. There are a couple of things that could be better, but that goes for just about every restaurant in Miami. Soak in the colorful decor and enjoy their very reasonably priced food. Not a single item on the menu is over $10 making it a great place for a cheap lunch or a gluttonous midnight snack on the weekends.
________________________
Restaurant Details:
La Latina Miami
(305) 571-9655
3509 NE 2nd Ave
Miami, FL 33137
www.lalatinamiami.com